Birmingham Contact Burn Injury Lawyers
If someone's negligence caused your contact burn injury, call the Birmingham burn injury lawyers of Farris, Riley & Pitt, LLP immediately to discuss how we can help. You might be entitled to compensation for the skin grafting, prescription medications, physical therapy, and other medical expenses you incurred. If your actions didn't contribute to the accident, you should receive the maximum possible compensation from the negligent party.
A contact burn happens when a person touches something hot. It can be a stove, coffee, steam, or flames. Anything that comes in direct contact with the body can lead to severe injuries. Unfortunately, contact burns can happen to anyone considering how easy it is to encounter flames from a fire, scalding coffee, or hot stove.
A range of scenarios can cause a contact burn. Sometimes, they're no one's fault. Accidents happen. However, there are situations when someone's careless behavior causes physical harm to another person. For example, if you were involved in a car accident and suffered burns from leaking gasoline, you could hold the at-fault driver liable.
The Birmingham contact burn injury lawyers of Farris, Riley & Pitt, LLP know the long-term consequences of a serious burn. If it doesn't heal entirely, you could end up with permanent scarring or disfigurement. You might lose mobility in a limb and require a wheelchair to get around. Some accident victims die from complications that arise. You should not be forced to pay for your medical bills if another person were completely responsible for the injury. We can provide the legal representation, guidance, and advice you need to handle this traumatic experience so you can recover.
For a free consultation, call Farris, Riley & Pitt, LLP at (205) 324-1212 today.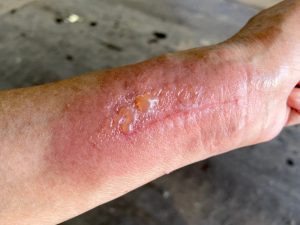 It's critical to take immediate legal action following a contact burn injury. You must protect your rights and pursue the compensation necessary to afford the medical treatment to heal your injury. If you don't recover the money you're owed, you could face massive debt. Another person's misconduct put you in this situation, and they should face the consequences of their actions.
Farris, Riley & Pitt, LLP can take over the legal aspects of your claim for you, so you don't feel the burden of preparing a case. We will advise you about the available options and provide ongoing communication from start to finish of the process. We will treat you as a priority while we're working on your insurance claim or lawsuit. You don't have to worry about talking to the insurance company, investigating the incident, or gathering evidence. We will handle everything on your behalf.
Classifications of Burn Injuries
Contact burns can range in severity. The extent of the damage often depends on the source of the injury and how long the skin remains in contact with the hot object.
Four classifications of burn injuries indicate the affected areas of the body and the symptoms they can cause. They are:
First-degree burns – This is the least serious type of burn, and it leaves minimal damage. It only affects the outer layer of the skin. It can cause some pain and redness but doesn't cause blisters.
Second-degree burns – A second-degree burn causes a little more damage than a first-degree burn. The outer layer of skin and the layer underneath can suffer some damage. The injury site might look swollen and red and result in some blister formation.
Third-degree burns – This is one of the most severe types of burn injuries. The skin could look white, yellow, or black but likely won't hurt due to extensive nerve damage.
Fourth-degree burns – The most severe burn damages every layer of skin and the muscles, tendons, nerves, and bones. This type of injury also isn't painful because of the significant damage to the nerves. Victims often require skin grafts, surgery, and other forms of treatment to recover.
Even if your contact burn doesn't appear to be serious, you should go to the hospital for a complete medical evaluation. Since third and fourth-degree burns don't cause any pain, it might not seem like the injury caused much damage. However, you could end up suffering complications without immediate medical attention.
Complications Associated with Contact Burns
Untreated contact burns can lead to severe and even life-threatening complications. The most common include:
Psychological trauma – Even if your physical wounds heal, you could face lifelong struggles with mental illness. Anxiety is common after a burn injury, particularly if the incident involved a car crash or fire.
Infections – Infections can develop and travel throughout the body via a person's bloodstream. An infection can lead to sepsis or require the amputation of a limb to prevent it from spreading further.
Mobility issues – Severe muscle and tissue damage can cause loss of mobility. If you suffered burn injuries to your shoulder, knee, or hand, you might need physical therapy to regain strength and range of motion.
Disfigurement – Burns to the face often alter a person's appearance and cause disfigurement. This complication typically goes hand in hand with psychological trauma. It could affect the victim's self-esteem and lead to depression.
Permanent scarring – Severe burn injuries will leave scars, especially if the patient needs skin grafts to repair the damage.
Respiratory problems – The lungs can become damaged if a contact burn results from a fire. Smoke inhalation causes difficulty breathing and can lead to respiratory illnesses.
Sustaining a burn in a preventable accident can be devastating. You're in pain and struggling to recover because someone else didn't take the necessary precautions to prevent a catastrophic accident. Farris, Riley & Pitt, LLP is ready to go to battle for you and hold the responsible party accountable for their wrongdoing.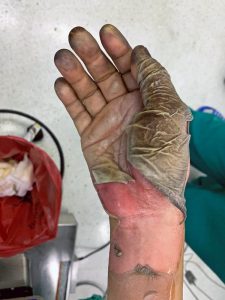 Common Causes of Contact Burn Injuries
A contact burn can happen to anyone in various situations. Scenarios involving hot gases, liquids, consumer products, and other objects can cause different degrees of burn injuries. The most common causes include:
Leaking gasoline and other substances after a car accident
Building fires
Exposure to hazardous chemicals on someone else's property
Explosions
Inadequate fire exits
Defective parts on a consumer product
Spilled coffee and other hot liquids
Cooking hazards
Burst pipes
Improperly stored flammable materials
Missing or malfunctioning fire extinguishers
You should have an opportunity to pursue compensation from the at-fault party no matter what caused your burn injury. Farris, Riley & Pitt, LLP is ready to investigate the incident and find a way to prove what happened. We have the resources to obtain crucial evidence in cases like this to show that someone else was at fault.
Possible Compensation You Can Recover in an Insurance Claim
Some situations might allow you to file an insurance claim. For example, if another driver caused an accident, you could file a claim with their car insurance company. Contact burn injuries suffered on another person's dangerous property could lead to a claim with their liability insurance carrier.
Insurance claims can provide accident victims with a settlement to cover their losses. The amount of money you receive will depend on a range of factors, such as the severity of your injury and the total expenses incurred from the incident.
The compensation you receive in an insurance claim could cover the losses you suffered, such as:
Disfigurement
Lost wages
Lost earning capacity
Mental anguish
Permanent disability
Damage to personal property
The Birmingham contact burn injury lawyers of Farris, Riley & Pitt, LLP know how to negotiate with insurance companies. We can file the claim on your behalf and seek a settlement to compensate for your total losses. If the insurance company won't settle for a fair amount or decides to deny the claim, we might be able to recover compensation in a lawsuit.
Pursuing a Lawsuit for a Contact Burn Injury
If you want to sue the negligent party that caused your contact burn, you must adhere to a strict timeframe known as a statute of limitations. The statute of limitations in Alabama is two years. That means you have two years from the date of the incident to file your lawsuit. Once the statute expires, you can't pursue compensation from the at-fault party in civil court.
However, there is one exception to this rule. Anyone under a legal disability at the time of an accident could extend the statute, giving them more time to file. One such legal disability is when the victim is a minor under 19 years old. If you were under 19 years old at the time of the incident, you could file a lawsuit after your legal disability is gone. That means once you turn 19, you would have three years from the date of your birthday to sue the at-fault party for compensation.
Contact Us
At Farris, Riley & Pitt, LLP, our team is available 24/7 to speak to you about your case. We believe in providing dependable customer service, so you always have someone there for you when you need us. We will stay by your side the entire time and maintain open and honest communication with you.
If you sustained a contact burn due to another person's negligence, call Farris, Riley & Pitt, LLP right now. One of our Birmingham contact burn injury lawyers will be happy to meet with you for a free consultation to review the facts of your case and determine what we can do for you. Call (205) 324-1212 or reach out to us online.