Birmingham Car Accident Attorney
After a car accident, you have a lot on your mind. Your health is most important. However if you are the breadwinner in your family, you also must consider how you will support everyone. Not having a paycheck while you recover is difficult enough. Having multiple medical bills to pay only makes it worse. Expenses, such as doctors, physical therapy, medication, surgery, and hospital visits, can pile up very quickly. You might also have to pay for damage to your car, truck, or other personal property.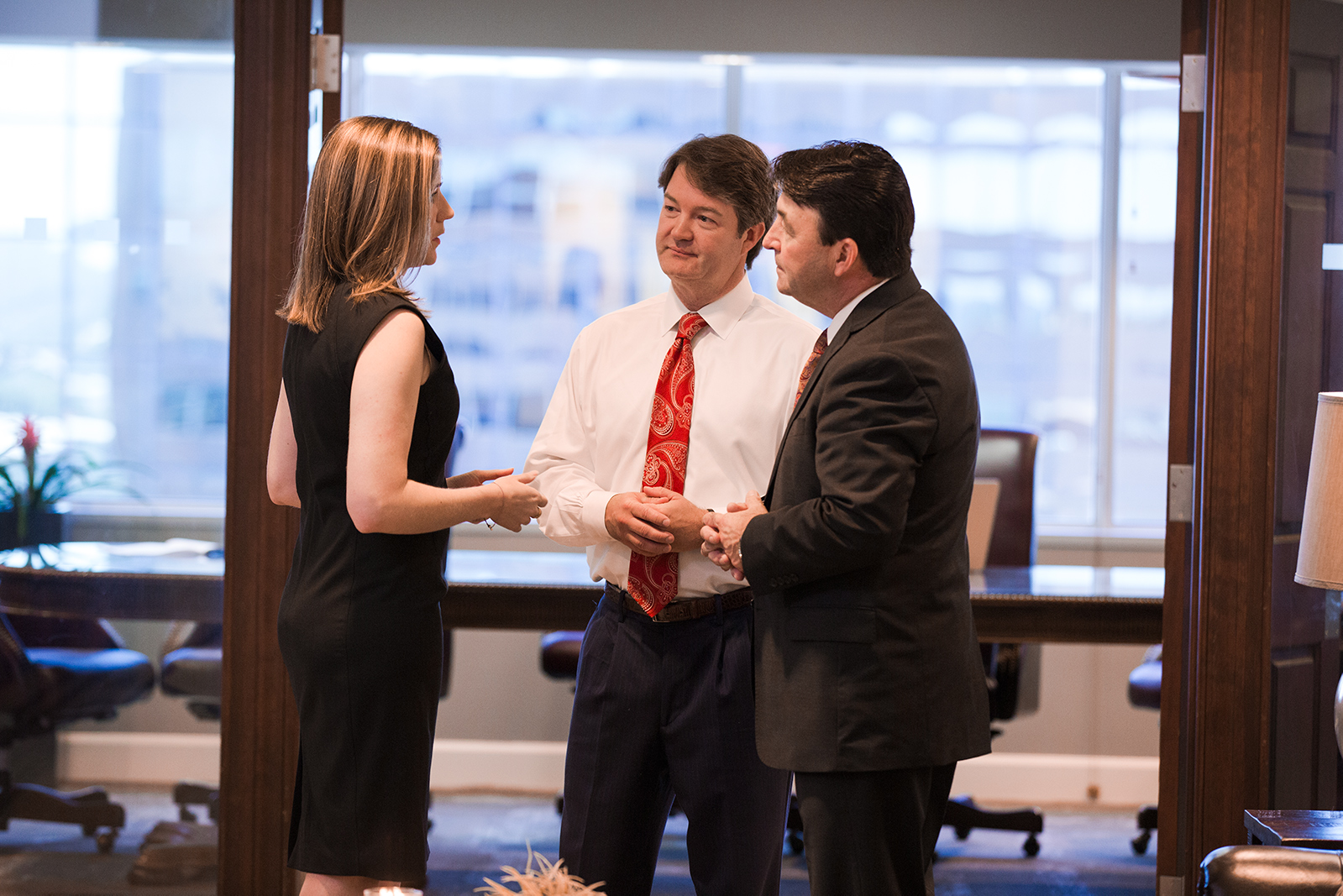 Farris, Riley & Pitt, LLP can help you secure a fair and substantial financial recovery for your injury. Insurance companies have lawyers looking out for their best interests and so should you.
We can help ensure that your claim is presented in a clear, complete, and timely manner. We can evaluate whether your medical records reflect the true extent of your injuries.
Insurance companies tend to lowball personal injury victims because they know you are under financial and emotional stress. They want to give you as little money as possible without regard to what you truly deserve.
Contact our car accident attorneys in Birmingham as soon as possible after you are in a car crash or sustain an injury. Let us worry about securing your fair financial recovery while you concentrate on your health.
Why Do I Need a Car Accident Lawyer?
Some people tend to believe that they will be able to keep more of whatever money they receive for their car crash injuries by not hiring an attorney. Make no mistake. This is exactly what insurance companies want people to believe, which is why agents will often encourage victims to "keep lawyers out of this."
In truth, insurers much prefer to deal with people who do not have legal representation because such individuals usually have little to no idea of how to handle a personal injury claim. An experienced attorney, however, will be able to determine the true value of your case and fight to make sure you obtain all of the compensation you are entitled to.
While representatives for insurance companies may seem genuinely concerned about your well-being and express a willingness to make sure you are taken care of, most initial phone conversations with victims are largely intended to get the victims to unknowingly make damaging recorded statements about their crashes, which ultimately hurt their cases. Farris, Riley & Pitt, LLP can handle these phone calls on your behalf and immediately begin negotiating a fair and full settlement, covering all of your past, present, and future needs.
Why Choose Farris, Riley & Pitt, LLP To Handle My Case?
Farris, Riley & Pitt, LLP can negotiate a settlement that includes money for your medical expenses, lost income, lost future earnings, pain and suffering, and emotional distress.
Hiring the right personal injury lawyers in Birmingham is the first step toward alleviating some of your stress after you have been in an accident. At Farris, Riley & Pitt, LLP, our lawyers have extensive experience handling personal injury cases.
We can help you through every stage of a personal injury claim and provide you with professional, personal, and compassionate representation. How do you know if it is in your best interest to negotiate a settlement or take your case to trial? The personal injury attorneys at Farris, Riley & Pitt, LLP are dedicated to ensuring the best possible outcome for you and your family.
Our firm also handles auto accident cases on a contingency fee basis, which means that you do not pay any fees for our services unless you receive a monetary award.
7 Tips to Help You Find the Best Car Crash Injury Lawyer in Birmingham, Alabama
Cases We Handle
Every car accident is different and involves unique factors and causes. At Farris, Riley & Pitt, LLP, we regularly handle a wide variety of car crash cases, such as:
Distracted Driving Accidents – Driving while using a handheld device such as a cell phone or tablet takes a person's focus away from the road. Even a small lapse in attention can be the difference between a driver hitting the brakes quickly enough to stop and a devastating car accident.
Driving Under the Influence (DUI) Accidents — Alabama prohibits drunk driving, and a person operating a motor vehicle while under the influence of alcohol and/or a controlled substance is exponentially more likely to a cause serious crash because of the effects that alcohol or drugs has on their ability to safely control an automobile. In most cases, a drunk driver will face serious criminal charges after causing an accident, but it is important to keep in mind that a criminal case is completely separate from a civil action. Even if a motorist is able to avoid being convicted of DUI, they can still be held be liable in a civil case.
Bus and Train Accidents — Not all auto wrecks involve other cars. In certain cases, victims can be seriously injured in crashes involving buses or trains. When these accidents are the result of a bus driver or train operator's negligence, victims may be able to hold the bus or train owner liable.
Construction Zone Accidents — Work zones in Alabama can cause frustration for motorists because they force the vehicles passing through them to slow down to comply with lower speed limits. Some drivers disregard these types of safety measures and often cause serious accidents.
Hit-and-Run Accidents — Alabama Code § 32-10-2 establishes that any driver involved in an accident resulting in injury to or the death of any person or damage to any vehicle must give their name, address, and the registration number of their vehicle. The motorist is also required to render to any person injured in the accident reasonable assistance. Unfortunately, some drivers do not comply with this law and flee an accident scene. Leaving the scene of a crash is often referred to as a hit-and-run accident. Not only can Farris, Riley & Pitt, LLP work with law enforcement in an attempt to track down the offender, but we can also assist you in filing claims with your own insurance company in the event the wrongdoer is not found.
Multi-Vehicle Accidents — Some crashes involve more than two vehicles. Such cases can quickly become very complicated, with motorists' insurers blaming one another for being at fault. Farris, Riley & Pitt, LLP can conduct a thorough investigation to determine all liable parties and work to ensure that they are held accountable.
Uninsured Motorist Accidents — Under the Alabama Mandatory Liability Insurance Act, no person in the state can operate a motor vehicle unless it is covered by a liability insurance policy that satisfies the minimum liability insurance limits of $25,000 for death or bodily injury to one person, $50,000 for death or bodily injury to two or more persons, and $25,000 for property damage. Unfortunately, some Alabama drivers do not carry any kind of insurance, and it can be incredibly difficult for victims to obtain the compensation they need in such cases. Farris, Riley & Pitt, LLP can assist in both holding these negligent drivers accountable and working with your own insurance company.
Rear-End Collisions — Whether another motorist was tailgating or was simply inattentive, victims whose vehicles are struck from behind often suffer serious injuries. In many of these cases, negligent drivers may have been engaged in some kind of distracted driving.
Reckless Driving – Drivers who tailgate, weave in and out of lanes, ignore the right of way, run red lights, and other careless actions are difficult to predict, causing serious accidents.
Speeding Accidents – If you sustained catastrophic injuries or your loved one was killed in a motor vehicle accident caused by a speeding driver, the other motorist should be held accountable for the harm they've caused. We'll be here to help.
Side-Impact or T-Bone Collisions — When crashes occur at intersections, one vehicle is often struck in the side by another automobile, and injuries can be quite severe for the occupant(s) on that side.
Head-On Collisions — Crashes involving head-to-head impact are often far more likely to result in fatal injuries because of the impact that is often involved. Such accidents may be the result of improper lane usage or of another driver attempting to pass a vehicle without sufficient room to do so.
Highway Defects – When you are involved in an accident caused by a dangerous roadway condition, a governmental entity might owe you significant compensation. Call us to find out how we can help you today.
Whiplash – Did you or a loved one suffer whiplash in a car accident in Alabama? Our team can help you get the compensation you are owed.
Not all car accidents involve other vehicles. Farris, Riley & Pitt, LLP also handles isolated crashes that may be the result of defective automobile parts or maintenance company negligence.
What You Should Do After a Car Accident
If you've been hurt in a car crash in Alabama, you must always make sure to seek immediate medical attention, whether you are transported to an emergency room by EMS, or if you have to visit the hospital yourself. Keep in mind that come injuries will not display symptoms for days or weeks, and any delay in treatment is going to be used against you if you try to file an injury claim later. The insurance company will immediately question why you didn't seek treatment right away if you were hurt. It is always best to play it safe and have a doctor look you over just to be sure that you are in satisfactory physical condition.
When it is possible, you should try to use a camera (such as the one likely found on your smartphone) to take as many pictures as you of the scene of your crash. Get pictures of every vehicle involved and every person as well as any other notable factors, and try to take pictures from lots of angles and distances so you can have a wide variety of images.
If any people saw your accident, ask them for some kind of contact information in case they are needed as witnesses. When you cannot take these measures yourself, then you should ask a friend, family member or another person you know to try to do these things for you.
When you are contacted by another driver's insurance company, you need to be extremely cautious about what you say. Never provide any recorded statement to a claims adjuster.
Types of Car Accident Damages You Could Recover
If you've been hurt in a car accident caused by another person or party's negligence, you could be owed significant compensation for the harm you've suffered and damage to your personal property. The personal injury claims process typically begins with your attorney sending a demand letter to the insurance company for the responsible party, seeking a fair settlement for your medical bills, lost wages, associated expenses, and other damages. If the company refuses to offer you a fair settlement, your attorney may then advise filing a lawsuit to seek compensation through the court. While most injury claims are settled long before they ever see a courtroom, you could be eligible to recover the following compensation if your case goes to trial:
Economic damages: Are the tangible costs a victim is facing that can be calculated and proven. Common kinds of economic damages can include awards for lost wages, medical bills, and property damage.
Noneconomic damages: Are far more subjective and typically cannot be quantified. Some of the more frequent examples of noneconomic damages include pain and suffering, disfigurement, and loss of consortium.
Another type of damages that could also be awarded are punitive damages, but these awards are very rare and are limited only to cases in which defendants "consciously or deliberately engaged in oppression, fraud, wantonness, or malice." Drunk driving accidents are one kind of car accident that could result in a punitive damage award, which state law provides cannot be more than three times the compensatory damages or $500,000, whichever is greater.
Alabama Car Crash Statistics
According to the Alabama Department of Transportation, there were 155,907 total crashes in the state in 2016, resulting in 47,653 injuries and 1,089 fatalities. Of these, 18,329 crashes occurred in Birmingham and resulted in 4,250 injuries and 44 fatalities.
Jefferson County was the scene of 31,824 accidents, resulting in 7,340 injuries and 94 fatalities. Of these Jefferson County crashes, 18,571 were classified as intersection crashes and 13,253 were nonintersection-related.
Some other statistics from ALDOT include:
A traffic crash was reported every 202 seconds in 2016, a person was injured in a traffic crash every 11 minutes and 2 seconds, and there are two to three crash fatalities per day in Alabama on average
Almost 60 percent of fatalities were unrestrained in fatal crashes where seat belts were available for use
50 percent of all fatal crashes occurred at night in 2016
73 percent of all highway crashes occurred on urban roadways, while crashes on rural roads account for 62 percent of all fatalities
The top three most common crash types were as a result of failure to use restraints, speeding, and drug or alcohol use
Over 1,400 Alabama crashes were related to distracted driving between August 2009 and August 2010, with a texting driver 23 times more likely to get into a crash than a nontexting driver
ALDOT statistics show that a typical Alabama driver has a greater than 1 in 3 chance of being in an accident involving injury or death during their lifetime.
The University of Alabama reported that the 2016 traffic crash fatality total was a nearly 25 percent increase from 2015. The University found that crashes caused by distracted drivers in 2016 increased 20 percent from 2014, and there were more crashes with impact speeds faster than 50 miles per hour (mph) in 2016.
Center for Advanced Procurement Strategy (CAPS) research has shown every increase of 10 mph doubles the probability of a crash being fatal, according to the University. ALDOT reported that speeding was the top contributing factor in fatal crashes.
Common Injuries Reported After Car Accidents
Car accidents have the potential to cause a wide variety of injuries. Some people may be completely unharmed, others may sustain minor injuries that heal relatively quickly, and there are also a significant number of people who can suffer completely devastating injuries that dramatically reshape their entire lives.
Examples of injuries people might sustain in car accidents include, but are not limited to:
Neck injuries
Internal organ injuries
Traumatic brain injuries (TBIs)
Spinal cord injuries
Paralysis
Muscle strains
Fractures
Sprains
Nerve damage
Injuries that are more severe in nature are more expensive to treat, and some victims will require several weeks, months, or even years of rehabilitation. All of this occurs at the same time that a victim is also unable to return to work to support themselves.
Many insurance companies will deny injury claims because victims allegedly had preexisting conditions. You will want to be sure that you have a lawyer who will know how to prove that your involvement in a crash was the direct cause of your injuries.
It is also possible that some accident victims will die because of the injuries they sustained in a motor vehicle wreck. In such cases, the family members of the deceased person may be able to file a wrongful death lawsuit.
ALABAMA CAR ACCIDENT LAWS
Alabama Code § 32-7A-6(a) establishes that every operator of a motor vehicle must carry within the vehicle evidence of insurance that includes insurance satisfying the minimum amounts provided in Alabama Code § 32-7-6(c). Under that section of state law, every driver must maintain insurance providing coverage of at least $25,000 for bodily injury to or death to one person in any one accident, $50,000 for bodily injury to or death of two or more persons in any one accident, and $25,000 for property damage.
Many people carry insurance policies that provide greater coverage than what is required by state law, but there may be accidents caused by uninsured drivers. Victims may be able to obtain compensation through their own uninsured motorist policies but the uninsured driver can still be personally liable for the damage caused.
Under Alabama Code § 6-2-38, a person has two years from the date of a car accident to commence a legal action. This period is known as the statute of limitations, and the limitations period can be tolled (or delayed) for certain victims.
Any person who is considered to be "under legal disability" that prevents them from filing a claim may have their limitations period tolled until their disability has been removed. One of the most common examples of a legal disability is a victim who is a minor and not old enough to file a lawsuit, and such victims will have two years to file once they turn 19 years of age.
Another possible exception could apply when the defendant in a car accident action has left the state or cannot be located. In such cases, the time in which the party could not be located may not be counted against the statute of limitations.
DEALING WITH THE INSURANCE COMPANY AFTER A CAR ACCIDENT
In the aftermath of an injury accident, the last thing you want to have to deal with is representatives from the insurance company, but you will likely be contacted by an adjuster shortly after the accident. The company's representatives may seem concerned about your health and wellbeing, but it is essential to remember who they work for (the insurance company) and what their job is (to save the company money).
The insurance company is only looking to protect its bottom line, and that always means resolving your case for as little as possible. An insurer will not immediately reveal the extent to which it will go to reduce your award.
You want to let an attorney handle all conversations with insurance companies on your behalf. A lawyer is going to have a far better understanding of the true value of your claim and will be able to negotiate a more fair and full settlement.
In many cases, the insurance company will ultimately argue that you were at fault for your injuries or that some degree of fault on your part prohibits you from being awarded any damages. You always want the help of an attorney who will be able to investigate your accident and gather the evidence needed to show another driver was at fault for your injuries.
Frequently Asked Questions
If you've been hurt in a car accident, you likely have many questions about your rights and legal options. We have provided the answers to some commonly-asked questions below, and are available to help answer specific questions when you schedule a free, confidential consultation with us.
Alabama is one of only five U.S. states that recognizes the affirmative defense of contributory negligence. Under this rule, a victim is barred from recovery if their own negligence contributed in any way (even just one percent) to an accident. Contributory negligence is one of the most important reasons that a person should not speak to a negligent driver's insurance company without legal counsel, as agents for insurers are always seeking ways to get victims to admit to even a marginal degree of fault for a crash.
Your first step after a car crash should be to seek medical attention, even if you do not think you were hurt. Not all injuries have immediate symptoms, and it is usually beneficial to later injury claims to have a record that shows medical care immediately after an accident. When possible, take pictures of your crash scene and get contact information for anyone who witnessed your accident. If you cannot take these steps yourself, try to have friends or family members do this for you. Also beneficial is writing down everything you remember and keeping a journal, as memories of these events inevitably begin to fade rather quickly. Finally, do not speak to the other driver's insurance company without first contacting Farris, Riley & Pitt, LLP.
In most cases, people can obtain copies of crash reports from the law enforcement agency that responded to their accidents. The Alabama Law Enforcement Agency provides reports for crashes all over Alabama, but accident reports can also be obtained from the Birmingham Police Department or the Jefferson County Sheriff's Office.
Contact a Birmingham Car Accident Attorney Today
The experienced personal injury lawyers of Farris, Riley & Pitt, LLP have been helping all kinds of injury victims throughout Alabama for more than two decades. We understand the tremendous toll that automobile crashes take not only on the victims injured in wreck, but their entire families as well.
If you were seriously injured or your loved one was killed in a car crash in the greater Birmingham area, it is in your best interest to immediately retain legal counsel. Call us at (205) 324-1212 or contact us online to take advantage of a free consultation that will let our attorneys review your case and help you understand all of your legal options.