WEEKLY WBRC FOX 6 LAWCALL™ SEGMENT
For many people in need of advice, the law can seem intimidating and inaccessible. It can be rife with technical legal jargon and information that may not always apply to your specific situation. At Farris, Riley & Pitt, LLP, we are out to change that.
Yes, the law can become complicated, but people deserve transparent advice and information about the legal process and how it could be used to protect their rights. It is in this vein of honest and informational reporting that Farris, Riley & Pitt, LLP has teamed up with WBRC FOX 6 for LawCall.
LawCall is a segment that gives viewers valuable information about the law and a chance to field their questions to a Birmingham personal injury lawyer.
WBRC FOX6 LawCall is a live, 30-minute legal call-in show airing every Sunday night at 10:30. Co-hosted by award-winning broadcaster Melanie Posey and Farris, Riley & Pitt partner attorneys Kirby Farris and Ken Riley. LawCall focuses on a different legal topic each week with guest attorneys from across North Central Alabama, giving our community a chance to seek legal advice. The attorneys take live phone calls from viewers pertaining to that topic.
Each weekly LawCall segment focuses on a new and relevant topic from the legal world that may impact Birmingham residents. During this 30-minute segment, WBRC FOX 6's Melanie Posey and an attorney from Farris, Riley & Pitt, LLP break down the week's topic into easily digestible information that bypasses complicated legal jargon and focuses on giving viewers the honest and upfront material they need.
The wide range of topics covered means that everyone has the opportunity to learn more about an important issue that may prove vital to them. From car accidents to medical liability claims to hurricane damage coverage, divorce, and workplace injuries, if you have a pressing legal concern, chances are the team at WBRC FOX 6 LawCall and Farris, Riley & Pitt, LLP have covered it or will cover it during a future broadcast.
Our team keeps a collective finger on the pulse of important legal topics that impact the local Birmingham community. LawCall covers the issues important to you and delivers them straight into your living room, with no appointment needed.
We don't stop at providing important legal information either. We give the community the chance to call into the show and ask relevant legal questions about the topic at hand. By doing this, we further open dialogue between an experienced LawCall attorney and the public and explore the topic in more depth. People who may feel intimidated or overwhelmed by talking to an attorney in an office setting can get valuable information about topics important to them through the LawCall program and further explore their legal options with that new information in mind. LawCall Birmingham is a resource that makes legal information much more accessible to the community.
Interested in learning more about the legal system and how it may be used to benefit you? Tune in to LawCall every Sunday night at 10:30 p.m. We talk about an issue that's new and relevant to Birmingham residents in every segment and give you the chance to call in with your questions. This is your opportunity to talk to an attorney about a topic that is important to you and have your question answered by an experienced LawCall lawyer.
Fox 6 LawCall, where award-winning broadcasters and knowledgeable attorneys meet to give you the advice you deserve. Call us at 1-855-LAW-1955 during the show to have your legal questions answered, or contact us online to send us your questions via our website.
The call-in segments of LawCall are underwritten in the public interest by the Farris, Riley & Pitt, LLP.
To view past segments, please visit our YouTube Channel.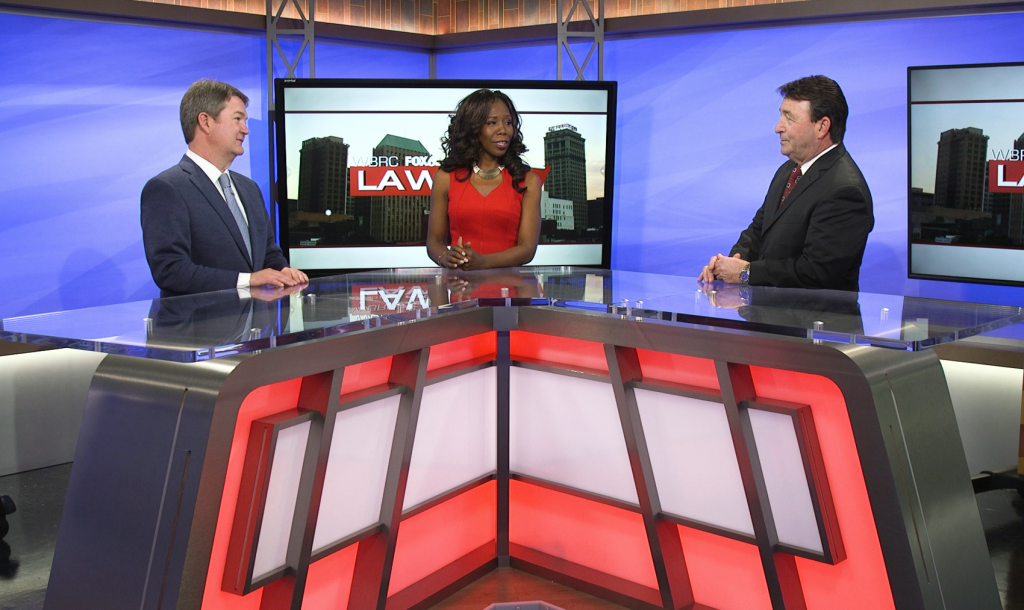 Meet Melanie Posey, LawCall Co-host
For 22 years, including 15 with WBRC FOX6 News, Melanie Posey built a solid journalistic reputation as an award-winning field reporter. She now continues her commitment to providing solid information as the Public Information Officer for the City of Hoover.
During her tenure with WBRC, Melanie covered numerous legal stories and cultivated relationships with some of the state's top attorneys and judges. She was the lead reporter on the trials of two men convicted of killing three Birmingham Police officers, the trial of Gabe Watson, and she did extensive work on Anthony Ray Hinton's legal journey that led to his exoneration and release from prison after serving 30 years on Alabama's Death Row.
As a reporter, Melanie built a strong following among viewers and co-workers because of her deep commitment to helping the community. She now turns that enthusiasm towards assisting viewers in understanding their legal rights.
"I am a lifelong learner," Melanie said. "My goal is to learn about the law along with our audience. I hope the questions I ask may well be the questions they would ask."
No stranger to the WBRC FOX6 LawCall family, she has been a frequent substitute host before assuming full-time hosting duties.
More Farris, Riley & Pitt, LLP on LawCall:
Birmingham's 54-year-old Antonio Leon Ellison Struck by a Pickup Truck While Walking
24-year-old Ryan Brown injured in a car wreck while driving a motorcycle
Anthony Smith killed in a single-vehicle crash on Hix Road near Sasser Road in Tallapoosa County
30-year-old Justin O'Neal Langham 23-year-old girlfriend Kiyaira Michaela Kincaid lost their lives in a car wreck
David Darnell and daughter Abbey Darnell killed when their vehicle was struck by a Chevrolet pickup truck on I-85 Southbound in Opelika
Trey Jay Downey of Southside Alabama struck by a vehicle while riding a bicycle on Hood Road near Linda Lane
Jack Henry Moody of Birmingham killed in a crash at the intersection of Overton Road and Highway 280 in Jefferson County
16-year-old Taylor Ronald Akin killed in a two-vehicle crash
Rollins Car Chase in Huntsville
3 Car Fatality Crash In Dekalb County
Birmingham Police officer collision with a sedan near Forestdale, Alabama