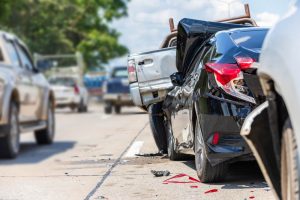 Were you rear-ended by another driver in a crash that wasn't your fault? If you have been injured in a rear-end collision, you may be entitled to a financial recovery for your medical bills, lost income, and pain and suffering. Don't let the insurance companies try to lowball you simply because you were involved in a rear-end collision. Get the legal help you need to demand compensation for your injuries and losses. Turn to the Birmingham car accident attorneys of Farris, Riley & Pitt, LLP for a free initial case evaluation to discuss your legal options with a knowledgeable rear-end accident lawyer at our firm.
Why Do I Need a Rear-End Accident Attorney?
After you have been hit in a rear-end collision, you may decide to pursue your insurance claim on your own rather than hiring an attorney so that you can keep more of the money you get in a settlement. But accident victims who have legal representation often recover much greater compensation than claimants who try to handle their case themselves. Insurance companies often rely on accident victims' unfamiliarity with personal injury law to minimize the compensation they must pay. When you have a rear-end accident attorney on your side, your lawyer can thoroughly investigate the accident and document your injuries and losses to determine the true value of your claim. Your lawyer can prepare a strong, persuasive claim to press the insurance company to provide you with the fair and full compensation you deserve.
Why Choose Farris, Riley & Pitt, LLP to Help Me with My Rear-End Collision Case?
If you were injured in a rear-end collision, you need legal representation that will fight for justice for you. At Farris, Riley & Pitt, LLP, we leave no stone unturned in seeking to secure full financial recovery for your medical expenses, lost income and future earning ability, and pain and suffering. Our firm has extensive experience in personal injury law, having advocated for the rights of accident victims for over 20 years. In that time, we have recovered more than $200 million in compensation on behalf of our clients. We are dedicated to fighting for the best possible outcome in your case. Our firm also represents accident victims on a contingency fee basis, which means you owe us no fee unless we recover compensation for you.
Common Causes of Rear-End Collisions
Some of the most frequent causes of rear-end crashes include:
Injuries Suffered in Rear-End Accidents
A rear-end collision can cause vehicle occupants to suffer injuries such as:
What Should You Do After Being Involved in a Rear-End Collision?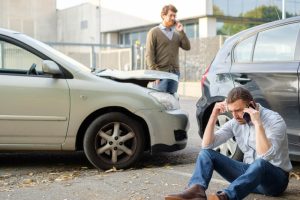 Following a rear-end accident, you can take steps to help protect your rights to pursue a legal claim for compensation and to put yourself in the best position possible in your case. These steps may include:
What Compensation Can You Recover in a Rear-End Accident Case?
Compensation that you may be entitled to in a legal claim after a rear-end crash can include reimbursement for:
Frequently Asked Questions about Rear-End Collisions?
Common questions that our clients who have been in rear-end collisions ask include:
How long do I have to file a lawsuit after a rear-end accident?
In Alabama, the statute of limitations on rear-end accident claims typically requires you to file a lawsuit in your case within two years of the date of the accident. If you file suit after this time period has expired, your case may end up being permanently dismissed. This makes it important to speak to a rear-end accident attorney from Farris, Riley & Pitt, LLP as soon as possible to ensure that your claims are timely filed.
Is the driver in the rear always at fault for a rear-end collision?
In a rear-end accident case, the driver of the rear vehicle is often presumed to be at fault for the collision. Drivers generally have a duty to drive at a safe speed and to leave a safe following distance between themselves and the vehicle in front. When a driver rear-ends another vehicle, it may be assumed that they failed to fulfill their duty. However, certain circumstances may indicate that another driver was at fault for a rear-end collision. For example, if a driver is rear-ended and their vehicle is pushed into the rear of another vehicle, the driver who first started the accident may be held at fault. Or if a driver suddenly and dangerously cuts in front of another vehicle, they may be held partly at fault if a rear-end collision occurs.
Do I have a claim if I was only involved in a "fender-bender?"
You should not assume that you have no legal claim to pursue if you were involved in a low-speed rear-end collision. Even a seemingly minor rear-end accident can lead to long-lasting injuries, which may not begin to manifest symptoms until several days have passed following the crash. For this reason, you should seek medical attention as soon as possible after a rear-end accident to have a doctor identify any injuries you may have suffered in the crash. You should also reach out to Farris, Riley & Pitt, LLP after an accident to learn more about your legal rights.
Contact a Rear-End Collision Lawyer from Farris, Riley & Pitt, LLP Today
After you have been injured in a rear-end accident in Birmingham, contact a rear-end collision lawyer from Farris, Riley & Pitt, LLP to learn more about how our firm can help you get the financial recovery you deserve. Call us today at (205) 324-1212 for a free, no-obligation consultation.