Birmingham Attorney for Spinal Cord Injury from Car Accidents
If you have sustained a spinal cord injury in a car accident that was caused by someone else's negligence, you may be owed compensation for your injuries. Spinal cord injuries often cause long-lasting and even permanent damage, including paralysis. The initial cost of medical treatment will be very high, and the expenses for rehabilitation and lifestyle adjustments will continue for years to come.
You should not have to shoulder the financial burden of such a serious injury when it wasn't your fault. Negligent drivers must be held responsible for their actions. The Birmingham car accident attorneys of Farris, Riley & Pitt, LLP can help you build a strong case and pursue full and fair compensation on your behalf. Contact us today at (205) 324-1212 for a free consultation.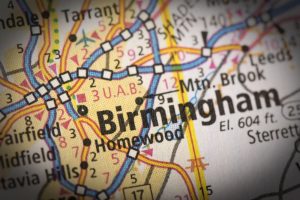 Why You Need a Lawyer
Spinal cord injury cases often yield a higher amount of compensation than many other types of cases due to the severe nature of the injury. However, securing a high amount of compensation is never an easy task. The other driver's insurance company has powerful attorneys on their side, and in this type of case, they will do everything they can to lessen the payment or deny you compensation altogether.
Some of the impacts of a severe injury can be difficult to quantify, and the insurance company will try to use this against you and downplay what you have experienced. A skilled attorney can help portray your case in a way that may help the insurance company see the big picture and gain a deeper understanding of the huge financial and personal impacts you are facing and will continue to face. If we cannot reach a fair settlement, our attorneys will take the case to trial to fight for compensation on your behalf.
Why Choose Us?
While seeking compensation for a severe injury, such as a spinal cord injury, it is crucial that you hire an attorney who has extensive experience with complex cases. The attorneys at Farris, Riley & Pitt, LLP have collectively secured over 200 million dollars in compensation for our clients. We provide an attention to detail that you will not find at other law firms.
Our attorneys have been recognized by many prestigious organizations, including Super Lawyers, Top Flight Attorneys, the National Trial Lawyers, and Martindale-Hubbell. Our attorneys consistently receive praise from our clients regarding our professionalism, friendliness, and dedication to fighting for justice.
How Do Spinal Cord Injuries Happen?
Around 40 percent of spinal cord injuries occur because of car accidents, according to the National Spinal Cord Injury Statistical Center. The force from a car accident can cause sudden trauma to the spine. While the car's speed plays some role in the severity, there are many other factors that can affect whether someone suffers a spinal cord injury upon impact, including:
Whether the occupant's head was turned
Position of their seat in the vehicle
Height of occupant
Weight of occupant
Gender of occupant
Previous spinal conditions, such as degenerative disc disease
One of the best ways to prevent a spinal cord injury in a car crash is by wearing a seatbelt, but spinal cord injuries can still happen even with appropriate safety measures.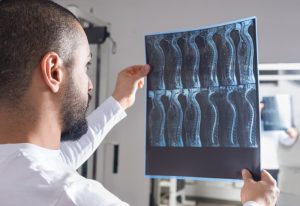 Types of Spinal Cord Injuries
A spinal cord injury can include damage to the spinal column, including ligaments, vertebrae, discs, and the spinal cord itself. There are two main categories of spinal cord injuries:
Complete – A complete spinal cord injury causes paralysis to both sides of the body. The scope of the paralysis is determined by where on the spinal cord the damage occurs. It may affect only the lower half of the body (paraplegia), or if the damage happens high up on the spine, all four limbs may be paralyzed.
Incomplete – When the spinal cord sustains incomplete damage, the person may still have some function on one or even both sides of the body.
While people with a complete spinal cord injury are not likely to make a full recovery, results can vary greatly for someone who suffered an incomplete spinal cord injury.
Proving Your Case
Building a strong case has two main parts. First, you must prove that another person was at fault for your injuries. Additionally, you must prove the financial burden of these injuries, as well as the extent to which they will impact your lifestyle.
Proving who was at fault can be complicated, but our attorneys can involve accident reconstruction specialists, analyze medical records, review the damage to your vehicle, and utilize many other techniques to understand what really happened at the time of the accident.
Good medical records will be a major key in proving the extent of your injuries. It is crucial that you seek medical care right away after experiencing symptoms of a spinal cord injury. Next, you should follow the treatment plan prescribed by your doctor, including taking medication, attending physical therapy or other rehabilitation, and returning for all scheduled follow-up appointments. This will demonstrate that you are committed to doing everything possible to heal from your injuries.
Additionally, it is useful to keep a journal to document your pain and other symptoms from day to day, as well as how the injury has affected your lifestyle. It is relatively easy to calculate how much you are owed for medical bills and lost wages, but the cost of human suffering is much more complicated to calculate. By recording details about your day-to-day life, you will create valuable evidence that demonstrates the emotional, social, and other negative effects of your injury.
Contact a Birmingham Spinal Cord Injury Lawyer Today
You likely never imagined suffering a spinal cord injury, and at this point, each day brings new stress and challenges. At Farris, Riley & Pitt, LLP, we support injured people like you on a daily basis. We understand the pain and stress that you are going through, and we are here to help. The legal process can feel daunting and complicated, but our team will handle it all so you can focus on your recovery.
We operate on a contingency basis. This means you will not owe us a penny unless we successfully secure compensation for you. Contact us today at (205) 324-1212 for a free consultation.