Birmingham Lawyers for Fractures After a Car Accident
After a car accident, you may be faced with a long list of things that have to be done. You may feel overwhelmed by the paperwork, doctor's visits, and rehabilitation necessary to return to your previous level of functioning.
If you sustained a fracture in a car accident that was not your fault, it could lead to surgery, complications, or even chronic conditions. Unfortunately, you may also be faced with a growing stack of medical bills and may not be able to return to work immediately. This only adds to the physical, emotional, and financial burden.
The attorneys of Farris, Riley & Pitt, LLP want you to know that you're not in this alone. Call our office today at (205) 324-1212 to talk with a Birmingham car accident attorney. You'll sit down with one of our experienced personal injury lawyers, who will listen to the details of your case and answer your questions. You deserve the best legal representation possible. Your initial consultation is free, and we will not charge you anything unless we win. Contact us today.
Symptoms You Have a Fracture
During a car accident, a significant amount of pressure can be placed on a bone so that it splits or breaks. Any type of break is called a fracture. When a broken bone punctures the skin, it's called an open fracture or a compound fracture. If the broken bone does not puncture the skin, it's called a closed fracture.
Although a broken bone will usually cause symptoms, in some cases, you may only experience discomfort or pain in the area. That's why you should see a health care provider as soon as possible after the accident. Fractures should be treated immediately to reduce the risk of complications. Symptoms can include:
A limb or joint that is visibly out of place
Swelling, bleeding, or bruising over the area
Intense pain
Numbness and tingling below the level of the break
Broken skin with a bone protruding
Limited mobility or the inability to move a limb
Depending on the pressure and force placed on the bone during the accident, a variety of different types of fractures can occur.
Greenstick: This is an incomplete break where part of the bone is broken and causes the other side to bend.
Transverse: The bone breaks in a straight line perpendicular to the length of the bone.
Spiral: The bone break spirals around the bone, which is common when the bone is twisted.
Oblique: The bone breaks diagonally.
Compression: The bone is crushed, which causes the area where the bone is broken to be wider or flatter.
Segmental or comminuted: The same bone is broken in two places (segmental) or three or more (comminuted).
Avulsion: The bone break happens near the insertion of a tendon or ligament.
How Fractures Are Treated
After a car accident, your healthcare provider will take a full history. This includes questions about how the injury happened and any past history of broken bones. Your provider usually orders imaging tests that can include an X-ray, MRI, or CT scan.
Often, an X-ray will demonstrate the fracture, and no other imaging is necessary. However, in some cases, the health care provider will order an MRI or CT scan when they suspect a fracture, but it is not immediately visible on an X-ray.
Treatment for a bone fracture depends on what bone is broken, how it was broken, local complications, and the expectation for restoration to normal use. If surgery is not required, it is called a closed reduction.
If there is an open fracture, you require surgery to set it correctly and reduce the risk of infection. This is called an open reduction. In some cases, the surgeon will apply an internal fixation device. This can include metal rods or pins to hold bone fragments in place.
Depending on the break, they may apply an external fixation device instead. These are rods or pins outside the body that are also used to hold the bone fragments in place.
After a fracture, the muscles around the broken bone can contract or get shorter. This prevents the doctor from aligning the bones correctly before putting on a splint or a cast. In this case, the healthcare provider may order traction.
This is a steady stretching action on the muscles around the break. This helps to align the bones correctly. You will be in a hospital attached to pulleys, weights, and a metal frame to receive traction. Ultimately, the goal is to apply a splint or cast that immobilizes the area and keeps the bones aligned while they heal. Fractures can take several months to heal as new bone is formed. If you have further questions about your case, don't hesitate to reach out to Farris, Riley & Pitt, LLP today.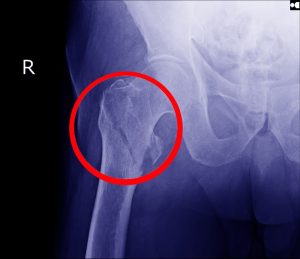 Are There Long-Term Problems from a Fracture?
Several different long-term problems can occur after a fracture during a Birmingham car accident. If you had an open fracture, there is a risk of infection from the open wound. After an open reduction to realign the bone fragments, the wound may not heal correctly.
Having an open jagged wound that was not surgically made increases the risk of infection and creates a challenge to splint or cast the area to keep it aligned while allowing for the wound to be sufficiently cared for.
In some cases, the bone will have been severely damaged, and you will not regain your previous level of function after the bone has healed. This can create a shorter limb, limp, or loss of function.
Do You Need a Lawyer?
If you were involved in an accident that was not your fault in which you sustained a fracture, you might be entitled to compensation. However, the at-fault party's insurance company will not make it easy for you to recover damages to pay your medical expenses and make up for lost wages if you're unable to return to work.
You shouldn't have to pay the price for someone else's reckless or negligent behavior. The insurance companies have skilled negotiators and accomplished attorneys working for them. You should, too. Contact us today.
Trust Farris, Riley & Pitt, LLP with Your Birmingham Fracture After a Car Accident
The legal team at Farris, Riley & Pitt, LLP understands that no amount of compensation can make up for your physical injuries. However, it can help make the road to your recovery a little bit easier.
Every case is unique, and we are ready to hear the details related to your situation. We believe that you should spend your time and energy recovering from your accident-related injuries and leave the negotiation with the insurance company and possible litigation in court to us. Contact our office today at (205) 324-1212 for your free consultation and case evaluation.