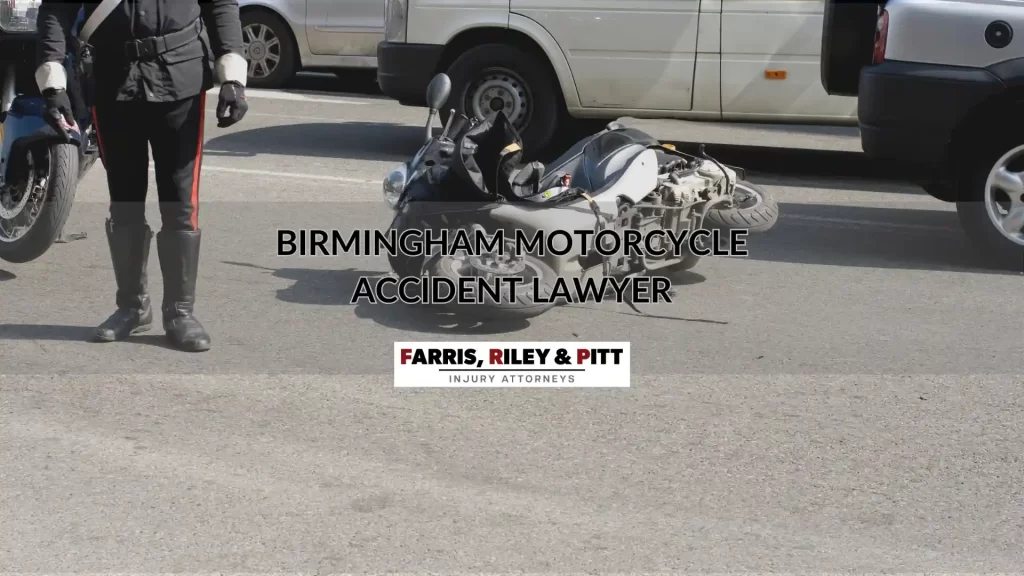 Did you suffer serious injuries or was your loved one killed in a motorcycle crash in Alabama? You might have the right to compensation for your suffered damages, such as medical expenses, lost wages, and property damage. You will want to contact a motorcycle accident lawyer as soon as possible.
Motorcyclists are by nature far more vulnerable on the road than drivers and passengers in cars, trucks, and SUVs.
Operating a motorcycle demands intense focus and intricate skills. Deciding when to swerve or brake could be the difference between life and death for a motorcycle rider.
Every driver must operate their vehicle cautiously to ensure the safety of all road users, including motorcyclists. Intoxicated, distracted, or otherwise irresponsible drivers pose a significant danger to motorcyclists.
When motorcycle-involved accidents do occur, it is incredibly rare for motorcyclists to walk away completely unscathed. They tend to suffer more severe injuries, including severe brain, spine, and limb injuries, compared to drivers and passengers in vehicles with safety features.
This ultimately means that accidents often necessitate expensive, invasive treatments and lengthy rehabilitation for motorcycle riders and passengers, potentially preventing them from working or earning a living during recovery. Their injuries may even prevent them from ever returning to their field of employment.
The severe financial consequences for motorcyclists make it incredibly important they are able to collect adequate compensation following their accident. If you have been injured or a loved one has been injured or killed in a motorcycle accident, it's likely in your best interest to contact experienced motorcycle accident lawyers in Birmingham who are ready to fight for the compensation you deserve and advocate on your behalf.
Why Do I Need a Motorcycle Accident Lawyer?
Many crash victims avoid hiring a motorcycle accident lawyer, believing it will let them keep more awarded money. In reality, insurers often hesitate to provide unrepresented individuals with fair settlements, and most offers fall short of rightful compensation.
Worse yet, without a lawyer, you could confront an insurance company denying compensation, claiming your injuries were your fault. Farris, Riley & Pitt, LLP understands these types of tactics and is capable of protecting your rights and fighting for a fair and full settlement.
When you hire our firm, our lawyers will work diligently to ensure you receive every bit of entitled compensation. Many settlements offered by insurance companies are based only on existing bills, but Farris, Riley & Pitt, LLP can negotiate a settlement that includes all of your expected future expenses as well.
Our firm handles paperwork, insurer calls, and negotiations, letting you concentrate on your recovery. You also do not need to worry about paying us any fees unless you get a monetary award.
Why Choose Farris, Riley & Pitt, LLP?
The attorneys of Farris, Riley & Pitt, LLP have more than 100 years of combined experience handling all kinds of personal injury claims. We recognize the challenges motorcycle accident victims face during recovery and strive to help them achieve justice.
Our firm has secured multiple verdicts and settlements in excess of $1 million. We approach each case with the goal of helping victims recover as much money as possible.
Farris, Riley & Pitt, LLP can handle all negotiations with insurance companies on your behalf to try to achieve the best possible settlement. When an insurer refuses to provide adequate compensation, we will not hesitate to file a lawsuit.
Our firm takes pride in our dedication and commitment to every case we handle. We will work closely with you and keep you fully updated on the progress of your case.
Cases We Handle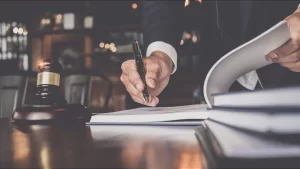 While every motorcycle crash is different, many accidents often share common causes. Farris, Riley & Pitt, LLP is familiar with the many different reasons these crashes happen and can conduct an independent investigation to secure the necessary evidence and prove the negligence of another party.
Some of the most common causes of motorcycle accidents in Alabama include, but are not limited to:
Left Turn Accidents — Drivers frequently cause crashes by turning left in front of oncoming motorcycles. Whether this occurs because of impatience or a simple failure to see the motorcycle, a motorcyclist traveling at full speed is typically powerless to avoid a collision. The impact itself can inflict serious injuries, and the motorcyclist's ejection from their bike may add to the potential harm.
Lane Change Accidents — Motorcycles traveling in the same direction as passenger vehicles may crash when drivers neglect a basic blind spot "shoulder check." Furthermore, accidents can happen when motorists change lanes while a motorcyclist is lane splitting, weaving through slow or stopped traffic.
Failure to Yield – A person's right to turn or move through intersections is known as the right-of-way (sometimes abbreviated as ROW). Article 5 of Chapter 5A of the Alabama Code is dedicated to the right-of-way and failing to recognize another person's right-of-way is known as failing to yield.
Failure to Obey Traffic Signs or Signals — Many collisions at intersections involve passenger vehicle drivers not stopping at red lights or stop signs. Ignoring traffic signs or signals can cause severe injuries for the motorcyclist in such wrecks.
Rear-End Accidents — While a passenger vehicle rear-ending another typically causes minor damage, the consequences are graver when hitting a motorcycle. Even at low speeds, a rear-end collision frequently has enough impact to throw the motorcyclist several feet from their bike.
Driving Under the Influence — Driving under the influence of alcohol or drugs in Alabama is a criminal offense that escalates accident risk due to poor choices. Keep in mind that a criminal case is completely separate from civil action. That means an acquitted DUI driver can still be liable for damages in a civil case. A driver's conviction can serve as evidence of negligence in a civil action, possibly leading to punitive damages.
Speeding — Drivers exceeding speed limits have reduced control over their vehicles in specific situations. Speeding drivers not only lack stopping distance but can also lose control, leading to collisions in some cases.
Reckless Driving — Alabama Code § 32-5A-190 establishes that a person commits the offense of reckless driving if they drive a vehicle "carelessly and heedlessly in willful or wanton disregard for the rights or safety of persons or property, or without due caution and circumspection and at a speed or in a manner so as to endanger or be likely to endanger any person or property." Similar to DUI offenses, civil actions can use convictions as evidence of negligence.
Road Rage – When someone drives aggressively or angrily, endangering others, it can lead to serious or fatal accidents.
Cruiser Bike Accidents – Cruisers allow you to sit back comfortably and enjoy the ride. Negligent drivers not yielding or looking out for you pose a road risk, regardless of your motorcycle type.
Sports Bike Accidents – Sports bikes are a subset of motorcycles that are extremely high-performance. An accident on one could result in severe and potentially life-threatening injuries.
Some motorcycle accidents do not involve other motor vehicles. Defective parts or improper repairs resulting in a crash could make the part manufacturer or maintenance company potentially liable.
Governmental entities may be liable in cases where they failed to correct defectively designed or hazard-containing roadways.
Frequently Asked Questions
Many motorcycle accident cases frequently utilize the affirmative defense of contributory negligence. Under this rule, any negligence on the part of the victim that proximately contributes to their injury (even just 1 percent as compared to the negligent party's 99 percent of fault) will bar the victim from recovery. Insurance companies may manipulate victims into admitting fault for their crashes; therefore, avoid speaking to insurers without legal representation.
Probably not, unfortunately. Alabama Code § 32-5A-245 states that no person can operate a motorcycle unless they are wearing a helmet that complies with standards established under Alabama Code § 32-12-41. The same statute also requires motorcyclists to wear shoes. Failure to wear a helmet inevitably leads to a contributory negligence defense (see above). The helmet law, however, does not apply to a person riding within an enclosed cab.
Motorcycle Accident Statistics
According to the Alabama Department of Transportation:
There were 244,046 vehicles involved in traffic accidents throughout Alabama in 2020. Of those accident-involved vehicles, only 1,556 (0.6 percent) were motorcycles or mopeds.
In 2020, Alabama saw a 20% decrease in motorcycle accident fatalities from 2019, dropping from 90 fatalities. Still, 72 people died in Alabama motorcycle wrecks in 2020.
The number of motorcycle accident injuries in Alabama decreased between 2019 and 2020. There were 1,213 motorcycle accident injuries statewide in 2019 and 8.1 percent fewer (1,115 injuries) the following year.
Fewer motorcyclists were also involved in Alabama motorcycle accidents in 2020 than in the previous year. In 2019, there were 1,867 motorcyclists involved in traffic accidents statewide. There were 1,685 (9.7 percent fewer) in 2020.
In 2020, Alabama motorcyclists and moped riders aged 25-29 had the highest involvement in motorcycle accidents. Riders in this group were in 221 (13.1 percent) of statewide motorcycle accidents that year.
Riders aged 40 to 44 suffered the most fatalities in 2020. These riders accounted for twelve (16.7 percent) of Alabama's 72 motorcycle accident fatalities that year.
Contact a Birmingham Motorcycle Accident Attorney Today
Farris, Riley & Pitt, LLP has been helping injury victims all over Alabama for more than 20 years. Our Birmingham law firm will maintain a commitment to helping you obtain all of the compensation you need and deserve.
If you suffered catastrophic injuries or your loved one was killed in a motorcycle accident in the greater Birmingham area, you should not delay in contacting Farris, Riley & Pitt, LLP. Call (205) 324-1212 or contact us online to have our motorcycle accident lawyers review your case and discuss all of your legal options during a free consultation.