Birmingham Motorcycle Lane Change Accident Lawyer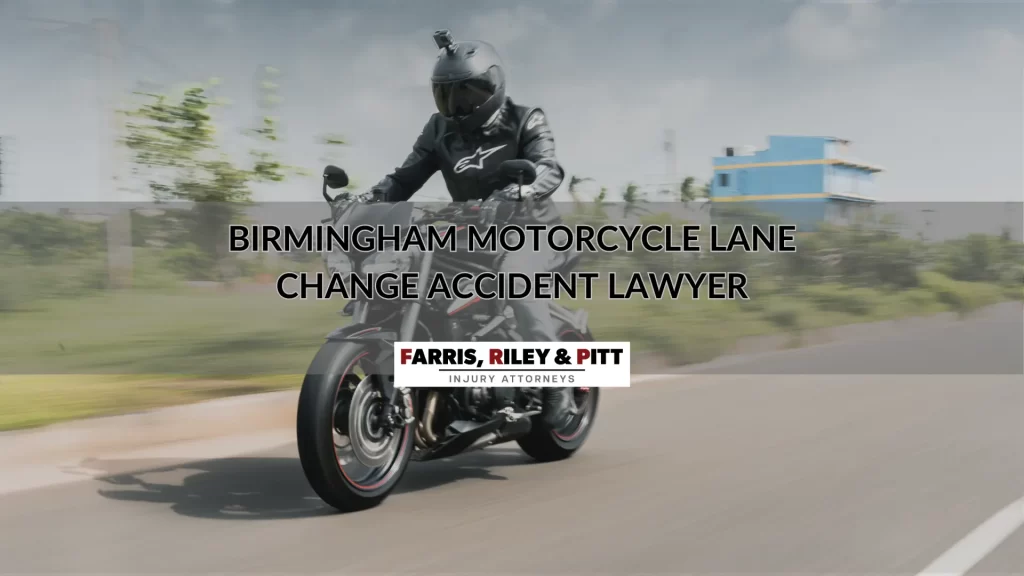 Just as drivers in Alabama have a duty of care to other drivers around them, they also have a duty of care to motorcycle operators. Motorcycle accidents can occur if drivers do not correctly change lanes and share the road.
If you were injured in a motorcycle lane change accident in Birmingham, you deserve a skilled and savvy legal team to defend your rights and aggressively pursue the compensation you deserve. Over the last 20 years, the Birmingham motorcycle accident lawyers of Farris, Riley & Pitt, LLP have won over $200 million for injured clients throughout Birmingham and the greater Yellowhammer State. Contact our office at (205) 324-1212 for a free case evaluation, or use our online chat system at the bottom right of the page.
Causes of Lane Change Accidents
A motorcycle has a smaller, lighter footprint than other vehicles on Alabama roads, and its operator is more exposed to surrounding road conditions. As such, lane change accidents involving a motorcycle can be more severe than similar accidents involving two cars.
Some common causes of a motorcycle lane change accident include the following:
A driver does not check their blind spots for motorcycles or other vehicles before merging (failure to yield).
A driver does not use their blinker before turning or merging.
A driver changes lanes excessively ("weaving through traffic.")
An angry driver makes poor decisions.
A driver is intoxicated or distracted.
Lane Splitting and Sharing in Alabama
A less common cause of motorcycle accidents in Alabama is improper lane discipline from another motorcyclist.
Alabama's traffic code distinguishes between lane sharing and lane splitting. A motorcyclist may use the entire width of a lane. They may also share the lane with one other rider as long as they travel directly alongside each other.
While lane sharing is legal within the two-riders-abreast limit, lane splitting is illegal. A motorcyclist cannot overtake in the same lane as a vehicle they're passing. They also cannot travel between rows of cars or in the space between lanes. If a motorcyclist violates lane discipline and causes an accident with another motorcycle, they may be liable to compensate any rider they injure.
Who Is Liable in a Lane Change Accident?
Liability for a motorcycle accident does not necessarily stop with the driver at fault. Some situations may be more complex, such as the following:
A driver has a defective tire, which blows out and causes his car to sideswipe a motorcycle.
While on the clock for a shipping company, a van driver weaves through traffic and injures a motorcyclist. An investigation finds that the company hired the driver without running a background check to discover the driver's poor driving record.
A mechanic was distracted when repairing a vehicle's power steering system. After the car leaves the shop, it swerves out of its lane and hits a motorcyclist.
When determining liability, your lawyer must leave no stone unturned. Anyone who violated a law or committed a negligent act that directly led to the accident may be responsible for compensating you.
Investigating the Lane Change Accident
After a motorcycle accident, your first priority should be to seek medical attention. The sooner a doctor can identify your injuries and begin treatment, the better outcome you will have.
As you recover, your lawyer will investigate the circumstances leading to the accident. We'll obtain any relevant accident reports from the police, gather photos and videos from the accident scene, and identify witnesses who can provide additional context about the accident's lead-up and aftermath.
Negotiations in a Lane Change Accident
Once your lawyer identifies who is responsible for your injuries and prepares your case, they will draft a demand letter to the liable party's insurer. This letter serves multiple purposes:
It outlines the evidence your lawyer has collected.
It outlines how the insurance company's customer is responsible for your injuries and losses.
It itemizes your injuries and losses, assigning them a dollar amount.
It demands compensation from the insurer and establishes a point of contact for negotiations.
Most personal injury cases do not proceed to a trial, partly because both sides are incentivized to avoid it. Trials can be expensive and take months to years for a resolution. Since they are public, the plaintiff and insurance company also risk having sensitive information shared with others.
Therefore, once the insurance team responds to a demand letter, they will likely open negotiations with your lawyer. The two groups may attempt to reach a settlement on their own, or they may mutually select a mediator to guide them toward a resolution. Mediation is confidential, and the defense cannot use anything you say during a mediation session against you at trial.
Your personal injury lawyer can file the lawsuit if negotiations are not fruitful. They may also need to file to obtain evidence they can only access in discovery. No matter your team's reason, filing will give you additional leverage in negotiations and help pressure the defense to settle.
Deadline to File a Lane Change Accident Lawsuit in Alabama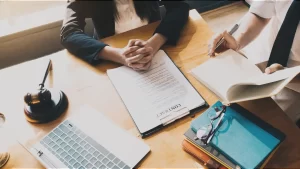 The Code of Alabama's statute of limitations sets deadlines to file specific types of lawsuits, including personal injury suits. Currently, you have two years from the date of the motorcycle accident to file the lawsuit. If you miss this deadline, you will lose your right to demand compensation for your injuries at trial.
The earlier your lawyer can begin building your case, the better. They will want to keep all options available, so you have the best chances of winning a maximum settlement or award.
Contact a Birmingham Motorcycle Lane Change Accident Lawyer for a Case Evaluation
The motorcycle lane change accident lawyers of Farris, Riley & Pitt, LLP offer free consultations for prospective clients. During our time together, our legal team will review your case, estimate how much it may be worth, and outline the best course of action for your situation. We aim to simplify the process as much as possible and are happy to answer any questions you have. Contact our Birmingham office at (205) 324-1212 today to get started.
Related Posts: