Birmingham Lawyers for Muscle Strains After a Car Accident
Car accidents can be overwhelming. You're often faced with mountains of paperwork, insurance claims, medical bills, and recovery from your accident-related injuries. If you suffered a muscle strain in a Birmingham car accident that was not your fault, you might be entitled to compensation.
Muscle strains can sideline you from work and even lead to complications. A growing stack of medical bills and difficulty doing everyday activities only add to the physical, emotional, and financial burden you could experience after a car accident.
The Birmingham car accident lawyers of Farris, Riley & Pitt, LLP recognize that every situation is different. Our experienced attorneys are ready to hear the details of your case and use them to customize a plan of action to recover damages for your injuries.
We want you to know that you're not alone. Call our personal injury lawyers today at (205) 324-1212 for your free consultation and case evaluation. You'll sit down with one of our experienced lawyers, who will listen to the details of your case and answer your questions. You deserve the best legal representation possible. And you won't owe us anything unless we get compensation for you. If you have pressing questions about your muscle strain, don't hesitate to reach out today.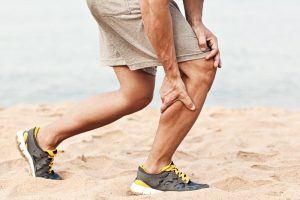 What Is a Muscle Strain?
During a car accident, you may have experienced a muscle strain. These are common and painful injuries that are caused when a muscle tears. There is no difference between strained muscle, pulled muscle, and torn muscle. The terms can be used interchangeably as they are the same injury, with the same symptoms and treatments.
Muscles are made up of thousands of small muscle fibers that stretch and press against each other to allow the muscle to contract or lengthen. The fibers can tear when a muscle is overused or stretched beyond capacity. Think of your muscles like a bungee cord. New bungee cords have plenty of give and stretch. But after using them for a long time, the elastic fibers can begin to pull apart.
Symptoms of a Muscle Strain
After a muscle strain, you may experience several different symptoms. The symptoms of a muscle strain will depend on the severity of the injury and the location. Commonly, you may experience:
Pain and tenderness
Redness or bruising over the area
Muscle spasms
Muscle weakness
Swelling over the area
Limited motion
The severity of the muscle strain guides the treatment your healthcare provider will prescribe. Muscle strains are classified into three grades.
Grade I strain: The injured muscle is tender and painful, but it will continue to have normal strength. Just a few of the fibers have been stretched or torn. This is called a mild strain.
Grade II strain: You will notice mild swelling over the area and sometimes a bruise. There will also be a noticeable loss of strength, and more severe muscle pain and tenderness in the area. This is called a moderate strain.
Grade III strain: These are serious injuries during which you may have experienced a "popping" sensation when the muscle ripped or sheared from the tendon. You will have a complete loss of muscle function and considerable swelling, tenderness, pain, and discoloration.
A grade III strain causes a complete tear of the muscle and, therefore, a break in the normal outline of the muscle. Depending on the muscle that is torn, there can be an obvious gap under the skin where the muscle has come apart.
How Are Muscle Strains Treated?
To determine the appropriate treatment, your healthcare provider will ask how the muscle was strained and what was happening at the time of the injury. Especially during a car accident, it may be difficult to pinpoint what happened at the precise second that your muscle was strained.
During a physical examination, the healthcare provider will check for muscle tenderness, weakness, and decreased movement. If the physical examination is open to interpretation, your healthcare provider may prescribe an x-ray or MRI.
In case of a grade I or grade II muscle strain, your healthcare provider will prescribe the RICE rule. This includes:
Rest
Ice
Compression
Elevation
Depending on the level of pain, you may consider using acetaminophen or a non-steroidal anti-inflammatory drug. A grade I strain will often heal quickly without additional intervention. However, some grade II or grade III strains may require a referral to an orthopedic surgeon.
Depending on the location of the tear, the severity of the injury, and your past medical history, the orthopedic surgeon may choose to repair the muscle surgically or immobilize the muscle in a cast for several weeks. And after the strain has healed, you will require rehabilitation for the muscle to work normally.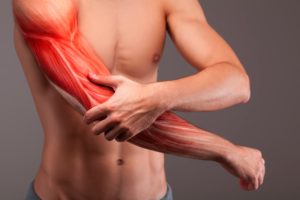 Complications from Muscle Strains
There are several types of complications that can occur with a muscle strain after a car accident. The first is diagnostic errors that could lead to improper treatment. After a car accident, you may also develop deep vein thrombosis or acute compartment syndrome, both of which may be misdiagnosed as strained muscle.
During the healing process of a moderate or severe muscle strain, myositis ossificans may develop. This is a benign condition that is characterized by bone growth or cartilage formation in the muscle. In the early stages, this can be treated with medication and RICE of the affected limb. Surgery may be considered, but only after the lesion has matured.
With considerable trauma to the muscle, it increases the release of myoglobin into the circulation, which causes kidney damage. During healing, the muscle may produce fibrotic scars, which limit your mobility and cause pain.
Finally, another complication of muscle strains is the recurrence of the injury. In the weeks after returning to normal activities, the risk of recurrence is greatest. This is because the regenerated muscle tissue is not as strong for many weeks after the trauma. This is a secondary reason why rehabilitation is helpful. Contact us today.
Do I Need a Birmingham Personal Injury Lawyer?
If you sustain a muscle strain after a car accident that was not your fault, you may be entitled to compensation. Yet, insurance companies do not make it easy to recover damages. While no amount of money can make up for the personal injury, it can help pay for your medical expenses and make up for lost wages.
This makes the path to recovery a little bit easier. Our experienced and compassionate lawyers at Farris, Riley & Pitt, LLP believe you should not pay the price for someone else's reckless or negligent behavior. When you hire our legal team, we fight hard to protect your rights and seek fair compensation for you by negotiating with the insurance company or litigating your case in court.
Trust Farris, Riley & Pitt, LLP With Your Case
Our legal team believes that you should spend your time and energy recovering from your accident-related injuries. You need experienced support to negotiate with the insurance company and possibly litigate your case in court. Contact our office today at (205) 324-1212 for your free consultation and case evaluation.