Posted on Saturday, May 13th, 2023 at 8:36 pm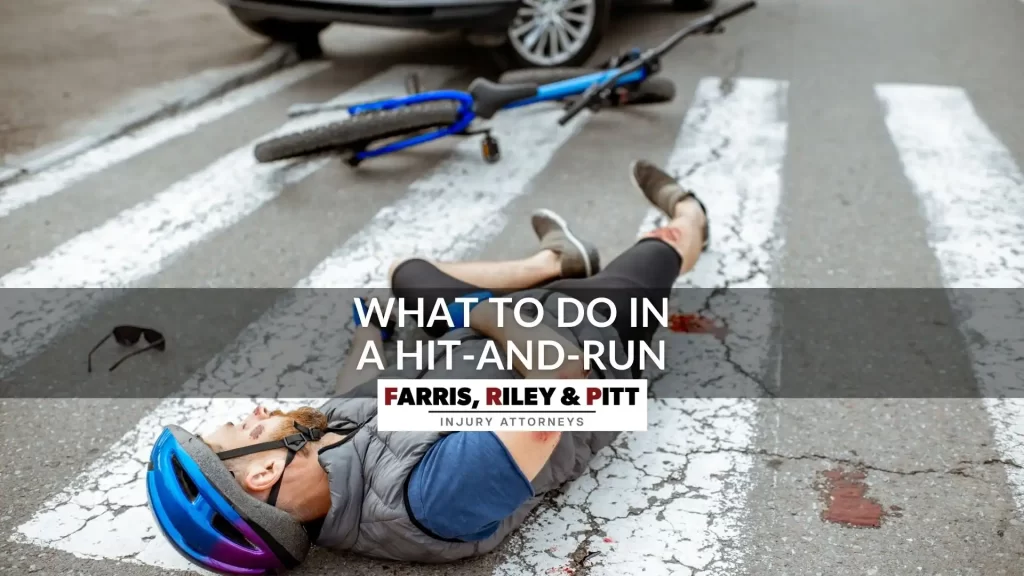 A hit-and-run accident is a scary, frustrating, and confusing experience. Not only are you dealing with injuries and damage to your car, but you're also left feeling betrayed by the other driver's decision to flee rather than own up to their actions. It's easy to feel alone now, but remember that you're not. There is a clear path ahead that will lead you through this difficult situation, and our hit-and-run accident lawyers in Alabama can guide you along this path. This blog will take you through what to do in a hit-and-run accident, how to protect your rights, and how to get the help you need after a hit-and-run.
How to Report a Hit-and-Run
Navigating the aftermath of a hit-and-run accident may feel overwhelming. However, acting promptly can greatly protect your rights and potential compensation. Here's what you need to do:
Prioritize Safety: Move your vehicle to a safe location if possible, away from the flow of traffic.
Call the Police: State law says you must report any accident with injuries, including hit-and-runs, to the authorities "immediately" after the crash. If you didn't suffer injuries but your vehicle sustained damage, you can fill out the state crash report form and mail it to the Alabama Law Enforcement Agency. Furthermore, an official police report crucial evidence in a personal injury claim. Include as much detail as possible about the other vehicle and the incident.
Document the Scene: If you can do so without putting yourself in danger, collect evidence from the scene. This could include photos of your vehicle, the surrounding area, your injuries, and any other damage. Look for anyone who may have seen the incident and ask for their contact information.
Seek Medical Attention: Even if you think you're not injured, it's essential to get a medical check-up. Some injuries, like whiplash or concussion, may not be immediately apparent. A medical report can serve as vital evidence later on.
Report the Incident to Your Insurance Company: Be honest when you report the crash, but remember, you don't have to provide a detailed account immediately. It's okay to tell them you'll give more details after you've spoken to a lawyer.
Consult a Personal Injury Attorney: Navigating the aftermath of a hit-and-run can be complex. A skilled personal injury attorney can guide you, protect your rights, and explain compensation options.
Remember, though hit-and-run incidents can be disorienting, following these steps offers clarity in chaos.
Alabama Hit-and-Run Laws

Alabama takes hit-and-run accidents seriously, and the state has specific laws to protect victims and penalize those who commit these offenses. State law says drivers involved in an accident resulting in injury, death, or property damage must stop at the scene or as close to it as possible. They must also stay at the scene until they fulfill the legal obligations, which include giving their name, address, and vehicle registration number to the other parties involved or the police officers.
The penalties for committing a hit-and-run in Alabama vary depending on the accident's severity. If the accident caused property damage only, leaving the scene is a Class A misdemeanor, and the penalties include up to a year in jail and a fine of up to $6,000. If the crash resulted in injuries or deaths, the hit-and-run becomes a Class C felony, punishable by 1 to 10 years in prison and a fine of up to $15,000.
Compensation for a Hit-and-Run in Alabama
Recovering compensation from an Alabama hit-and-run can be daunting, but the right strategy eases the stress. Here are the main avenues for seeking compensation:
Uninsured Motorist (UM) Coverage: All auto insurance companies in Alabama must offer UM coverage with their policies. (You have to decline this coverage in writing if you don't want it.) This coverage kicks in when the at-fault driver is either uninsured or, as in a hit-and-run, cannot be identified. Your UM coverage can pay for medical expenses, lost wages, and other losses up to the limits of your policy.
Collision Coverage: Collision insurance coverage is not required by law in Alabama, but if you have it, it can cover the repairs to your vehicle after a hit-and-run, regardless of whether the at-fault driver is found.
Health and Disability Insurance: If you have health insurance or disability insurance, these can also help cover medical bills and lost wages, respectively.
Legal Action: If the police can find the driver who fled, you can file a personal injury lawsuit against them. Alabama follows a contributory negligence rule, meaning if you are found even slightly at fault, you could be barred from recovering damages. Thus, a skilled personal injury attorney is vital to prove the other party's full fault and build your case.
Remember, while these avenues for compensation exist, navigating through them can be complex. An experienced car accident lawyer is crucial because they can guide you through the process, protect your rights, and advocate for your best interests. Call our team at (205) 324-1212 today or complete our contact form for a complimentary case evaluation.
Related Reading: