How Long Should I Be Off Work For Whiplash?
Posted on Thursday, June 22nd, 2023 at 12:45 pm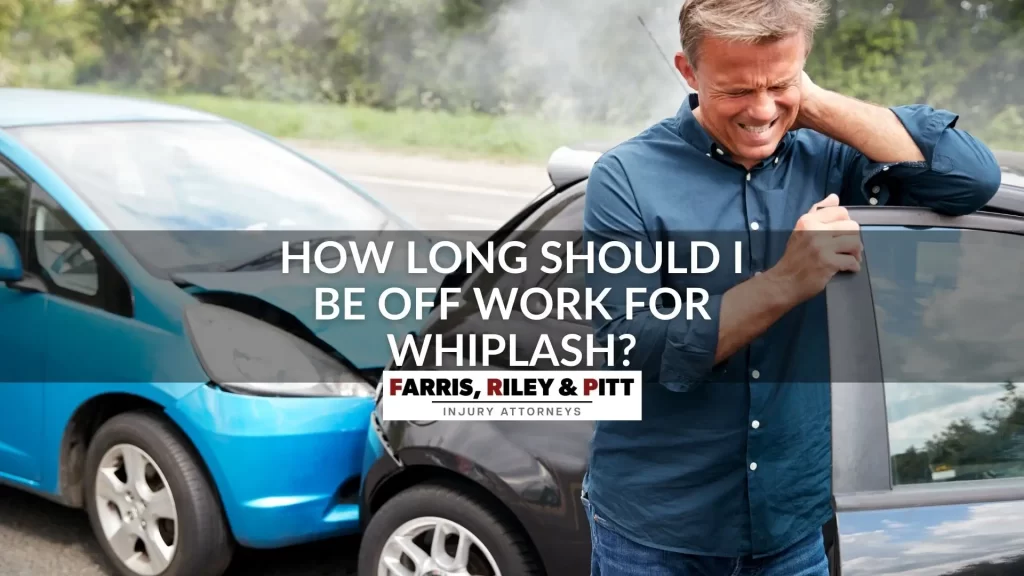 Whiplash is among the most common injuries in car accidents, contact sports, and other violent incidents. Characterized by neck pain, stiffness, and headaches, whiplash can have life-altering consequences if not properly treated. If you suffer from whiplash and are wondering how long you should be off work, it helps to know how long this injury lasts and how long it takes to heal before making a decision. Keep reading to learn more.
How Long Does Whiplash Last?
Whiplash is a neck injury caused by a forceful, rapid back-and-forth neck movement, like a whip's cracking. It is frequently the result of rear-end car accidents but can also occur due to sports accidents, physical abuse, and other traumas.
The duration of whiplash symptoms can vary significantly from person to person. While some people may experience pain and discomfort for a few days, others may continue to feel the effects for several months. Some may still have symptoms like neck pain and headaches even after a year. These differences in recovery times are attributed to various factors, including the severity of the initial injury, the victim's age, and their general physical health.
What Are Common Symptoms of Whiplash?
While the symptoms of whiplash may vary, there are some common signs to look out for if you were in a car accident or suffered a sports injury. The following common whiplash symptoms usually develop within hours or days of the injury:
Neck pain and stiffness
Pain with movement of the neck
Loss of range of motion in the neck
Headaches, often starting at the base of the skull
Tenderness or pain in the shoulders, upper back, or arms
Tingling or numbness in the arms or hands
Unexplained fatigue
Dizziness or loss of balance
Some people also experience the following symptoms, particularly in more severe cases:
Blurred vision
Ringing in the ears (tinnitus)
Difficulty sleeping
Irritability
Memory problems
Depression
How Is Whiplash Diagnosed?
If you suspect you've suffered whiplash following an accident, seeking medical help is essential, especially before returning to work. Below are some steps your healthcare provider may take to diagnose whiplash:
Medical history – Your doctor will first take a detailed medical history, which includes asking about your symptoms, how they developed, and any pre-existing conditions contributing to your pain.
Physical exam – Your doctor may examine your neck and head to check for areas of tenderness and evaluate your range of motion and the degree of motion that causes or increases pain.
Neurological tests – The doctor might also perform tests to check your reflexes, strength, and sensory acuity. These tests help determine if your nerves have been affected.
Imaging tests – If your doctor suspects whiplash or wants to rule out other types of injuries, they may order imaging tests. These tests might include X-rays to view the bones in your neck, a CT scan for a more detailed look, or an MRI to assess any damage or inflammation to soft tissues, discs, and nerves.
How Long Does Whiplash Take to Heal?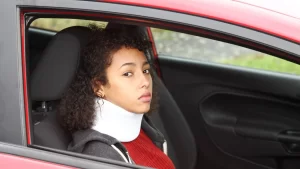 While the recovery timeline for whiplash can vary greatly, a common question among victims is, "How long does it take for whiplash to heal completely?"
Whiplash might heal within a few weeks with appropriate treatment at home, which can involve over-the-counter painkillers, prescribed medication, physical therapy, and plenty of rest. For more severe cases, the healing process could extend to several months or more, requiring more extensive physical therapy and medical intervention.
It's crucial to note that you should take your time with your return to work or daily activities. Following your healthcare provider's advice and treatment plan is in your best interest. You want to make a full recovery and prevent further complications down the line.
Can I Be Compensated for Whiplash?
If your whiplash injury resulted from an accident where another party was at fault, it's essential to consider the legal aspect of your situation. Whiplash injuries can incur significant medical costs, especially if the injury is severe and takes a long time to heal.
You might be entitled to compensation for your medical expenses, lost income, and other costs due to the whiplash injury. It's crucial to speak with a skilled whiplash injury attorney in Birmingham who can evaluate your case and determine your legal options for seeking compensation.
Contact Our Personal Injury Attorneys Today
Whiplash can be a daunting injury to cope with, especially when juggling medical appointments and the financial burden it can place when it prevents you from going back to work. If someone else injured you,  you could have the right to seek compensation. Reach out to a seasoned personal injury lawyer at Farris, Riley & Pitt, LLP for the guidance and representation you need. Call us at (205) 324-1212 or contact us online for a free consultation.
Related Posts: