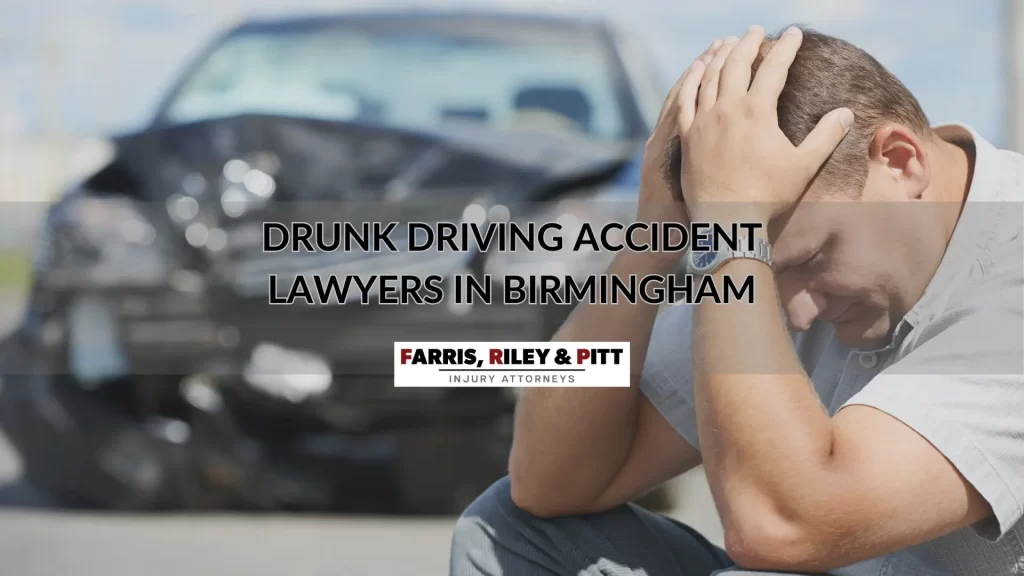 In recent years, over 200 fatalities per year in Alabama alone resulted from drunk driving car accidents. You should know several things if a drunk driver has injured you.
In civil cases, juries hold drunk and impaired drivers significantly more accountable than other drivers whose traffic infractions led to an accident. That means juries generally award higher verdicts in drunk driving cases.
An insurance company will want to settle with you early so that you do not maximize your recovery by hiring a drunk driving accident lawyer. We firmly believe that consulting with an attorney first to assess your case will benefit you in the long run and ensure that you are not taken advantage of when negotiating with experienced insurance adjusters.
Often, drunk drivers do not have sufficient insurance coverage, but you can identify and activate additional insurance coverage through alternative means.
For example, the drunk driver may have been drinking at a restaurant, bar, or another establishment. If the drunk driver became visibly intoxicated at any such place, then the Alabama liquor liability laws may help you.
Dram shop laws help victims seek compensation from bars serving excessive alcohol. Establishments must carry $100,000 liquor liability insurance, aiding medical bills, wages, and recovery.
Please be aware that if you settle with the drunk driver's insurance company without first making a claim against the business, you may not be able to recover against the business later. It is important that you consult a drunk driving accident lawyer in Birmingham about this issue before you decide to settle with any person, insurance company, or business. Please call us at (205) 324-1212 to learn about who may be held responsible in your case.
Why Do I Need a Drunk Driving Accident Lawyer?
If a drunk driver caused your injury or your loved one's, you likely face overwhelming concerns. Medical bills and work absence compound your worries.
The insurance company of the drunk driver may contact you and attempt to offer a settlement to resolve your case. However, it is highly likely that this settlement will be significantly less than what you are entitled to. The establishment that overserved the drunk driver is highly likely to deny wrongdoing and will most likely offer you nothing.
An injury attorney will be extremely beneficial for you, not only because he or she can identify all possible liable parties, but also because the injury attorney knows how to hold them accountable.
Civil actions for these types of claims can be complex, but an experienced drunk driving accident lawyer understands the most effective approaches to these cases, ensuring you can recover all the compensation you deserve.
Farris, Riley & Pitt, LLP understands the numerous ways in which drunk driving accident victims can have their entire lives turned upside down. Our firm represents all clients on a contingency fee basis, so you do not need to worry about paying us anything unless you receive a financial award.
Why Choose Farris, Riley & Pitt, LLP?
When you have been injured in a crash caused by a drunk driver in the greater Birmingham area, Farris, Riley & Pitt, LLP can provide the kind of dedicated legal representation you are seeking. We know how to approach these cases and work to help clients achieve the most favorable outcomes possible.
As soon as you hire our firm, we will immediately begin an exhaustive, independent investigation of your accident. We know which types of evidence to look for and obtain – not only to help prove the driver's negligence but also to hold the person or business that served alcohol to the drunk driver.
Consider that drunk drivers often exhaust auto insurance limits quickly. While they may remain personally liable for excess damages, they usually lack sufficient personal wealth or assets to satisfy judgments. In some cases, they evade payment by filing for bankruptcy.
These types of issues are exactly why it is important for a drunk driving crash victim to quickly retain legal counsel because you will want to know who else could possibly be held liable for the damages you or your loved one have suffered. Farris, Riley & Pitt, LLP knows how to identify every single party that can be held civilly liable.
Cases We Handle
In Alabama, anyone injured by an intoxicated person can sue those who provided the alcohol. This is Alabama's dram shop law, allowing punitive damages.
Dram shop claims classify liability into vendors and social hosts. Vendors, like bars or restaurants, legally sell alcohol. Social hosts, typically private individuals, serve alcohol at their premises.
The Alabama Alcoholic Beverage Control Board controls alcohol licensing and has regulations. The Alabama ABC Code prohibits serving alcohol to intoxicated persons for on-premises and off-premises licensees, employees, and agents.
To hold vendors or social hosts civilly liable, dram shop claims involving legal-age drivers demand proof of driver's intoxication. For minors, the intoxication level is irrelevant due to state law violations when serving alcohol.
Drunk drivers may cause accidents that result in catastrophic injuries for victims. People involved in these types of crashes may sustain injuries such as:
Lacerations
Fractures
Paralysis
Internal organ damage
Neck injuries
In some cases, drunk driving accidents will result in fatal injuries. In such cases, a victim's family may be able to file a wrongful death lawsuit against the drunk driver and the vendor or social host.
It is important to note that Alabama law also says that if the drunk driver dies too, the action or right of action survives against their executor or administrator. However, accident victims only have a limited amount of time to pursue these claims.
Alabama law imposes a two-year statute of limitations on most injury claims. Considering the extensive investigations that may be required in a drunk driving accident case, you should contact Farris, Riley & Pitt, LLP as soon as possible so you do not lose your ability to hold all negligent parties legally liable.
Frequently Asked Questions
Contributory negligence involves a victim's contribution to their injury. Unlike comparative negligence in most states, Alabama's contributory negligence can hinder recovery. Defendants must prove the victim's negligence; the victim may still argue that drunk driving aligns with Alabama's wantonness definition, which describes conduct carried out with reckless disregard for others' rights and safety. Still, a drunk driving accident victim should avoid making any kind of recorded statement to an insurance company because of the potential effects that a contributory negligence claim could have.
Certainly, drunk drivers can face civil liability even without a DUI conviction. Civil actions are distinct from criminal cases. Victims pursue financial damages, while the state prosecutes criminally. Notably, the O.J. Simpson case illustrates this contrast. Despite his criminal acquittal in 1995, a jury held him liable for wrongful deaths, awarding $8.5 million in compensatory damages and $25 million in punitive damages to the victims' families.
Undoubtedly one of the most challenging aspects of any dram shop claim is proving that an adult of legal drinking age was already intoxicated when they were served alcohol. Virtually every establishment will claim that they had no idea how drunk the person actually was, whether true or not. In such cases, intoxication may be proven through a combination of direct and circumstantial evidence. Farris, Riley & Pitt, LLP may have the ability to obtain bar tabs that show precisely how much alcohol was consumed and the time period during which it was consumed. Toxicology experts can testify as to how such amounts should have been indicative of intoxication. In other cases, witnesses may have seen the drunk driver while they were at the establishment and can offer similar testimony.
Drunk Driving Accident Statistics
Drunk driving is a severe problem throughout the United States and Alabama. According to the Alabama Department of Transportation:
In 2020, 5,107 drivers in Alabama traffic crashes were suspected of alcohol or drug impairment.
Male drivers had a significantly higher rate of suspected impairment incidents, with 3,745 male drivers in crashes suspected of impairment compared to 1,291 female drivers suspected of the same.
The age group with the most instances of suspected impairment was the 20-to-29 group, which included 1,537 drivers – 722 from the 20-to-24 bracket and 815 from the 25-to-29 bracket.
The 20-to-29 age group alone accounted for nearly 30 percent of all suspected impaired drivers.
The highest frequency of alcohol and drug-related crashes occurred around midnight.
Saturdays saw the highest percentages of impaired driving crashes at 21.5 percent.
Also in 2020, three percent of impaired driving crashes resulted in fatalities, which was 5.43 times higher than the general crash fatality rate of 0.5 percent for that year.
In total, 158 individuals lost their lives in the 5,106 crashes that involved suspected alcohol or drug impairment in 2020.
Contact a Drunk Driving Accident Attorney In Birmingham Today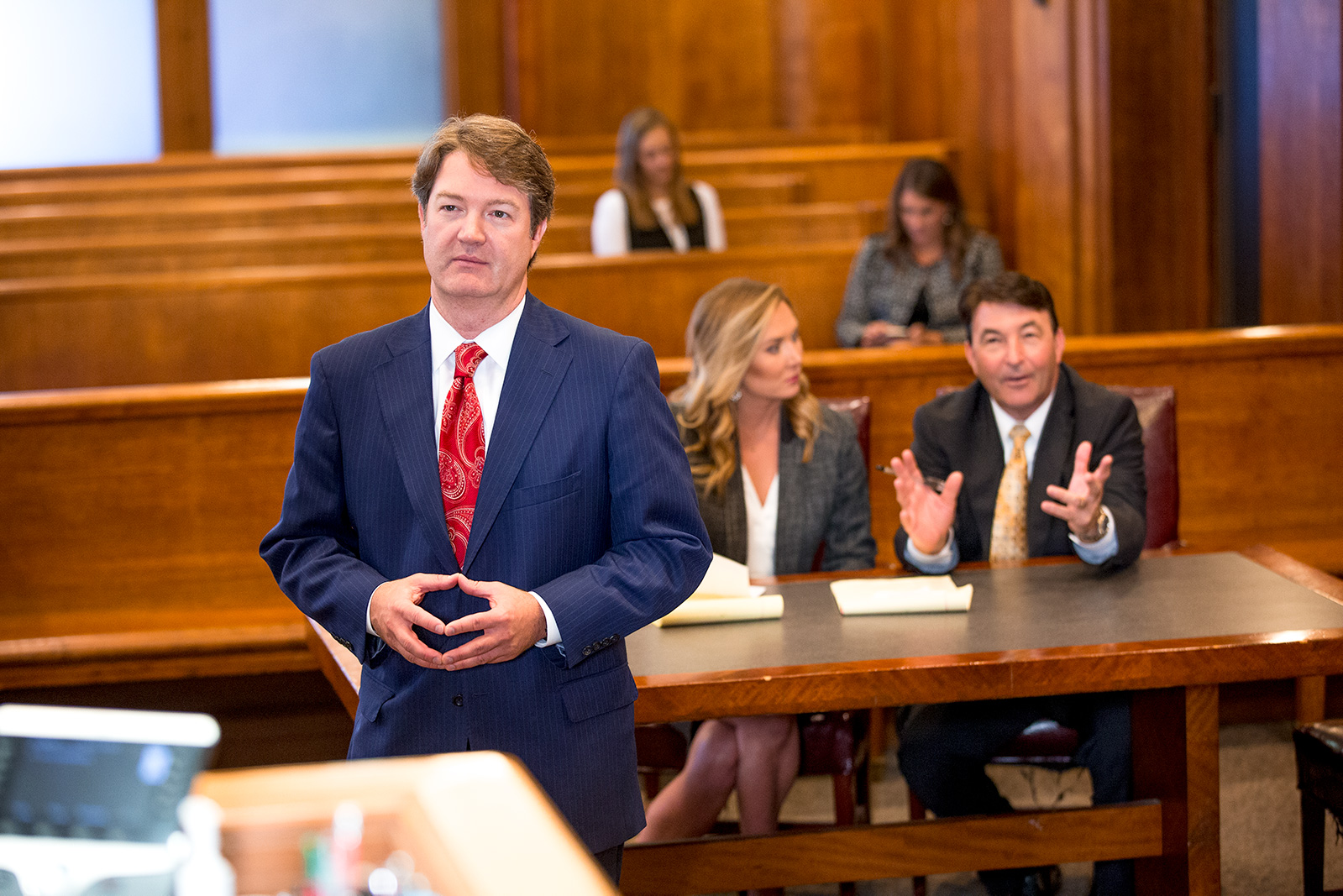 The drunk driving accident lawyers of Farris, Riley & Pitt, LLP have more than 100 years of combined legal experience handling these types of cases. We are well aware of the challenges victims face in recovering compensation for their injuries, and we know how to overcome those challenges.
Don't hesitate to reach out if you or your loved one experienced catastrophic injuries or death in a Birmingham-area drunk driving accident or anywhere in Alabama. You can have our lawyers provide an honest and thorough evaluation of your case when you call (205) 324-1212 or contact us online to set up a free consultation.
Related Reading: