Defective Medical Devices Lawyer
When someone suffers an injury because of a medical device, a manufacturer may be held liable for the damages the device causes. Typically, a manufacturer will be liable if the victim can prove the manufacturer failed to warn doctors and patients of the dangers associated with the device.
For example, if the manufacturer of a small filter implant did not tell anyone that it must be removed and replaced after one year, the company may be held liable when, after a year, the filter breaks and lodges in the patient's heart, causing death.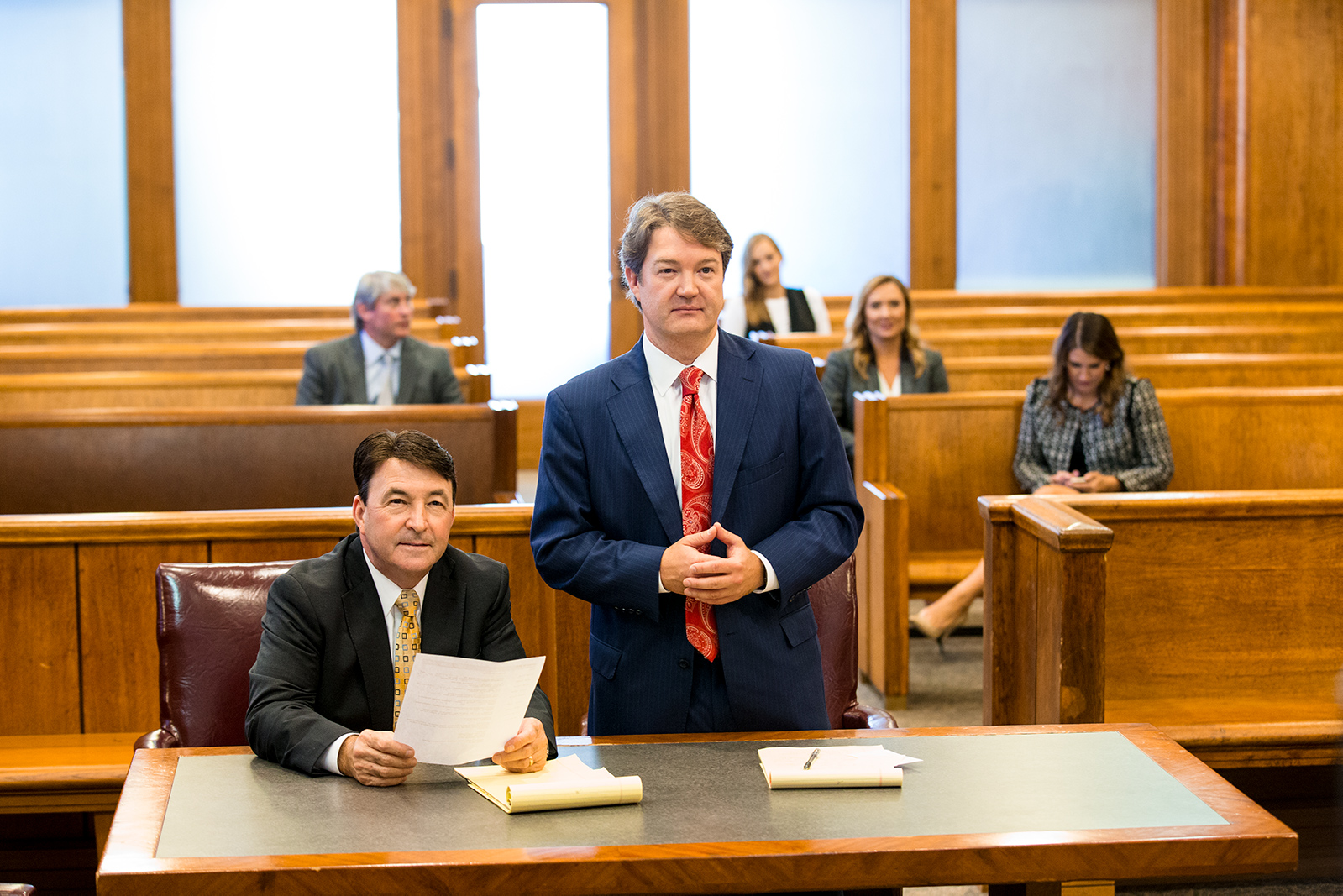 Alternately, a manufacturer may also be held liable for designing a defective device. For example, a device made of a material that easily disintegrates, causing contamination that requires emergency replacement or removal falls under this category. Many medical devices simply don't work as promised and can cause more harm than good.
Consider the person who receives a hip transplant only to be plagued by pain and discomfort for years before learning the implant itself was defective. That patient has to suffer through yet another surgery and the uncertainty of recovery.
Or the woman who has surgical mesh implanted to help with bladder problems only to suffer from repeated infections, pain, and bleeding. She may need complicated surgery to remove the implant, leaving her in a worse situation than before.
Medicine has made some extraordinary leaps and bounds during recent decades. One of the most visible ways in which it has advanced is through the dramatically increased prevalence of implanted medical devices such as replacement hips, transvaginal and hernia mesh devices, artificial knees, metal joints, and an array of screws, pins, and plates to hold everything together. A recent article published by one medical device manufacturer promotes the higher-than-average returns its stocks offer investors, beating out the S&P by 3 percent every year.
While manufacturers and investors are raking in record returns, thanks to the rapidly increasing demand and sale of their devices, many patients are suffering, and in some cases even dying, due to complications brought on by some of the devices they produce. Some of these complications occur as a result of devices being rushed to market without adequate testing; others occur because of allergic reactions or patient rejections.
The end result is the same for the patient: They require replacement, corrective surgery, or other expensive and often painful treatments to recover from harm caused by a device that was supposed to improve their life.
The defective medical devices attorneys at Farris, Riley & Pitt, LLP possess extensive experience advocating for victims of defective medical devices. Unfortunately, we see these types of cases every day. The companies who design, manufacture, and supply medical devices have a duty to you, and if they don't uphold that duty, you deserve compensation.
Why Do I Need a Defective Medical Device Lawyer?
If you have suffered serious injuries or your loved one was killed by any kind of defective medical device, you should know that you could be entitled to compensation for the harm caused. Defective medical devices typically result in product liability actions against the device manufacturers.
Product liability claims can be incredibly complex and difficult for people to pursue, and expert testimony may be required in some cases. Most people are not capable of successfully handling these types of legal claims by themselves.
An experienced attorney will be able to assist you with all aspects of your case, including finding the appropriate expert, collecting evidence, and negotiating a potential settlement. If the insurance company for the negligent manufacturer will not provide adequate compensation, your lawyer will be able to file a lawsuit to have your case tried before a jury of your peers.
Do not dismiss hiring an attorney because of financial concerns. Farris, Riley & Pitt, LLP represents all clients on a contingency fee basis, meaning that you are not charged any fees for our services unless you receive a financial award.
Why Choose Farris, Riley & Pitt, LLP?
Farris, Riley & Pitt, LLP has handled many different kinds of defective medical device claims. We understand how to approach these cases and are prepared to fight to win.
Farris, Riley & Pitt, LLP can conduct a thorough independent investigation of the device involved in your medical treatment and obtain all the necessary evidence to prove the manufacturer's negligence. While many manufacturers will try to deny any wrongdoing, our firm can make sure these companies are held accountable.
Additionally, Farris, Riley & Pitt, LLP will review your personal situation to ensure that you receive every last dime of compensation that you are entitled to. In some cases, victims may be presented with settlement offers, but these amounts are typically much less than what the victims will truly need.
You only have a limited amount of time to take legal action in these cases, and the statute of limitations can become somewhat complicated, as it depends on the date of your medical procedure and the date you discovered the device defect. You should not delay in contacting Farris, Riley & Pitt, LLP.
Cases We Handle
Sadly, many popular medical devices that enjoyed wide use were later found to have critical defects that ultimately hurt patients. Some common defective medical devices and their respective complications have included:
Hip Implants — Zimmer Biomet, DePuy Synthes, Smith & Nephew, Stryker Corporation, and Wright Medical Group N.V. have all recalled defective hip implants.
Knee Replacements — Pain, fractures, and additional surgery have resulted from knee replacements manufactured by DePuy Synthes, Zimmer Biomet, Arthrex, Exactech, Inc., and B. Braun Medical Inc.
Exactech Hip, Knee, and Ankle Devices — Several kinds of Exatach's hip, knee, and ankle replacement devices were packaged in a way that failed to preserve their integrity. As a result, many of the devices implanted in innocent people have begun to degrade, causing immeasurable pain.
Pacemakers and Defibrillators — Medicare paid at least $1.5 billion over a decade to replace seven types of cardio defibrillators and a pacemaker that were not identified.
Screws, Pins, Plates and Rods – When you break a bone and it won't heal properly with just a cast, devices for fixation will hold the bone in place. If one of the devices used is defective, you may have complications such as infection, fluid buildup or loss of mobility. The manufacturer may be liable for your losses.
Pain Pumps — Medtronic recalled SynchroMed II and SynchroMed EL implantable drug infusion pumps because unintended delivery of drugs caused respiratory depression, coma, or death.
Insulin Pumps — Respiratory failure, hypoglycemia, and coma have resulted from insulin pumps manufactured by Johnson & Johnson subsidiary Animas Corporation, Medtronic, and Roche Insulin Delivery Systems Inc.
Inferior Vena Cava Filters — Heart damage, internal bleeding, pulmonary embolism, and death have resulted from IVC filters manufactured by C. R. Bard, Inc., Cook Medical, ALN, and Cordis Corporation.
Bladder Mesh – Bladder mesh, used for the treatment of SUI or POP, has resulted in complications for thousands of women. The symptoms include pain, infection, bleeding, painful intercourse, internal scarring, punctured and perforated organs, to name just a few.
Ear Tubes — Most often used in children with frequent ear infections or hearing loss, defective ear tubes can lead to infection, bleeding eardrums, and sometimes even permanent hearing loss.
Hernia Mesh — Pain, infection, and bowel perforation or obstruction have resulted from hernia mesh manufactured by Johnson & Johnson subsidiary Ethicon, Inc., Atrium Medical, and C. R. Bard, Inc.
Transvaginal Mesh — Bleeding, pain, nerve damage, vaginal scarring, and organ perforation have resulted from transvaginal mesh manufactured by C. R. Bard, Inc., Ethicon, Inc., American Medical Systems, LLC, Boston Scientific, Coloplast, Covidien Ltd., Tyco, Inc., and several other companies.
Breast Implants — Defective Allergan breast implants, the textured variety in particular, have been shown to be the cause of breast-implant-associated anaplastic large cell lymphoma (BIA-ALCL).
Defective IUDs – Were you severely injured due to a defective intrauterine device (IUD)? If so, our skilled defective medical device lawyers are ready to stand up and fight for you.
Defective Medical Stents – A stent is a mesh tube that a doctor inserts into a blocked artery to improve blood flow. Patients have reported severe and potentially life-threatening injuries from defective stents. If this has happened to you, call us right away.
Defective CPAP Machines – Philips recalled a number of its CPAP machines because the devices may increase a person's risk of developing cancer or other serious medical conditions. If you believe your health may have been negatively impacted by a CPAP machine, talk to a skilled attorney today.
Frequently Asked Questions
Some states place a statute of limitations of two years on most negligence actions relating to personal injuries. Medical device claims can become complicated because a person may not learn that device was defective until several years after a medical procedure. In most cases, courts will allow the limitations period to begin on the date a person knows or should have known that the device was defective, but the Supreme Court of Alabama has held that the discovery rule that tolls (postpones or delays) the limitations period applies only to claims alleging fraudulent concealment of a cause of action, and not negligence claims. Other states' statute of limitations will vary. An experienced attorney will be aware of the applicable statute for your case.
A class action lawsuit is a single lawsuit representing a large group of people, but multidistrict litigation, or MDL, involves multiple lawsuits consolidated into a single court for pretrial purposes, such as discovery. Both class actions and multidistrict litigations are similar in that they both deal with multiple parties sharing similar issues, but they can have very different resolutions. In a class action, the settlement or judgment awarded in the single case is divided among all plaintiffs equally. With MDL, each case is still tried separately, so certain claims may be more successful than others.
The types of damages you receive will generally depend on the specific aspects of your case. In most cases, victims are awarded compensatory damages that are some combination of economic damages and noneconomic damages. Economic damages refer to tangible losses, such as medical bills and lost wages, while noneconomic damages are for intangible types of harm, such as pain and suffering and emotional distress. In a limited number of cases where it is proven by a higher standard of evidence that the defendant consciously or deliberately engaged in oppression, fraud, wantonness, or malice, you could also be awarded punitive damages. In a wrongful death case, the victim's family or personal representatives may be able to recover compensation for burial and funeral expenses as well as loss of consortium or loss of support.
Defective Medical Devices Statistics
According to the FDA Manufacturer and User Facility Device Experience, the number of adverse event reports of any kind increased by 88 percent between 2005 and 2009. The number of serious adverse event reports — issues resulting in hospitalization, disability, or death — increased 17 percent each year between 2001 and 2009.
The National Electronic Injury Surveillance System, operated by the United States Consumer Product Safety Commission, collected reports of 10,395 medical device-associated adverse events between July 1999 and June 2000. During this time period, the total estimated number of adverse events was 454,383 and involved devices from 15 medical specialty groups.
Contusions, abrasions, punctures, and lacerations were listed as the most prevalent types of injuries, with 13 percent of the cases resulting in patient hospitalization. Adverse events occurred within health care facilities, but roughly 42 percent occurred at home.
Contact a Defective Medical Devices Attorney Today
Farris, Riley & Pitt, LLP represents defective medical device victims nationwide. Our firm is committed to helping you get justice.
If you sustained serious injuries or your loved one was killed by a defective medical device, it is in your best interest to make sure that you retain legal counsel. Call (205) 324-1212 or contact us online to let our lawyers provide a complete evaluation of your case during a free consultation.