Hernia Mesh Lawsuit Attorney
What You Need to Know about Hernia Mesh
Hernia Mesh is a medical device that's implanted in the body by a surgeon—designed to patch or repair an area of the body where fatty tissue, an internal organ or intestine has bulged through a hole or weakness in the surrounding muscle or connective tissue.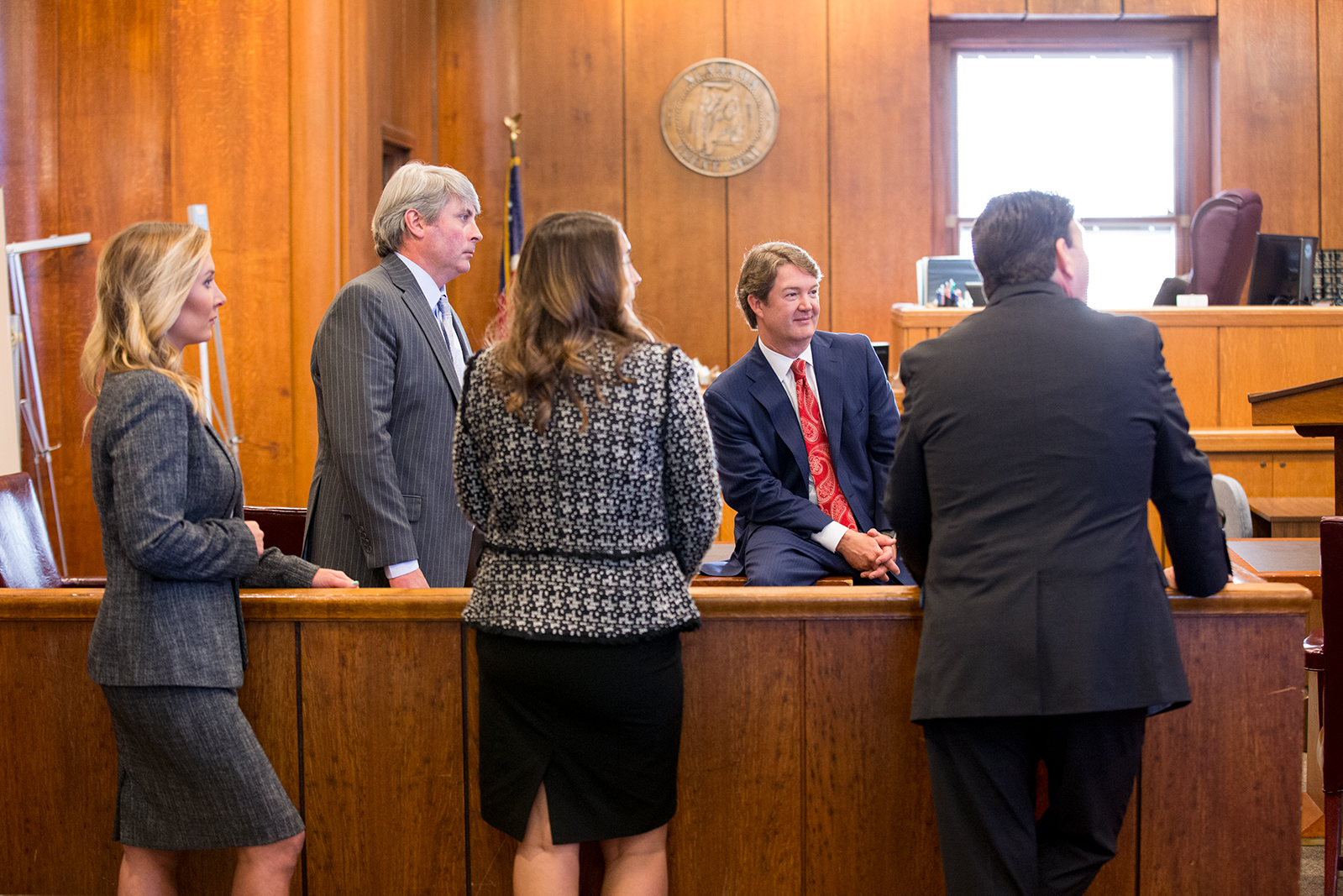 While surgical meshes have been used for years to implement repairs, offer support and promote healing, there are numerous reasons why some meshes that are currently in use have a propensity to cause pain, infection and even fail—ultimately requiring corrective/revision surgery and additional recuperation time.
Many of today's modern hernia meshes are constructed of polypropylene (brand names include PROLENE® and Marlex®, for example)—basically a monofilament (plastic or resin) suture. For certain applications, the mesh is coated with a fatty acid, cellulose or collagen to prevent adhesion or the forming of scar tissue that can fuse the mesh with the intestines or other organs.
Hernia mesh devices first became widely used by the late 1980s and accounted for roughly 90 percent of all hernia procedures by 2000, according to the Food and Drug Administration (FDA). In that time, many studies have been conducted that contradict manufacturer's claims—calling into question the suitability of these devices for use in the human body. By 2016, some products, such as Ethicon's Physiomesh, were either pulled or withdrawn from U.S. and world markets. By 2018, more than 50,000 hernia mesh lawsuits have been filed in both state and federal courts—with two of the largest contributors to individual cases being Ethicon/Johnson & Johnson's Physiomesh and Atrium Medical Corporation's C-Qur Mesh.
If you suffered severe side effects due to a defective hernia mesh implant, contact the defective medical device attorneys at Farris, Riley & Pitt, LLP to schedule a free and 100% confidential case evaluation. You could be owed significant compensation, and we'll be ready to help you get it.
Manufacturers of Hernia Mesh that May Fail or Cause Problems
Here are just some of the manufacturers who now make or have made some of the more popular hernia meshes in use. Some specific product names are listed, but others do apply—it's best to contact one of our knowledgeable hernia mesh attorneys to understand if the maker of your mesh is one known to have problems.
Atrium – Makers of the C-Qur hernia mesh
C.R. Bard (Davol) – Makers of the Composix, Sepramesh, and Ventrio meshes
Covidien (Tyco) – Makers of more than a half dozen mesh devices
Ethicon/Johnson & Johnson – Makers of Physiomesh, Prolene and Proceed meshes
Gore – Makers of DualMesh and DualMesh Plus
Hernia Mesh Complications and Side Effects
In an effort to be more competitive with sales of hernia mesh, some companies released "new and improved" products that might not have been fully tested over a long enough period of time. Such devices were often "fast-tracked" through the FDA via a process known as Premarket Notification 510 (k), which allows for a less stringent trial period on the promise that more in-depth testing will follow.
Over time, common problems with hernia patients have included, but not limited to, these and other side effects:
Infections – Usually occur with symptoms, such as fever, headaches, and sweating. An untreated infection could lead to sepsis.
Adhesion – Scar tissue forms, causing the mesh to stick to the damaged organ or tissue.
Migration – Mesh moves to another area from the original site.
Seromas – Fluid can build up underneath the skin where the incision was made, leading to infections.
Erosion – Mesh degrades over time due to the body's immune system treating it as a foreign object and attacking it.
Cancer – Cancer can form if chronic inflammation leads to an infected mesh.
Bowel obstruction – Diarrhea and constipation could occur when the mesh adheres to the area of implantation or migrates to another part of the body, preventing the bowels from functioning correctly.
Mesh failure – In general, the mesh implant fails to work as it should.
Abdominal pain – Hernia mesh used in the abdominal cavity could lead to nerve damage, adhesion to the abdominal wall, infection, and bowel obstruction, causing nausea.
Perforation – A hole in nearby tissues or organs during surgery could cause the mesh device to shrink, migrate, or erode.
Recurrence – The hernia comes back even after the implantation of the hernia mesh device. Additional surgeries often become necessary.
Chronic pain – Inflammation or mesh failure that results in pain throughout joints and connective tissues.
The injuries caused by defective hernia mesh can be debilitating. Additional surgeries mean additional costs. It can cause not only physical damage and psychological effects, but also financial problems. Revision surgeries can be an expensive and traumatic experience. You thought you could trust that the device used to repair your hernia would be sufficient. Instead, it caused problems that could create long-lasting effects.
Have You Had Hernia Surgery that Used a Hernia Mesh Device?
There are numerous types of hernias and corresponding surgical procedures to correct each one, but several have commonly involved the use of hernia mesh and thus are typically the ones that exhibit problems months or years later. One of the most common types of injury that uses mesh in its repair is the inguinal hernia. It starts with a weakness in the inner groin area and then allows abdominal contents into the inguinal canal, causing pain and discomfort. Another type is the ventral hernia or one that has pushed through a weakened area of the abdominal wall. And then there's the incisional hernia. This occurs when an organ or tissue bulges through or reopens a past surgical incision.
If you or a family member has had hernia surgery and a mesh device was used, you may be entitled to compensation. This includes cases where individuals have sought medical attention for one or more of the complications listed above and a failed or defective hernia mesh implant was blamed. Also applicable is when a revision surgery has taken place or been recommended but contraindicated due to medical reasons.
Who is Responsible?
You could file a lawsuit against the manufacturer if you experienced severe side effects due to defective mesh. Product liability cases could involve three types of defects: manufacturing defect, design defect, and failure to warn.
Manufacturing defects – Even if a medical device is safe for use, it can contain defects if the manufacturer didn't construct it correctly. Any deviation from the intended design could lead to a defect that causes someone injuries. You must prove that the defect occurred during the manufacturing process, left the manufacturer in that condition, and directly led to your injury.
Design defects – An inherently unsafe design can result in a batch of hernia mesh that is dangerous and increase the risk of injury to patients. Even if the manufacturer doesn't make mistakes while constructing the device, the original design contains a flaw that poses a foreseeable risk.
Failure to warn – Any medical device comes with risks. Accidents can happen, and injuries occur. However, the manufacturer must provide warning labels that notify consumers of those risks and instructions on using their product safely and correctly. Failing to disclose the potential risks patients face with hernia mesh is entirely negligent.
Compensation Available for Defective Hernia Mesh Victims
The injuries you sustained from your hernia mesh device could be painful and financially costly. Fortunately, you don't have to suffer silently, and you have the right to seek fair compensation from the device manufacturer.
The losses available in a hernia mesh lawsuit could include:
Past and future medical bills
Pain and suffering
Permanent disability or disfigurement
Lost wages
Lost earning capacity
Mental anguish
Property damage
Out of pocket expenses
Loss of consortium
There's a strict deadline you must comply with if you want to file a lawsuit. This is known as a statute of limitations. Most states require that you sue the negligent manufacturing company within one to six years from the injury date. Alabama follows a two-year statute of limitations. That means you must file a lawsuit within two years from the date your hernia mesh device caused your injury. If two years pass and you haven't filed your lawsuit, you could lose your right to compensation.
Get the Compensation You Deserve
Because of the complexity involved in determining if you have a case against any of these hernia mesh products, it's important you contact one of our hernia mesh attorneys today. You could be entitled to financial restitution for lost wages, unpaid medical bills, pain and suffering, and a loss of quality of life due to a defective hernia repair devices.
We have helped thousands in similar situations and we can help you begin the process. Our experienced legal team can evaluate your specific case with no out-of-pocket cost to you—the evaluation is free.
Click here to learn more about defective medical device cases we handle.