Birmingham Electrical Burn Injury Lawyers
If you suffered an electrical burn injury due to another person's negligent behavior, do not hesitate to call the Birmingham burn injury lawyers of Farris, Riley & Pitt, LLP. You might be entitled to financial compensation for your hospitalization, prescriptions, and other expenses. Additionally, the at-fault party should be financially responsible for intangible losses, such as the emotional distress you endured. If your actions didn't contribute to the incident, you should not be forced to pay out of pocket for incurred costs.
An electrical burn occurs when a person comes in contact with electricity. Multiple sources could create a current that travels through someone's body, causing severe internal injuries and external burns. For example, an electrical burn will result if someone grabs a live electrical wire on a household appliance. This contact with the electrical current could burn the skin, potentially damaging nerves and tissue.
Burn injuries cause not only physical pain and visible scarring but also emotional trauma. Burn victims often face long-term psychological problems, such as anxiety, post-traumatic stress disorder, and phobias. The cost of treating an electrical burn can become a significant expense that most people can't afford. If you're struggling to pay your medical bills, you could end up in debt.
The Birmingham electrical burn injury lawyers of Farris, Riley & Pitt, LLP are ready to help you hold the careless individual or company accountable for the harm they caused. We understand the devastation of getting hurt in an accident that the other person could have prevented. You deserve the opportunity to pursue the money you're owed so you can heal your injuries and move forward with your life.
For a free consultation to discuss your case with Farris, Riley & Pitt, LLP, call us today at (205) 324-1212.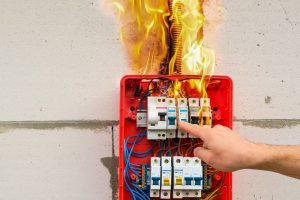 What Is an Electrical Burn?
An electrical burn is a type of burn injury that results from the body contacting an electrical source. A burn of this sort damages the skin at the injury site and could lead to blisters and pigmentation changes. As the current travels through the body, it can also cause damage to organs, nerves, tissues, and tendons.
Various types of electrical burns exist. They include:
Arc – An arc burn occurs when electrical energy travels to an area of low resistance from an area of high resistance. It doesn't have to involve direct contact with the electrical source.
Oral – Oral electrical burns are common in young children. They don't understand the dangers of placing electrical cords in their mouths. The current passes through their mouth from one side to the other, causing injury.
Low voltage – Direct contact with a power source containing 500 volts or less can cause a low voltage burn. It's often a mild injury causing damage to the skin.
High voltage – A high voltage electrical burn leads to the current traveling through the body, damaging more than just the layers of skin. It can also damage tissue and organs.
Flash – An electrical arc on the skin results in this type of burn. They mostly injure the skin but don't harm underlying tissue.
Classifications of Electrical Burns
Determining the severity of a burn injury requires a diagnosis from a doctor. They use four classifications to indicate the extent of the damage. The different degrees of electrical burns include:
First-degree burn – The least amount of damage occurs when there's a first-degree burn injury. Superficial damage to the outer layer of skin is likely and often doesn't leave scars behind. Redness develops at the site of the injury and could be painful when touched.
Second-degree burn – Damage from this type of injury can extend to multiple layers of skin, not just the outer layer. The injury site might become inflamed or swollen, and red. Blisters could develop that lead to permanent scars when they heal.
Third-degree burn – A third-degree burn injury damages every layer of skin and the nerves below. Most people think this type of burn causes excruciating pain. However, the extensive nerve damage often prevents victims from feeling anything.
Fourth-degree burn – Damage from this type of burn extends to every layer of skin, nerves, and even the tissues, muscles, and tendons. Bones and organs could also suffer damage depending on the site of the injury.
Patients typically need skin grafts and surgery to repair the significant damage caused by third and fourth-degree burns. If treatment can't heal the injury completely, the accident victim could end up with a permanent disability.
Symptoms of an Electrical Burn
The symptoms you experience will depend on the electrical source and duration of contact with your body. The most common symptoms include:
Shortness of breath
Headaches
Pain throughout the body
Abnormal heartbeat
Dizziness
Temporary memory loss
Confusion
Stiff or weak muscles
Trouble walking and balancing
Seizures
Unfortunately, more severe electrical burns can lead to a range of complications. The most common complications from burn injuries include:
Infections and sepsis
Chronic pain at the injury site
Permanent scarring from severe wounds
Psychological injuries from the incident
Mobility issues from damage to bones and joints
Disfigurement due to burns to the face, hands, or large areas of the body
Cardiac arrest
Coma
Death
Even if you sustained a minor electrical burn, you should seek immediate medical care. Sometimes a burn injury doesn't show the extent of the damage. There could be underlying problems you don't realize exist unless a doctor evaluates your condition.
Common Causes of Electrical Burns
Burn injuries can happen to anyone. You could come in contact with an electrical current in a range of situations. The most common causes of electrical burns include:
Contact with electrical components, such as the battery, during a car crash
Handling live power lines at work
Lightning strike
Water leaks near electrical outlets and wires on a poorly maintained property
Malfunctioning medical equipment run by electricity
If you were injured by any of these or another electrical source, contact Farris, Riley & Pitt, LLP immediately. We can investigate the incident to determine who was at fault for your injuries and to identify the party we could hold liable for the losses you suffered.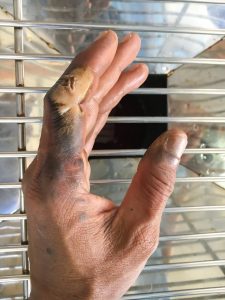 Compensation Available for an Electrical Burn Injury
The compensation you're entitled to will depend on the severity of the injury and various other factors. You could file an insurance claim or lawsuit against the negligent party responsible for causing the incident leading to your electrical burn. The source of your compensation will depend on how the accident happened and the parties involved.
For example, if you were in a car accident due to another driver's carelessness, you could file a claim with their auto insurance company. You might be able to recover benefits through your employer's workers' compensation plan if you suffered an electrical burn while working with electrical wires.
The compensation you receive should cover your past and future losses, such as:
Lost wages
Lost earning capacity
Damage to personal property
Emotional distress
Permanent disability or disfigurement
Alabama is a contributory negligence state regarding fault in personal injury cases. That means you could be prohibited from a financial recovery for your losses if the jury determines your actions contributed to the incident. Even if you only share one percent of the fault, you wouldn't receive compensation in a lawsuit.
You could also seek punitive damages if you decide to file a lawsuit against the at-fault party. Instead of compensating you for your losses, this sort of award will punish the negligent individual or entity for their wrongdoing. You must prove that the defendant acted with fraud, malice, wantonness, or oppression by presenting clear and convincing evidence. Otherwise, a jury won't award this to you.
Deadline to File a Lawsuit in Alabama
There is a statute of limitations for cases involving injury and death resulting from someone's negligent actions. This is the timeframe an accident victim has to initiate a lawsuit in civil court.
Alabama has a two-year statute of limitations. That means you must file within two years from the date of your electrical burn injury if you want to seek compensation. Once the deadline passes, you could lose your right to hold the other person responsible for the harm they caused.
One exception could extend the statute. If you were under a legal disability when you suffered an electrical burn injury, the statute wouldn't start to run until the date you are no longer under a legal disability. A legal disability means you were under 19 years old or of unsound mind when the incident occurred. You would have three years from the date you turn 19 or gain mental competency to initiate your lawsuit in court.
Speak to a Dedicated Birmingham Electrical Burn Injury Lawyer Today
Farris, Riley & Pitt, LLP has fought for the rights of accident victims since 1997. Our legal team has the knowledge, resources, and experience to handle the most complex cases and reach favorable results. We will prioritize your claim and provide the representation and services you need to hold the negligent party liable for their misconduct.
Our award-winning firm received recognition from multiple prestigious organizations, including Super Lawyers and The National Trial Lawyers. We also hold an AV Preeminent® rating from Martindale-Hubbell, the highest distinction a lawyer can receive.
You can depend on us to be your advocate and fight by your side until the end. We will provide the guidance and support you need to get through this traumatic experience and move forward with your life.
If someone else's negligence caused your electrical burn, call Farris, Riley & Pitt, LLP at (205) 324-1212 now for a free consultation with one of our Birmingham electrical burn injury lawyers.