Birmingham Construction Truck Accident Lawyers
If you or a loved one has been injured in a truck accident, you may be entitled to financial compensation. Accidents involving construction trucks can be devastating. In the wake of an accident, there are many things that you may be thinking about. How to care for your family if you are unable to work, how to pay for medical bills, and how to recover are top of mind. A lawyer can help fight for your rights in the claims process and recover a fair settlement that you need to help you move on.
You should never have to go through the claims process alone. The Birmingham truck accident lawyers of Farris, Riley & Pitt, LLP understand the stress that you may be under after an accident and are here to bring fierce legal representation to your claim. Call Farris, Riley & Pitt, LLP today at (205) 324-1212 for a free case evaluation.
Why Should I Hire a Lawyer for My Case?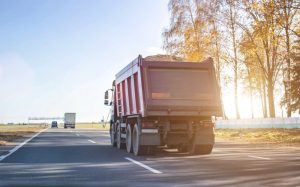 Simply put, a lawyer can often make the difference between recovering compensation after an accident and walking away empty-handed. The impacts of construction truck injuries can linger long after an accident. Because they're much larger vehicles, construction trucks can cause severe injuries to the other parties in a crash. A knowledgeable and experienced Birmingham construction truck accident lawyer will be able to assess your case, help you understand your legal options, and build a case that gives you the strongest possible chance of obtaining compensation.
The claims process can be complex, and insurance companies often do not have your best interest in mind. They will be pushy following an accident, trying to get you off of their list of claims with a low settlement offer, and trying to get you to sign paperwork that also signs away many of your legal rights. Lawyers understand these tricks and tactics, and the Birmingham personal injury lawyers of Farris, Riley & Pitt, LLP can bring a level of legal understanding to your claim that you need. That means that you can attend to other matters in recovering from an accident while we focus on protecting your rights against the insurance companies and pursuing the compensation you need.
How Can Farris, Riley & Pitt, LLP Help Me?
The Birmingham construction accident attorneys of Farris, Riley & Pitt, LLP have been helping personal injury victims in Alabama for over 20 years, bringing down over $200 million in awards and settlements in that time. As a small firm, we promise to give your unique case the personalized attention it deserves, because we know that results come from attention. Larger firms will treat your case as just another in their docket, but we will treat you like family.
After a construction truck accident, we understand that you may be feeling overwhelmed. Because of our knowledge and experience, you can leave the legal stuff to us while you pay attention to caring for your family and physically and mentally recovering from your injuries. Our many satisfied clients demonstrate our proven track record, and this is the peace of mind you need when hiring legal representation for your claim.
Types of Cases We Handle
While there are many potential causes of accidents, accidents involving large trucks are almost always severe due to their large size. Some common causes for construction truck accidents in Alabama include:
Speeding: Speeding is one of the most common causes of crashes, and is particularly dangerous when done by a large, heavy vehicle such as a construction truck that has a longer stopping distance.
Reckless Driving: Driving without care for others on the road is a surefire way to cause an accident. Truck drivers are held to higher standards on the road because they drive some of the largest vehicles out there, and driving without regard for other road users creates a very dangerous situation.
Driving Under the Influence of Drugs or Alcohol: While driving under the influence is never acceptable, it can create special dangers for truck operators.
Unsafe Roadway Conditions: Particularly around construction zones, unsafe roadway conditions can exist. These conditions coupled with truck traffic can lead to accidents.
Poor Vehicle Maintenance: Truck operators are required by federal law to perform regular vehicle maintenance. If a company fails to maintain their vehicles, this can lead to an accident and they may be liable for the losses and injuries of the victims.
Improperly Loaded Cargo: Cargo can become dangerous if the load shifts during travel or is not tied down correctly. This cargo can fall out of or off of the truck, or cause the weight distribution of the truck to change, leading to dangerous conditions.
Failure to Yield: If a construction truck is working near a site and fails to yield the right-of-way when turning or entering the roadway, this can create a dangerous situation.
Whether your case is like the types listed above or not, the Birmingham construction accident lawyers of Farris, Riley & Pitt, LLP have over 20 years of experience working with a wide variety of truck accident cases, and we can handle your construction truck accident case, too. We understand that every case is unique and will use the facts of your case to craft the most effective case possible to obtain the compensation you deserve.
Recovering Compensation for a Construction Truck Accident Claim
To recover compensation for your construction truck accident, you will need to prove that the other party acted negligently. Negligence generally means that someone didn't use a reasonable level of care to prevent harming others. In other words, there was a degree of carelessness that lead to the accident. A variety of expenses, costs, or losses could be eligible for compensation, including:
Medical bills
Lost wages
Psychological trauma
Loss of ability to work due to a permanent disability
Pain and suffering
Property damage
Ongoing rehabilitation costs
Disfigurement
The severity of truck injuries can leave impacts that stay with you for the rest of your life. A qualified Birmingham construction truck injury lawyer can help you get the compensation that you need to recover from a truck accident.
Contact Farris, Riley & Pitt, LLP Today
After a construction truck accident, you need legal representation that will fight to bring justice to those who injured you through their negligent actions. A qualified Birmingham construction accident lawyer can help you recover the compensation you need to pay for medical bills and recover lost wages.
Call the Birmingham construction truck accident lawyers of Farris, Riley & Pitt, LLP today at (205) 324-1212 for a free case evaluation. We are standing by to give your case the attention it deserves.