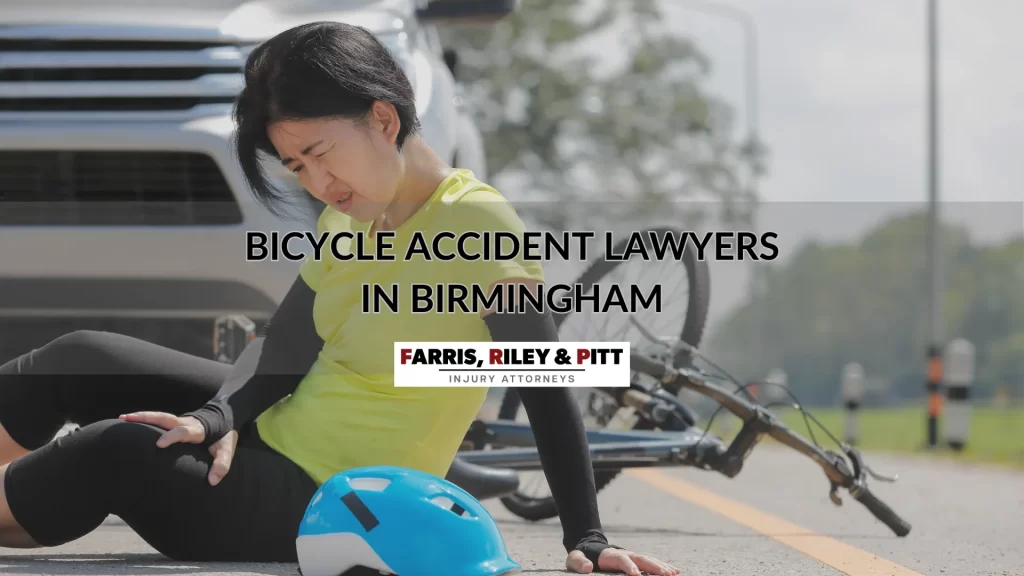 If another party's negligence caused severe injuries or the loss of a loved one in an Alabama bicycle accident, you likely have numerous concerns. You are likely confronting substantial medical bills, with the potential for more in the future. Additionally, your inability to return to work for an extended period compounds these challenges.
It's crucial to comprehend that the negligent party in your accident could be responsible for all the damages you've endured. Farris, Riley & Pitt, LLP represents bike crash victims in Birmingham and all surrounding areas of Jefferson County.
For over two decades, we have assisted injury victims throughout Alabama. Our firm is dedicated to securing justice for individuals who have suffered serious injuries in bicycle accidents.
You do not have to try and navigate the civil claims process alone. Call (205) 324-1212 to have the bicycle accident lawyers in Birmingham at Farris, Riley & Pitt, LLP review your case and help you understand all of your legal options during a free consultation.
Why Do I Need a Bicycle Accident Lawyer?
Following a bicycle crash, you might think it's relatively easy to file a related injury claim. Nothing could be further from the truth.
Often, the driver and their insurance will argue that your negligence contributed to or caused the accident. Initially, the insurer may display sympathy and express a desire to ensure your well-being, but you should not be deceived.
Insurance companies often call victims to get recorded statements, which can inadvertently harm their personal injury claims. You want to retain legal counsel primarily to have an attorney handle these conversations with insurers on your behalf.
Farris, Riley & Pitt, LLP will take care of these phone calls for you so you can focus on your recovery. Our firm will commence negotiations to secure a settlement covering all your needs. We won't hesitate to file a lawsuit if the insurance company refuses adequate compensation.
Why Choose Farris, Riley & Pitt, LLP?
The bicycle accident lawyers of Farris, Riley & Pitt, LLP have obtained numerous multimillion-dollar verdicts and settlements. We will fight to make sure you receive every dollar owed to you for your bicycle accident.
Our firm will conduct an extremely thorough, independent investigation of your crash scene to determine the exact cause, collect important evidence, and identify every single liable party. Kirby Farris and Ken Riley are lifelong Alabama residents, proudly assisting those they view as friends and neighbors.
Mr. Farris and Mr. Riley are members of prominent legal organizations, such as the Alabama Bar Association, Birmingham Bar Association, and American Bar Association. They are both admitted to the Alabama Supreme Court as well as the United States District Court for the Southern District of Alabama, the United States District Court for the Northern District of Alabama, and the United States District Court for the Middle District of Alabama.
Farris, Riley & Pitt, LLP also represents bicycle crash victims on a contingency fee basis, so you do not pay anything unless you receive a financial award. Let our bicycle accident lawyers evaluate how we can help you when you call (205) 324-1212 to receive a free consultation.
Cases We Handle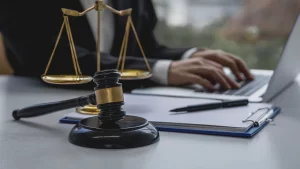 Alabama Code § 32-1-1.1(81) stipulates that any device enabling transportation on a highway is deemed a vehicle. This statute classifies bicycles under this category, granting their operators the same rights and responsibilities as motor vehicle drivers.
Bicycle crashes occur for all kinds of reasons. Every accident is different, but many crashes share common causes, such as:
Distracted Driving — A motorist may have been text messaging, checking email, or talking on a cell phone while driving. They might have also become distracted while attempting to adjust their stereo, operate a GPS device, or even while eating. Drivers are subject to numerous distractions that can take their attention off the road. Mobile phones are often the primary distractions for drivers. In court, phone records can help establish these distractions.
Driving Under the Influence or DUI — Any motorist who operates in violation of state drunk and drugged driving laws is much more likely to cause a traffic crash. Victims in these cases may also be eligible for punitive damages in addition to underlying compensatory damages.
Speeding — Drivers who violate posted speed limits do not have the necessary stopping distances when bikes cross their paths. Speeding drivers are also more subject to possible loss of control.
Reckless Driving — Alabama Code § 32-5A-190 states that a person commits a reckless driving offense if they drive a vehicle "carelessly and heedlessly in willful or wanton disregard for the rights or safety of persons or property, or without due caution and circumspection and at a speed or in a manner so as to endanger or be likely to endanger any person or property."
Other Traffic Violations — Failure to obey traffic signals or traffic control devices is another common interaction that can result in bike accidents. In most cases, we can use a driver receiving a ticket for another infraction as evidence of negligence.
"Dooring" — A dooring accident happens when a motor vehicle occupant suddenly opens a car door in front of an approaching bicyclist. In these cases, the force may throw bicyclists several feet from their bikes.
Not all accidents necessarily involve motor vehicles. Bicyclists injured due to bike mechanical issues might file claims against parts manufacturers for defective components. They can also claim against maintenance companies for improper repairs.
Frequently Asked Questions
No single factor in your case has quite the detrimental effect of contributory negligence. In simple terms, contributory negligence means if the victim is even 1% at fault for their injury, it counts against them. Alabama, among five U.S. states, allows defendants to use contributory negligence, barring victims from recovery when proven. The lone exception provided to a contributory negligence defense occurs when a defendant has engaged in willful or wanton conduct. Insurance companies that contact bicycle accident victims frequently pursue statements that may appear as contributory negligence. Therefore, it's advisable to avoid speaking to any insurer until you have legal representation.
Most injury actions are subject to a statute of limitations of two years. One important exception applies to minors, who have two years from the date of their 19th birthday to file a legal claim.
Victims can also delay (toll) limitation periods by proving they had a disability at the time of injury, and a court declared them incapacitated.
You can, but you generally need to do so quickly. Alabama Code § 11-47-23 establishes that tort claims against a municipality have to be presented to the clerk within six months, and Alabama Code § 11-12-8 states that claims against counties have to be presented within 12 months. Damages are also limited (or "capped") in these types of cases, as Alabama Code § 11-47-190 provides that no judgment or combination of judgments against a municipality and/or any officer or officers, employee or employees, or agents thereof can be more than $100,000 per injured person and no more than $300,000 per single occurrence. Alabama Code § 11-93-2 also limits damages recoverable against governmental entities to $100,000 for one person in a single occurrence and $300,000 in the aggregate when more than two persons have claims or judgments.
Bicycle Accident Statistics
According to data provided by the Alabama Department of Public Health, the National Highway Traffic Safety Administration (NHTSA), and the Centers for Disease Control and Prevention (CDC):
In 2018, Alabama recorded 209 bicycle-related injuries and nine deaths resulting from bicycle accidents.
A majority (86 percent) of Alabama bicycle crashes took place in urban areas, while the remaining 14 percent occurred on rural roads.
Nationally, there were 938 bicyclist deaths in 2020, representing 2.4 percent of all traffic fatalities. This death count marks a nine percent increase from the 859 deaths in 2019.
Bicycle accident injuries decreased 21 percent year over year, from 49,057 in 2019 to 38,886 in 2020.
The accident death rate among male cyclists was seven times higher than female cyclists, and the injury crash rate was nearly four times higher for male bikers.
The vast majority (79 percent) of fatal bicycle crashes took place in urban regions.
Bicycles account for only one percent of all trips in the U.S., but cyclists represent more than two percent of road crash fatalities involving motor vehicles.
The financial burden of bicycle-related injuries and deaths surpasses $23 billion annually.
Hit By a Car On a Bike?: How to Handle a Bicycle Accident
Contact a Bicycle Accident Attorney In Birmingham Today
Farris, Riley & Pitt, LLP has been assisting bicycle crash victims in communities throughout Alabama for more than 20 years. Our Birmingham bicycle accident lawyers work tirelessly to secure your compensation for medical costs, lost wages, and damages.
If you were seriously injured or your loved one was killed in a bike accident in Jefferson County that was caused by another party's negligence, contact Farris, Riley & Pitt, LLP as soon as possible. Call (205) 324-1212 or contact us to have our attorneys provide a complete evaluation of your case during a free consultation.
Related Reading: