Birmingham Chemical Burn Injury Attorney
If you suffered a chemical burn injury due to another person's negligence, you should call the Birmingham burn injury attorneys of Farris, Riley & Pitt, LLP right away to discuss your legal options. You might be entitled to compensation from the at-fault party for the resulting medical bills and other expenses. Chemical burns are often severe and can lead to disfiguring injuries and significant psychological trauma.
Any burn injury is painful. However, chemical burns can cause debilitating physical harm. Direct contact with a corrosive substance, such as bleach or ammonia, can damage the skin, tissue, muscles, and even internal organs. Even if you take the necessary safety precautions around dangerous chemicals, you could still end up with an injury.
At Farris, Riley & Pitt, LLP, our Birmingham chemical burn injury attorneys understand how traumatic it can be to suffer from a severe chemical burn. The negligent party could have prevented the accident if they had taken reasonable care to avoid creating a dangerous situation. Unfortunately, you have to face the consequences of someone else's misconduct. You have a right to hold that person liable and seek the maximum compensation available.
Call us at (205) 324-1212 today for a free consultation and learn how we can help you in your time of need.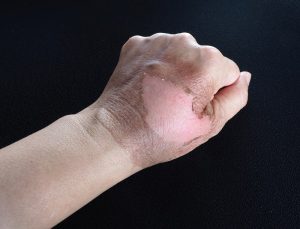 Should I Hire a Lawyer?
Yes. Many people think filing an insurance claim is easy. No one realizes the amount of effort that goes into a case like this. If you don't know your rights or state laws regarding burn injury cases, you could end up walking away without the money you need to pay for medical care and other costs.
Insurance companies can take advantage of unrepresented claimants. If you decide not to hire someone to help, they might try to intimidate you into accepting an inadequate settlement. If you agree to the low amount, you will likely have to pay out of pocket for some of your bills.
Farris, Riley & Pitt, LLP knows what it takes to fight against the insurance companies representing negligent parties who are at fault for chemical burns. We will aggressively pursue your claim for compensation and try to hold the at-fault individual or entity financially responsible for the losses suffered in the accident. We never back down from a fight and work hard to reach a favorable outcome.
What Is a Chemical Burn?
A chemical burn happens when someone comes into contact with a corrosive substance.
This type of injury falls under the same classifications as other burns. They are:
First-degree burn – This is a superficial injury that only damages the outer layer of the skin. It often results in physical pain and redness at the injury site but doesn't leave permanent scars.
Second-degree burn – Damage can extend to other lawyers of the skin. Blisters may develop, causing scarring as the injury heals.
Third-degree burn – Significant damage to every layer of skin, tissue, and even organs can occur. It usually isn't a painful injury because of the extensive nerve damage. Victims might need surgery or skin grafts and can be left with permanent scarring or disfigurement.
Fourth-degree burn – This burn goes through all layers of skin and into the muscle, sometimes even affecting bone. Fourth-degree burns may require skin grafts or amputation.
Chemicals responsible for causing burn injuries can include:
Bleach
Ammonia
Motor vehicle fluids
Toilet bowl cleaners
Chlorine
Concrete mix
Metal cleaners
Fertilizers
Detergents
Tooth whitening products
Battery acid
Oven cleaners
Chemical burns often require emergency medical care. Even if it's just a first-degree burn, it's critical to go to the hospital immediately. Since the severity of some burns might not be apparent, you will need a qualified doctor to evaluate your condition and determine an appropriate treatment plan.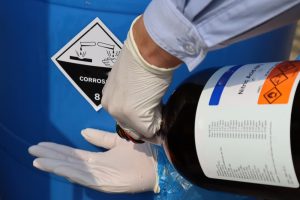 Symptoms of  Chemical Burns
The symptoms a person experiences from a chemical burn will depend on a range of factors, such as:
Type and strength of the chemical
Duration of direct contact with the skin
Location of the burn
Whether the victim ingested or inhaled the substance
Touching bleach is much different than swallowing it. Skin contact can injure different layers and maybe even the tissue and nerves. However, if you accidentally ingest bleach, you could suffer injuries to your mouth, esophagus, and stomach.
The most common symptoms that could indicate you suffered a chemical burn include:
Vision changes
Redness and irritation at the injury site
Pain
Change in color or appearance of the skin
Symptoms that you may have ingested a chemical include:
Dizziness
Headache
Abnormal heartbeat
Seizures
Twitching muscles
Shortness of breath
Coughing
If you notice any of these warning signs, get treatment immediately, and then don't hesitate to start preparing your case. Waiting too long could prevent you from seeking compensation from the at-fault party. There are strict deadlines if you want to file a lawsuit against someone in Alabama. If time runs out, you will lose your right to hold them liable.
Complications Caused by Chemical Burns
Unfortunately, some chemical burns lead to complications. You could suffer permanent damage and require ongoing treatment to manage chronic pain and improve mobility issues. That's why it's important to see a doctor immediately after an accident involving chemical substances. You could potentially avoid these complications if you begin treatment right away.
The most common complications of chemical burns include:
Excruciating pain
Permanent scars
Internal injuries from inhaling or ingesting the substance
Loss of vision from burns to the eyes
Limited mobility due to muscle or tissue damage
Psychological trauma, such as depression or post-traumatic stress disorder
Emergency amputation of toes or fingers
Infections
Disfigurement
Organ failure
Some burn injuries are life-threatening. Many can lead to death. Once the damage reaches the organs, they can start shutting down. The victim could end up in cardiac arrest or a coma. If you survive the incident, you could become disabled and require assistance to shower, walk, and perform other routine tasks.
Compensation for a Chemical Burn Injury
You could face an uphill battle to recover from your injuries. Severe burns often need consistent medical attention to prevent permanent damage. You might need rehabilitation to regain mobility in your limbs or skin grafts to repair damaged skin and tissue. The bills you receive can be expensive and cause financial problems if you can't afford to pay them.
You can file an insurance claim with the at-fault party's insurance company for compensation for these losses. The most common losses eligible for compensation include:
Medical expenses
Damaged personal property
Disfigurement
Lost wages
Lost earning capacity
Mental anguish
Permanent disability
If you file a lawsuit, you can also pursue punitive damages. This financial award doesn't compensate for your losses. Instead, it punishes the defendant. However, you must show that they acted with fraud, wantonness, or malice using clear and convincing evidence for a jury to make this type of award.
One state law could bar recovery in a lawsuit. It's crucial to avoid admitting that your actions could have contributed to the accident. If you share any fault for your injury, you would not be allowed to pursue compensation for your losses under the contributory negligence statute.
Deadline to Initiate a Lawsuit
Alabama has a two-year statute of limitations for cases involving physical injuries. That means you have two years from the date you suffered a chemical burn to file your lawsuit in court. Once the deadline passes, you won't be able to seek compensation from the negligent party.
However, when an accident victim is under a legal disability, they could extend the statute. If you were a minor under 19 years old or of unsound mind when the accident happened, you could delay the deadline. That means you would have three years from the date you turn 19 or gain mental competency to file a lawsuit and attempt to recover compensation.
Steps You Can Take if Your Loved One Died from a Chemical Burn
If the incident resulting in a chemical burn caused your loved one's death, you could file a wrongful death lawsuit. State law defines wrongful death as the death of a person caused by someone else's negligence, wrongful act, or omission.
When a case involves a minor, the surviving parent must initiate the lawsuit within six months of the date of their child's death. If six months pass and you have not filed, a personal representative can pursue the case. If the victim were an adult, you would have to file your lawsuit within two years of the date they died.
Unlike typical personal injury cases that allow for compensation for different losses, a wrongful death lawsuit only allows a surviving family member to seek punitive damages. There is no law limiting the amount you can receive. It will be up to the jury's discretion to determine the monetary award you deserve.
Speak to an Experienced Burn Injury Lawyer Today
Farris, Riley & Pitt, LLP takes cases like yours on contingency. You don't have to worry about upfront fees or costs when you hire us to represent you. We won't expect payment of our legal fees unless we recover compensation. If we lose, you will never owe us for our services.
You can count on us to advocate for your rights and fight for the justice and compensation you deserve. We will tirelessly work to meet your needs and try to achieve your desired results.
If someone's careless or negligent actions caused your chemical burn injury, call Farris, Riley & Pitt, LLP for a free consultation at (205) 324-1212, or reach out to us online.