Birmingham Lawyers for Child Injuries from Suffocation, Strangulation, and Choking
If your child suffered injuries from suffocation, strangulation, or choking due to someone's negligent actions, you should call the Birmingham child injury attorneys of Farris, Riley & Pitt, LLP immediately to discuss your case. You might be entitled to compensation for the medical treatment they need and for your resulting expenses. You should not be forced to pay out of pocket for these bills if your child's actions did not contribute to the incident.
Everyday household items can harm young children and babies. Even seemingly safe products can contain faulty parts, defects, and other hazards. Unfortunately, kids are at an increased risk of injury and death from choking on small removable parts on their toys or from being strangled by loose cords. These dangers are common, but most parents don't know about them.
Manufacturers are supposed to ensure that their products meet safety and quality standards before placing them on the market. They must perform testing and provide warning labels about the potential hazards the user could encounter. However, errors made during manufacturing can create harmful products that can lead to dangerous accidents. The manufacturer could be held liable for their negligent actions if they were responsible for your son or daughter's injuries.
For a free consultation to learn about your available legal options for pursuing compensation from the at-fault manufacturer, call Farris, Riley & Pitt, LLP at (205) 324-1212 right now.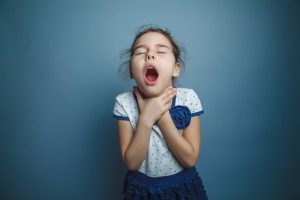 Common Causes of Strangulation Injuries
Strangulation hazards are everywhere. You might not even realize the dangers that exist in certain products you keep around the house or give to your child to play with. Strangulation can happen within a few minutes. The brain suffers serious damage when it doesn't receive the oxygen it needs. Eventually, death can occur.
Although the Consumer Product Safety Commission (CPSC) sets and enforces safety standards to avoid strangulation hazards, many products could injure small children. The most common causes of strangulation injuries include:
Window blinds and curtains
Clothing with drawstrings
Swing sets
Defective cribs
Bedding
Baby playpens
Jewelry
Electrical cords
A wide range of other items could suffocate a child. Although accidents sometimes happen, these devastating scenarios can result from a dangerous defect in a product that the manufacturer was aware of but then decided to sell to the public anyway.
Common Causes of Choking Injuries
Infants and toddlers are particularly susceptible to choking. Anything in their vicinity that they can get their hands on is fair game to put in their mouth. Detachable parts from toys and other products can become a choking hazard in an instant. The most common causes of choking injuries include:
Batteries
Balloons
Food
Small toys or parts
Coins
Pacifiers
Marbles
Bouncy balls
Ribbons
Rubber bands
Cleaning supplies
Pen and marker caps
Products that are supposed to go in a kid's mouth, such as a bottle or pacifier, could also contain hidden dangers. If there's a faulty part that breaks off, they could swallow it and choke.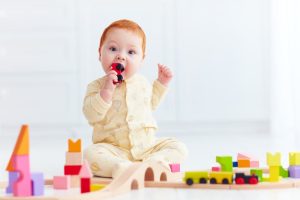 Common Causes of Suffocation Injuries
Suffocation is one of the most common causes of accidental death among infants. They don't have the physical strength to move their head away from something covering their mouth and restricting oxygen flow. Loose items, such as bedding, could end up over their face causing asphyxiation and loss of consciousness.
The most common causes of suffocation injuries include:
Pillows
Bedsheets and blankets
Baby slings
Dry cleaning bags
Plastic shopping bags
Crib pads
Cling wrap
Stuffed animals
Rugs
Playmats
Children can also become trapped in airtight products, such as refrigerators, suitcases, and other items while playing. They might think it's a great hiding place, but a faulty latch or another defect could prevent them from getting out.
Determining Liability in Suffocation, Strangulation, and Choking Injury Cases
Product liability laws hold manufacturers, distributors, and other parties liable for providing consumers with defective products that cause injury, illness, or death. You can base your case on strict liability or negligence.
Negligence is the failure of one party to take reasonable care to avoid causing harm to another. You must prove negligence existed if you want to recover compensation from the manufacturer. That means you have to submit evidence that the product your child used contained a defect and was the direct cause of their injury.
However, strict liability doesn't require you to prove careless or reckless actions. You only have to show that your child used the product as intended but suffered injuries anyway because it was unreasonably dangerous.
Three types of defects can exist that result in suffocation, strangulation, or choking injuries:
Marketing defects – This is also known as "failure to warn." Companies are supposed to provide instructions on using a product correctly and warning labels about potential dangers so that consumers know about any risks. If a manufacturer hides the dangers of their product from the public, they could be liable for injuries.
Design defects – An error during the design, development, or planning of a product can make it dangerous for a consumer.
Manufacturing defects – Errors while assembling, constructing, installing, or manufacturing a product may make it unsafe for people to use. Although the design isn't defective, the product may be inherently dangerous because of a problem that arose during the manufacturing process.
Farris, Riley & Pitt, LLP is familiar with these product defects and the appropriate legal strategy we need to use to prove your child suffered injuries because of someone else's mistakes. You should speak with us immediately after the incident so we can begin working on your case.
Who Is Liable in a Product Liability Case?
Multiple parties could be at fault for placing a dangerous product on the market. Who you hold liable will depend on the circumstances of the incident. Common parties involved in product liability cases include:
Distributors
Manufacturers
Design teams
Retailers
Wholesalers
Shipping companies
Pursuing compensation successfully requires following a specific procedure. There must be sufficient evidence showing your child's injury resulted from the defect instead of another incident or accident. That means you need to obtain all available evidence, such as medical records, to provide the insurance company during a claim. Farris, Riley & Pitt, LLP knows how to investigate cases like this and can take on that responsibility on your behalf.
Compensation Available for Suffocation, Strangulation, and Choking Injury Cases
The injury your child suffered likely resulted in a few different types of losses. These losses had a significant impact on their life and yours. You shouldn't suffer the consequences of the manufacturer's misconduct. It is your right to hold them financially responsible for their actions and seek the maximum compensation possible.
The compensation you receive could cover past and future losses, such as:
Lost wages
Lost earning capacity
Disfigurement or permanent disability
Mental anguish
The insurance adjuster you work with might seem like they're on your side. However, insurance companies look out for their own interests. They want to save money whenever possible, which means they will probably look for valid reasons to deny your claim or offer a low settlement amount. This can make the process challenging. You should not attempt to pursue a case like this without seeking legal representation.
Farris, Riley & Pitt, LLP will aggressively negotiate with the insurance company for the full and fair settlement you deserve. If they refuse to settle for an adequate amount or decide to deny the claim altogether, we are prepared to move forward with a lawsuit against them and the negligent manufacturer. You should not be forced to walk away from this traumatic experience without the money you're owed for the suffering your child endured.
Filing a Lawsuit in Alabama
When you file a product liability lawsuit, you must abide by the statute of limitations. Alabama has a two-year statute of limitations. The courts strictly enforce this timeframe. If the statute passes before you get the chance to file your lawsuit, the judge will most likely dismiss your case.
While preparing a lawsuit, you can decide if you want to pursue punitive damages. This is a punishment against the defendant instead of compensation for your losses. A jury will only award this to you if you can provide clear and convincing evidence that the manufacturer or another at-fault party acted with wantonness, fraud, oppression, or malice.
One particular Alabama law could prohibit you from seeking any amount of compensation for your child's injuries. Contributory negligence bars financial recovery if the victim shares fault for an accident. In other words, if your child's actions contributed to their injury in any way, you would not be allowed to pursue compensation from the negligent party.
Contact Us
At Farris, Riley & Pitt, LLP, our legal team will fight for you and your child against the at-fault individual or company responsible for their injuries. Suffocation, choking, and strangulation are dangerous scenarios that can lead to significant physical harm and even death. We can help you prove someone else's actions led to this incident and that they should provide the compensation you need to afford the medical expenses so your child can heal.
If your son or daughter sustained any injuries from choking, suffocation, or strangulation, call Farris, Riley & Pitt, LLP at (205) 324-1212, or contact us online today. We can meet with you for a free consultation to review the facts of your case and determine whether we can help. When you hire us, we will treat you as a priority and remain by your side until the end.