Birmingham Lawyer for Failure to Maintain Truck and Tractor-Trailer Vehicle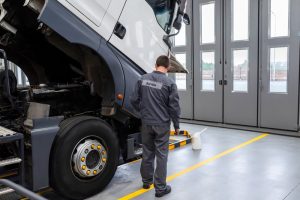 Commercial trucks and tractor-trailers are large, complex pieces of industrial equipment that need routine maintenance. Federal regulations provide specific requirements for inspection, repair, and maintenance by motor carriers and intermodal equipment providers. The responsibility to perform this type of upkeep on a truck is a part of owning and operating the vehicle. You can't tell just by looking at a truck on the road whether it is being properly maintained. When a truck owner fails to maintain their vehicle, this may lead to a serious accident that causes severe injury.
If you are the victim of an accident with a commercial truck in Alabama and it was not your fault, you may be entitled to compensation. A truck owner's failure to maintain their vehicle should not be your problem and you should not be forced to pay for their mistake. We will fight to hold the party at fault responsible as we pursue the amount that you legally deserve. Contact Farris, Riley & Pitt, LLP today at (205) 324-1212 to discuss your options with a Birmingham truck and tractor-trailer accident lawyer.
Why Do I Need a Lawyer If I Have Been Injured By a Truck in Alabama?
Trucking companies are insured to protect themselves in situations such as this. The insurance company, the trucking company, and other parties, such as maintenance companies, will have legal teams who have been through cases like this many times. These lawyers exist to help their clients pay as little money as possible for accident claims. They will do this using whatever tactics have worked for them in the past. This is an unfair situation for an individual who is fighting against them because the individual does not have the experience or resources that the companies have.
To fight a claim like this, you need to know how to present the strongest possible case based on all the evidence. This requires a thorough understanding of the details of the case and the laws that govern this type of accident in order to prove responsibility. It also requires a depth of experience to be able to differentiate between fair and unfair settlement offers. When an insurance company offers you a weak settlement, you need a strong attorney.
A Farris, Riley & Pitt, LLP personal injury attorney will know how to deal with the trucking companies and their insurance companies and lawyers. Give yourself a fair fighting chance and contact us to set up a free consultation about your case.
Compensation
If you were the victim of an accident with a commercial truck, you may be looking at a growing stack of medical bills. You may be wondering how you are going to pay them, and it may seem like they will never stop. You may be facing invoices for emergency room visits, hospital stays, surgeries, and treatment by medical specialists. These can last for years after the injury heals, depending on how severe it was.
You may be able to receive compensation for your injury and a variety of accident-related losses, depending on many factors and the details of your case. The monetary amount you may be entitled to recover may include things like:
Lost wages
Reduced ability to earn a living
Repairing or replacing your vehicle
Physical therapy
Prescription medication
Disability or disfigurement
Loss of quality of life
Pain and suffering
Emotional distress
Why Is Failure to Maintain a Vehicle Dangerous?
Routine maintenance performed at regularly required intervals is necessary in order to keep a truck running smoothly, efficiently, and safely. When this maintenance is not performed, the truck essentially becomes a ticking time bomb that can quickly cause a dangerous situation. What is especially unsafe about it is that without the proper monitoring and maintenance, a truck owner or operator may believe that the truck is in drivable condition without knowing which systems may have a failure.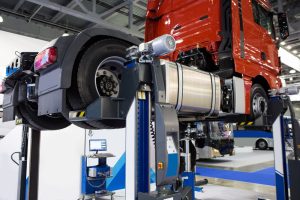 An example of this is when a truck's tires begin to wear down. Without inspection by a maintenance professional, the wear to tread or sidewalls may go completely undetected. This might not immediately cause an accident, but it may only be a matter of time. The tires will continue to get weaker with each additional mile of excess wear. As this continues, the probability of tire failure, such as a highway blowout, increases.
A similar situation may exist for braking systems, which have elements that are designed to be replaced at regular intervals of use. If brake system components are not consistently monitored, the brakes will become continually less effective and may even fail suddenly. The weak point of the system may be the brake pads, rotors, lines, or any other component. When not maintained, there may be no warning that the system is about to fail.
That said, this type of failure is entirely preventable, and the responsibility rests with the trucking company. Other parties may be involved in the upkeep process and may include maintenance companies, mechanics, leasing companies, and manufacturers.
When a truck is not properly serviced and maintained as required, the owner or operator may be creating a dangerous situation. This may be as a result of improper upkeep of:
Braking systems
Tires
Headlights, taillights, and turn signals
Damaged windows or windshield
Electronics
Safety systems such as cruise control
Horn and warning devices
Call Farris, Riley & Pitt, LLP Now
When the owner or operator of a truck fails to maintain their vehicle, they are placing others at risk. If you are the victim of an injury caused by an accident with a truck that was entirely someone else's fault, you may be entitled to receive financial compensation. You should not be responsible to pay for the resulting costs.
You need an attorney who has a proven track record that demonstrates what they can do for you. We have helped many other clients who found themselves in situations similar to yours. We will fight for you to obtain the money you deserve. We will build the strongest possible case, and if negotiations are unsuccessful, we will be ready to take your case to court to hold the party at fault responsible.
Call (205) 324-1212 today to set up a free case consultation with a Birmingham truck and tractor-trailer accident attorney. You don't have to do this alone.
An experienced Farris, Riley & Pitt, LLP lawyer will take charge of your personal injury case so you can put your mind at ease. Let us put our experience to work for you so you can focus on rebuilding your life.