Birmingham Commercial Carrier Accident Lawyers
If you were injured in an accident involving a commercial carrier entirely due to someone else's negligence, do not hesitate to contact Farris, Riley & Pitt, LLP. We might be able to represent you in your accident case against the truck driver, motor carrier, or another at-fault party. You should receive the compensation you need to cover your medical treatment and other expenses.
Tractor-trailers are one of the most common commercial trucks you see on the road. However, there's a range of other commercial carriers you can encounter. Box trucks, tankers, and concrete mixers are just a few examples of commercial carriers traveling throughout the United States every day, transporting consumer goods, construction materials, and other items.
A collision between a commercial carrier and a passenger car can be catastrophic. The occupants of the smaller vehicle typically suffer more severe injuries than the truck driver. Commercial carriers are massive and take up significant space on the road. They're heavy and place significant force behind the impact when crashing into another vehicle.
The Birmingham truck accident lawyers of Farris, Riley & Pitt, LLP know the devastation of ending up in an accident that wasn't your fault. Someone else's carelessness resulted in your injuries. You have a right to pursue compensation from them so you can treat your injuries and move forward with your life. Our legal team of personal injury lawyers is ready to represent you in your case and fight for the justice you deserve.
Call Farris, Riley & Pitt, LLP today at (205) 324-1212 or complete our online contact form for a free consultation.
Common Types of Commercial Carriers
Besides tractor-trailers, delivery trucks, and construction vehicles, there are various other commercial carriers you can pass on your daily commute. Other common types of commercial carriers include: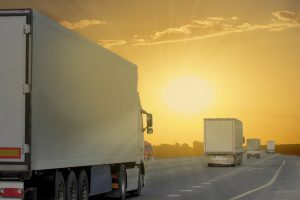 Tow trucks
Tankers
Commercial buses
Moving trucks, such as U-Hauls
Box trucks
Bucket trucks
Grapple trucks
Refrigerator trucks
Heavy hauler
Concrete mixers
If you were involved in a crash with any of these vehicles, contact Farris, Riley & Pitt, LLP immediately. We can review the circumstances and determine whether you have a case to pursue against the truck driver or trucking company.
Common Causes of Commercial Carrier Accidents
Multiple scenarios can arise and lead to an accident involving a commercial carrier. The most common causes include:
Tailgating – Following another vehicle too closely prevents the driver from slowing down or stopping in time to avoid a collision if the driver ahead needs to stop. A rear-end accident can lead to debilitating injuries for drivers and passengers of small cars.
Drunk driving – Commercial drivers are under the influence if their blood alcohol concentration (BAC) is 0.04 percent or higher, according to federal laws.
Speeding – Driving above the speed limit is reckless and can cause debilitating injuries to the occupants of passenger vehicles during a collision with a commercial carrier.
Driver fatigue – Driving while tired leads to a slower reaction time, poor decision-making skills, altered sensory perception, and a range of other issues that can lead to an accident.
Failing to yield the right of way – Truck drivers must yield when necessary for other drivers. If they don't, they could crash into another vehicle in their path.
Distracted driving – According to statistics, distracted driving killed 3,142 people in accidents in 2019. Texting is among the most common distraction, preventing drivers from noticing their surroundings.
Failing to check blind spots – Commercial carriers have four large blind spots. Truckers must check each one before maneuvering their vehicle to avoid colliding with a car traveling nearby.
Disobeying traffic signs and signals – Ignoring a signal or sign can place a commercial truck driver in the path of another motorist. Running a red light or stop sign can lead to an accident with other drivers already in the intersection.
Sudden or improper braking – Braking suddenly or improperly can cause the truck driver to lose control of their truck. Rollover and jackknife accidents can occur when truckers slam on the brakes.
No matter the cause of the commercial carrier accident, you deserve compensation for your injuries if the truck driver or another party was entirely at fault. Farris, Riley & Pitt, LLP could represent you in your case and help hold the negligent individual liable for their recklessness.
Compensation Available for a Commercial Carrier Accident
The Federal Motor Carrier Safety Administration requires motor carriers to purchase liability insurance for their truck drivers. Coverage amounts depend on the weight of the truck and whether it consists of hazardous or non-hazardous materials. If the trucker is responsible for the crash, you could file a claim with the insurance company for a settlement.
The settlement you receive could compensate you for the losses you suffered and the damages you've incurred, such as:
Permanent disability or disfigurement
Lost wages
Lost earning capacity
Pain and suffering
Medical expenses
Property damage
Mental anguish
You can file a lawsuit against the negligent truck driver if the insurance company denies your claim or won't settle for an adequate amount of money.
You could recover punitive damages in a lawsuit if you can provide clear and convincing evidence of the at-fault party's fraud, malice, oppression, or wantonness. This form of compensation is meant to punish the defendant for their misconduct.
Deadline to File a Lawsuit
There's a deadline you must follow if you want to sue the commercial carrier driver or company for your injuries. Alabama has a two-year statute of limitations. That means you have to file your lawsuit within two years from the date of the crash. If the statute expires, you could lose your right to pursue compensation through the court system.
Contact Us
With over 20 years of experience with truck accidents, the experienced attorneys at our firm can effectively handle your case and work to hold the truck driver accountable for their wrongdoing. We will advocate for your rights and tirelessly work to try to reach your desired outcome. The Farris, Riley & Pitt, LLP personal injury lawyers know what it takes to get the job done and help our clients recover from traumatic truck accidents. You can depend on us to remain by your side until the end.
If you sustained injuries in a commercial carrier accident due to someone else's negligent behavior, contact Farris, Riley & Pitt, LLP today. We're available 24/7 to take your call. One of our Birmingham commercial carrier accident lawyers will be happy to meet with you for a free consultation to discuss your case. Call us now at (205) 324-1212, or contact us online to learn more about what we can do for you.