Birmingham Gas/Flame Burn Injury Attorneys
If you suffered burn injuries from a gas or flame due to another person's negligence, call the Birmingham burn injury attorneys of Farris, Riley & Pitt, LLP immediately to discuss your legal options. We could help you pursue compensation and hold the at-fault party liable for their careless actions.
Gas and flame burn injuries often result from fires and explosions. The extreme heat can damage the skin and even underlying tissue, tendons, and muscle. In severe cases, the organs could become damaged, causing the victim to go into cardiac arrest and die.
Unfortunately, burn injuries can lead to a range of complications. An infection could develop at the injury site and spread throughout the body. Many people experience significant psychological trauma from burn incidents. They might develop anxiety or post-traumatic stress disorder. A permanent or disfiguring injury can cause depression and low self-esteem.
The Birmingham gas/flame burn injury attorneys of Farris, Riley & Pitt, LLP know the physical, mental, and financial toll a catastrophic accident can take. It's devastating to know the negligent party could have prevented this from happening if they had taken the necessary precautions. Now you face a long and painful recovery involving expensive medical bills.
You should not continue to suffer because of someone else's wrongdoing. You can depend on our legal team to fight by your side for justice. We will work tirelessly on your case to seek the compensation you deserve and try to reach a favorable outcome. Call us at (205) 324-1212 now for a free consultation and learn more about what we can do to get you on the road to recovery.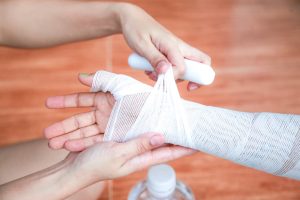 Why Choose Farris, Riley & Pitt, LLP?
Farris, Riley & Pitt, LLP has represented accident victims for more than two decades. Since 1997, we have made it our mission to help those in need get back on their feet after suffering injuries caused by the negligent actions of others. We believe our clients deserve the opportunity to pursue the compensation necessary to pay for their treatment, so they're not left with out-of-pocket expenses for injuries that weren't their fault.
Our Birmingham gas/flame burn injury attorneys understand the financial burden you already face. You can end up in debt if you can't afford your medical bills and other costs. We take cases on contingency, so you're not responsible for any upfront legal fees or costs. We won't expect payment of our fees unless we secure compensation for you. If we lose your case, you will never owe us for our services.
At Farris, Riley & Pitt, LLP, we take pride in the dependable representation we provide to our clients. Our proven track record of success shows our level of commitment to every case we handle. We received multiple awards and accolades from prestigious legal organizations, such as The National Trial Lawyers and Super Lawyers. We also hold an AV Preeminent® rating from Martindale-Hubbell, indicating our ethical standards and legal abilities in personal injury law.
Common Causes of Burns from Gas and Flames
Gas and flames can cause burn injuries that vary in severity. You typically encounter flames and gas during explosions and fires. However, you could suffer these types of burns from other sources.
The most common causes of gas/flame burn injuries include:
Contact with a flame during a cooking accident
Explosion at a chemical plant or oil refinery
A residential or commercial fire sparked by faulty wiring
Leaking gas from a pipeline
If your gas/flame burn happened during any of these scenarios or for another reason, do not hesitate to reach out to Farris, Riley & Pitt, LLP. Our Birmingham gas/flame burn injury attorneys can begin investigating the incident to determine who caused it and the most effective legal strategy to hold them accountable.
Determining the Severity of a Burn Injury
There are four types of burns a person could suffer. Each one indicates the severity of the damage to the skin and other parts of the body.
The different classifications of burn injuries include:
First-degree burn – Minimal damage to the outer layer of the skin occurs when there's a first-degree burn. Doctors also refer to it as a superficial burn. You could experience some minor inflammation, swelling, and redness at the injury site. As it heals, the skin might peel but doesn't usually cause any scarring.
Second-degree burn – Second-degree burns damage the outer layer of the skin and additional layers below. There might be some swelling and redness at the site of the burn. Blisters could also develop. When they heal, they might leave behind some scars and change the pigmentation of the skin.
Third-degree burn – The damage from a third-degree burn extends from the outer layer of skin to the nerves. The extensive nerve damage could prevent the patient from feeling pain. However, that doesn't mean it's not a severe injury.
Fourth-degree burn – This type of burn is the most severe and can lead to a range of complications. An injury like this damages every layer of skin, the nerves, and could extend to the tissue, muscles, tendons, and bones. If it affects vital organs, they could shut down, which could lead to death.
You should go to the hospital after suffering any type of burn injury. Even if it's minor, a doctor can treat the wound and help prevent an infection from developing. Unfortunately, even a first-degree burn could cause medical issues if you don't properly care for it.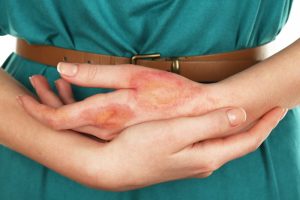 Complications that Could Arise from a Severe Burn
Whether your burn resulted from contact with gas or flames, you could experience complications during the recovery process. Infections are common. They can form at the site of the injury and enter the body through an open wound. Without immediate and adequate medical treatment, it can spread and affect major organs, such as the heart and lungs.
Psychological damage can result from severe burn injuries. The burn could cover a large portion of your body or face. Victims typically develop depression if they're left with significant scarring or disfigurement. Post-traumatic stress disorder is also common, as well as phobias of the particular scenario that caused the burns. Some people are afraid to get in their car, go to work, or even leave the house because of what happened to them.
Other common complications of gas and flame burn injuries include:
Difficulty breathing from inhaling smoke during a fire
Limited mobility due to severe damage to joints, bones, or muscles
Chronic pain when touching the injury site or a piece of clothing rubbing against it
Sepsis due to a bacterial infection entering the bloodstream
Some burn victims become disabled. Even after surgery and skin grafts, you might never regain muscle strength or complete range of motion. This can significantly impact a person's daily routine or their job. If you're forced to use a wheelchair, you can't resume activities you used to enjoy. You might require a home health nurse to provide ongoing medical care and assistance performing basic tasks, such as showering and dressing.
Possible Compensation After an Accident Causes Gas/Flame Burns
You could recover compensation after suffering a gas or flame burn that was someone else's fault by filing an insurance claim and lawsuit.
If the at-fault party has liability coverage, you could file a claim with their insurance company. This often occurs in instances where the injury resulted from a car crash or building fire.
You can file a lawsuit against the negligent individual or company responsible for your burn injury if they don't carry insurance or their insurer denied your claim.
The compensation you receive should adequately cover any losses you suffered from your gas or flame burn, such as:
Property damage
Emotional distress
Lost wages
Lost earning capacity
Disfigurement or permanent disability
Unfortunately, you could end up without any amount of money if a jury determines that your actions partially contributed to your injury. Alabama follows the doctrine of contributory negligence. That means the court can prohibit financial recovery if the plaintiff shares fault for an accident. Even if you were only one percent responsible for causing your burn injury, you would not be able to receive compensation during a lawsuit.
You could pursue punitive damages if you decide to file a lawsuit. However, state laws require clear and convincing evidence of the defendant's wantonness, fraud, oppression, or malice for a plaintiff to receive this financial award. Instead of compensating you for your losses, punitive damages punish the defendant for their actions and are meant to deter similar behavior in the future.
Alabama Statute of Limitations
There is a statute of limitations for filing a lawsuit after sustaining an injury in an accident. You must follow this strict timeframe if you want to hold the at-fault party liable for your losses. Alabama enforces a two-year statute of limitations. That means you must initiate your lawsuit in court within two years from the date of the incident. Once the deadline passes, you could lose your right to seek compensation through the court system.
Contact Us
The Birmingham gas/flame burn injury attorneys of Farris, Riley & Pitt, LLP will advocate for your rights and seek the justice you deserve. Suffering a burn injury in a preventable accident can be devastating. You face not only physical pain but also emotional trauma and financial strain. The negligent party should be responsible for your expenses if they were entirely at fault.
If you suffered a gas or flame burn injury in an accident in Birmingham that wasn't your fault, call us at (205) 324-1212 for a free consultation. We're available 24/7 to discuss your needs and advise whether we can help.