Birmingham Nursing Home Abuse Lawyer
If you are visiting this page, your loved one has likely been harmed in a nursing home or extended care facility. Generally speaking, injuries that arise from poor nursing home care include things such as pressure ulcers and bedsores, falls that cause broken hips and head trauma, as well as other types of injuries or even death resulting from malnutrition or choking on food.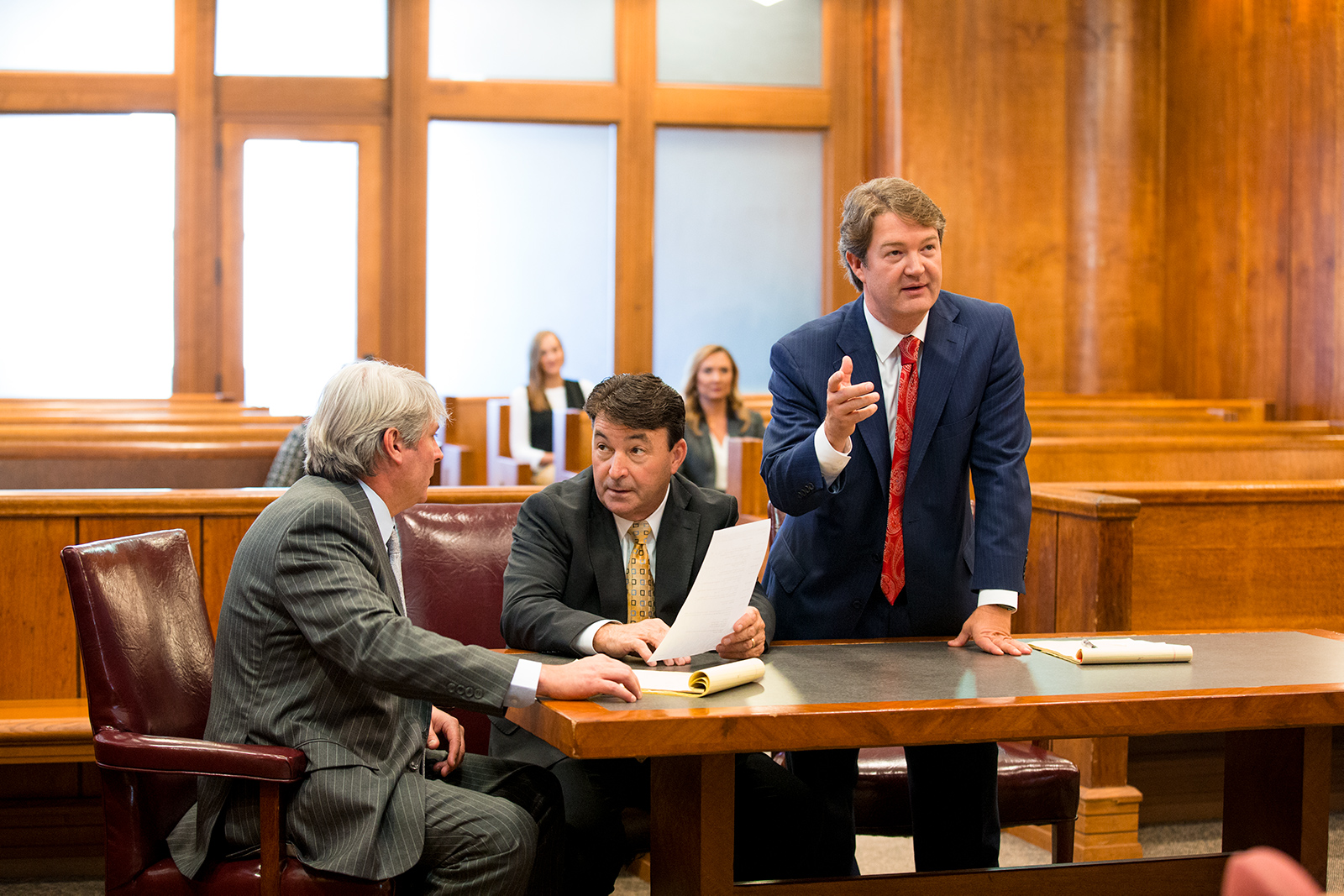 There are remedies against nursing homes when they provide substandard care. Generally speaking, these types of claims are settled without the need for litigation. However, if the matter cannot be resolved through settlement negotiation to the satisfaction of the family, the claim is filed in a process called arbitration.
Arbitration is different from court because a jury does not hear the facts of the case, but rather a lawyer who serves as a type of judge enters findings after the litigation process has concluded. Many families are turned off or discouraged by the arbitration process because it can be expensive and can result in unfavorable outcomes for the injured party.
Farris, Riley & Pitt, LLP has been successful navigating the arbitration process on behalf of victims of nursing home neglect. If you have an actionable case, arbitration does not deter our firm from pursuing justice. If we can help you or your family, please give us a call.
Across the United States, millions of people wake up every day in nursing homes. In Alabama, many of these individuals are helpless, vulnerable, and completely dependent upon the Alabama nursing home staff to meet most or all of their needs.
Nursing homes in Alabama and around Birmingham are responsible for providing care to elderly and disabled residents. Unfortunately, the quality of care in the nursing home industry has increasingly declined over the past decade.
Several recent studies indicate that residents in nursing homes suffer abuse and neglect more and more frequently at the hands of nursing home corporations. In many cases, residents have died or have been severely abused from neglect in a nursing home.
Farris, Riley & Pitt, LLP represents victims of nursing home and elder abuse as well as their families. Call (205) 324-1212 right now to take advantage of a free consultation that will let our Birmingham nursing home abuse attorneys review your case and help you understand all of your legal options.
Why Do I Need a Nursing Home Abuse Lawyer?
For many families, nursing home and elder abuse incidents often prompt understandable outrage. The abuse of a loved one leads to an increased desire to get justice.
You may be contacted by an insurance company for the negligent nursing home and an agent may try to offer you a settlement to resolve your case. But, whatever you are offered will be painfully short of what you are actually entitled.
It is in your best interest to refuse to speak to any insurer until you have legal representation. Depending on the specific circumstances of your case, you may be eligible for various kinds of damages, and you do not want to jeopardize your ability to recover compensation because of something you said in a phone conversation recorded by an insurance company.
Farris, Riley & Pitt, LLP can handle all conversations with insurers on your behalf and immediately engage in negotiations for a fair and full settlement. If the insurance company fails to make a satisfactory offer, we will file a lawsuit to try your case in court.
Why Choose Farris, Riley & Pitt, LLP?
Kirby Farris and Ken Riley were both born and raised in Alabama, and they and their families are now Birmingham residents. The law partners are both admitted to the United States District Court for the Middle District of Alabama, United States District Court for the Southern District of Alabama, and United States District Court for the Northern District of Alabama, as well as the Alabama Supreme Court.
Mr. Farris and Mr. Riley are members of the American Bar Association, Alabama Bar Association, and Birmingham Bar Association. The attorneys have secured several multimillion-dollar verdicts and settlements.
The people we represent are not just clients, but are our friends and neighbors. Our firm works closely with nursing home and elder abuse victims and their families to help them recover the compensation they need and deserve.
If you or your loved one has been the victim of nursing home abuse or elder abuse in Birmingham or a surrounding area of Jefferson County, you will have a dedicated legal advocate when you work with Farris, Riley & Pitt, LLP. You can have our lawyers provide a complete evaluation of your case when you call (205) 324-1212 to set up a free consultation.
Cases We Handle
Nursing home and elder abuse can take many forms. Some of the most common kinds of cases that Farris, Riley & Pitt, LLP has handled include:
Physical Abuse — Residents of nursing homes or other elderly victims may suffer serious injuries, such as fractures, lacerations, sprains, internal bleeding, traumatic brain injuries, or spinal cord injuries when they are physically assaulted or mishandled by nursing home staff. Unexplained cuts, bruises, or broken eyeglasses are frequent signs of physical abuse.
Neglect — Some nursing homes simply fail to provide the necessary assistance to residents. Inattentive staff can lead to victims possibly being injured in falls, taking incorrect medications, or just simply living in unacceptable conditions. You should be concerned if your loved one is wearing dirty or soiled clothing or their living space appears unkempt. Also, look for signs of possible malnutrition which may indicate that the resident has not been getting proper meals.
Bedsores – Bedsores (also known as pressure ulcers or decubitus ulcers) are open wounds that can form when nursing home patients are not routinely moved to prevent undue pressure on specific areas of the body. While bedsores can form relatively quickly, especially when other health conditions are present, it is often a warning sign of neglect. In severe cases, bedsores can be extremely painful and debilitating.
Brain Bleed – Did your loved one suffer a severe injury resulting in bleeding in the brain in a nursing home in Birmingham? Our team has specific experience helping those who have suffered brain injuries like concussions, traumatic brain injuries, and brain bleeds. Call us for help right away.
Falls – Older adults have a greater risk of suffering severe injuries in a fall, especially in nursing homes. The facility and staff have a responsibility to evaluate the resident's fall-risk and provide the appropriate supervision, support, and assistive devices necessary to keep them safe.
Spinal Fusion Injuries – Did your loved one suffer from complications from spinal fusion surgery caused by negligence on the part of the nursing home staff or facility? If so, our team can help you get the justice and fair compensation you deserve.
Aspiration Death – Thousands of nursing home residents die every year because of aspiration. If your loved one's death was due to the negligence of a nursing home staff member or the facility, you could be eligible to file a wrongful death claim in Alabama.
Dehydration – Sometimes an elderly resident cannot alert the staff that they're thirsty, but part of the nursing home staff members' job is to monitor fluid intake. Dehydration is dangerous at any age, but in this delicate population, dehydration can lead to hospitalization.
Malnutrition – Whether intentional or inadvertent, when a nursing home resident doesn't get the proper nutrition, it can be disastrous. The facility's staff is supposed to make sure the residents in their care are properly fed.
Insufficient Medical Care – When an injury goes untreated or a resident's mental or physical decline goes unnoticed, that's insufficient medical care. If you suspect someone should have seen an injury to or changes in your loved one's condition, call Farris, Riley & Pitt, LLP right away.
Preventable Accidents – When you chose to place your loved one in the care of a particular facility, you trusted the staff and administration to care for them and protect them from harm. If your loved one was injured in an accident that should have been prevented, you may be eligible for compensation for the losses your loved one endured.
Poor Sanitation – If the staff at the facility where your loved one resides is negligent about maintaining sanitation in the facility, particularly in hot zones such as restrooms, kitchens, and common areas, infections can easily spread throughout the resident population. If your loved one has become ill because staff aren't cleaning as they should, contact Farris, Riley & Pitt, LLP for help.
Top 8 Signs of Nursing Home Abuse
Nursing homes themselves are usually named as defendants in most civil actions, but other third parties could also be liable. For example, injuries caused by a person not employed by the nursing home may lead to claims against that individual as well as possible negligent security claims if security was provided by an independent company.
Frequently Asked Questions
Whenever you suspect immediate harm, you should not hesitate to contact the local law enforcement agency, such as the Birmingham Police Department or the Jefferson County Sheriff's Office. You may also want to contact the Alabama Department of Human Resources and the Bureau of Health Provider Standards within the Alabama Department of Public Health, which are charged with the responsibility of investigating occurrences and allegations of elder abuse. The Alabama Department of Senior Services operates Alabama's Elder Justice and Advocacy Program.
Bedsores (also called pressure ulcers) are commonly referred to as being in stages. According to the United States National Library of Medicine, Stage I is the mildest stage of bedsore involving skin redness and pain, Stage II involves blisters or open sores, Stage III involves "craters," or open, sunken holes in which tissue below the skin is damaged, and Stage IV bedsores are so deep that muscle and bone have been damaged.
An advance directive is a written instruction that you make while you are mentally competent. It clarifies medical treatment you may or may not want to receive in the event that you become unable to communicate your wishes for any reason. Hospitals, nursing homes, and other health care facilities are required by federal law to inform patients or residents about advance directives, but people are not necessarily required to have one. Alabama law recognizes two different types of advance directives: the Advance Directive for Health Care and the Health Care Durable Power of Attorney. The Advance Directive for Health Care includes sections for a living will and proxy appointment (or Health Care Durable Power of Attorney).
Nursing Home Abuse Statistics
The Alabama Department of Public Health reported that elder abuse affected 4,622 victims in 2013. Elder abuse occurred at a rate of 12.4 per 10,000.
A study published in Women's Health Issues found that institutionalized adult women with disabilities reported a 33 percent prevalence of having ever experienced interpersonal violence. Another study of 342 adult men published in the Journal of Rehabilitation found that 55 percent of men experienced physical abuse by a person after becoming disabled, and almost 12 percent of the cases involved physical abuse by a personal assistance service provider.
According to the National Center on Elder Abuse, almost 1 in 3 nursing homes in the United States were cited for violations of federal standards that had the potential to cause harm or that had caused actual harm to a resident. A 2001 U.S. House of Representatives Report found that nearly 1 out of 10 homes had violations that caused residents harm, serious injury, or placed them in jeopardy of death.
A separate study of 2,000 interviews of nursing home residents in the report from the Atlanta Long Term Care Ombudsman Program and Atlanta Legal Aid Society to the National Citizens Coalition for Nursing Home Reform found that 44 percent said they were abused and 95 percent said they had been neglected or seen another resident neglected. More than 50 percent of nursing home staff admitted to mistreating older patients within the prior year in a study published in Nursing Management, and two-thirds of those incidents involved neglect.
Contact a Birmingham Nursing Home Abuse Attorney Today
For more than two decades, Farris, Riley & Pitt, LLP has fought for injury victims in communities all over Alabama. We understand how violated victims of nursing home abuse and elder abuse feel, and we make it our mission to get justice for these families.
Did you suffer serious injuries or was your loved one injured or killed because of nursing home abuse or elder abuse in Jefferson County? Call (205) 324-1212 or contact us online to have Farris, Riley & Pitt, LLP review your case and discuss all of your legal options during a free consultation.