Birmingham Swimming Pool Accident Lawyers
Did your child suffer injuries in a swimming pool accident? Was it due to the negligent actions of the property owner or another reckless party? If so, you might be entitled to compensation. The Birmingham child injury lawyers of Farris, Riley & Pitt, LLP could help you hold the owner liable for their misconduct, so you receive the money you need to pay for your child's medical treatment.
Children love spending time in and around swimming pools during the warm summer months in Birmingham. However, dangers exist that can lead to severe injuries and even death. Since young kids are often unaware of the hazards they could encounter, it's up to the property owner to maintain a safe area for their guests. If there's damage or if unsafe conditions exist, they should provide warning signs, so visitors understand the potential risks.
The Birmingham swimming pool accident lawyers of Farris, Riley & Pitt, LLP know the devastation of seeing your son or daughter in pain. The property owner could have prevented the accident, but their negligence led to your child's injuries. You have a right to pursue compensation for the costs you incurred if your child's actions didn't contribute in any way to the dangerous incident.
Call Farris, Riley & Pitt, LLP at (205) 324-1212 today for a free consultation if you want to learn more about our services and how we can help you after a swimming pool accident.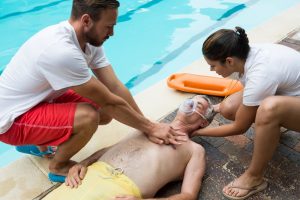 Why Choose Farris, Riley & Pitt, LLP?
Since 1997, our Birmingham swimming pool accident lawyers have fought on behalf of children injured by the wrongdoing of others. We are proud of the reputation we have earned and maintained over the years. Legal organizations, such as Super Lawyers and The National Trial Lawyers, have recognized us for our hard work and the results we've achieved for our clients. Martindale-Hubbell gave us an AV® Preeminent rating, the highest honor a lawyer can receive.
Farris, Riley & Pitt, LLP knows how much some clients can struggle after an accident like this. When you face expensive medical bills, you might worry about how you're going to afford to pay. The financial strain is overwhelming and can eventually lead to massive debt. We don't want to burden you with additional costs. That is why we take cases on contingency. You won't owe us any legal fees unless we secure compensation for you. If we lose your case, you will never have to pay us.
What Is Premises Liability?
Premises liability is a set of laws that hold property owners liable for the dangerous conditions on their properties that cause injuries to others. You can determine liability based on the type of visitor your child was at the time of the incident. The three categories include:
Licensees – A licensee is someone with permission or consent to enter another person's property for the visitor's own interests. For example, a hired cleaner or exterminator would be a licensee.  The property owner is supposed to keep the area in a reasonably safe condition and address hazards immediately or warn guests of them.
Invitees – Invitees can enter someone's property after receiving an express or implied invitation or for mutually beneficial purposes. The owner must provide the highest level of care to an invitee. That means they should adequately maintain their property, repair or replace dangers, and place warning signs near hazardous conditions. This type of visitor would be a shopper in a retail establishment or kids invited over for an afternoon swim.
Trespassers – Even if your child wasn't allowed on someone's property, the owner is still responsible for their safety. It isn't up to them to warn a trespasser of hazardous conditions. However, they must take certain precautions to avoid willfully, recklessly, or intentionally causing injuries.
You might have a case as long as the property owner failed in their duty to provide a safe place for your child. Their negligence resulted in your child's injuries, and they should face liability. You should not be forced to pay out of pocket for the cost of medical care and other expenses if the property owner were entirely at fault for the swimming pool accident.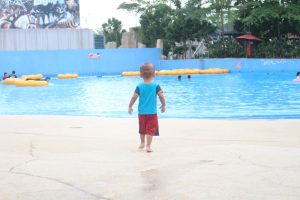 Who's At Fault for a Swimming Pool Accident?
Although the property owner is responsible for keeping their guests safe, other parties could be at fault for causing injuries. The most common include:
Third-party contractor
Maintenance worker
An employee of the business
Homeowner or their family
Landlord
Leasing company
Business owner
Property management company
Even though various other parties could be the reason a swimming pool accident happened, the owner is typically liable for the resulting injuries. That's because they're supposed to know about every hazard that exists on their property. If they ask a maintenance worker to remove the hazard and that person doesn't, the owner should warn guests about the dangerous conditions.
Common Causes of Swimming Pool Accidents
An accident at a public or private swimming pool can happen for many reasons. Hazards can exist anywhere in the vicinity. The property owner could have forgotten to perform routine maintenance or repair a broken ladder. Children can suffer debilitating injuries from an incident involving a dangerous swimming pool.
The most common causes of swimming pool accidents include:
Slippery surfaces
Broken or defective railings
Broken steps
Holes or tears in flotation devices
Bacteria overgrowth from lack of chlorine
Missing drain covers
Unstable diving boards
Exposed electrical wiring
Broken glass and other sharp objects at the bottom of the pool
Damaged gates or fences
Lack of warning signs around hazards
Inexperienced lifeguards
Inadequate safety barriers around the pool
Faded depth markers
Cracked or uneven flooring
This list does not include every possible factor that could contribute to a swimming pool accident. If your child sustained injuries for any reason while spending time at someone else's swimming pool, you should consult Farris, Riley & Pitt, LLP to determine whether you have a case to pursue.
Common Injuries Caused By Swimming Pool Accidents
Children can suffer a range of injuries in an accident at a swimming pool. The most common include:
Electrical shock
Cuts and bruises
Broken bones
Drowning
Back injury
Illness from contaminated water
Burns
Soft tissue injuries
Brain damage
Internal injuries
Hypothermia
Even if your child's injury was minor, you could still hold the property owner liable. You deserve compensation to cover the losses you suffered if someone else were at fault for the accident.
Compensation You Can Seek in a Premises Liability Case
When you recover compensation from the property owner, it should be enough to compensate you for the various losses suffered from your child's injuries. Whether they were at a friend's house or public swimming pool, you might be able to file an insurance claim.
The settlement you receive could cover your past and future losses, such as:
Mental anguish
Lost wages
Lost earning capacity
Permanent disability or disfigurement
In a lawsuit, you could also pursue punitive damages. However, you must have clear and convincing evidence of the property owner's fraud, oppression, wantonness, or malice for a jury to provide this financial award. Additionally, this isn't meant to compensate you for your losses. Instead, it punishes the defendant and aims to deter similar misconduct in the future.
Deadline to File a Lawsuit in Alabama
Alabama has a two-year statute of limitations. That means if you want to sue the property owner for your child's injuries, you must initiate your case in civil court within two years of the swimming pool accident. The courts strictly enforce this timeframe. If two years pass and you try to file your lawsuit anyway, you will likely end up with a dismissed case.
There is one exception that could extend the statute. Since your child is a minor, they would have an opportunity to file a lawsuit themselves if you choose not to pursue the case yourself. Instead of a deadline two years from the accident date, it would be three years from the date they turn 19 years old.
How Contributory Negligence Could Affect Your Case
In Alabama, there is one statute that could prevent you from receiving the money you need to pay for your child's hospitalization, physical therapy, prescriptions, and other expenses. Contributory negligence would prohibit financial recovery if the victim's actions contributed to their injury in any way. Even if the property owner failed to maintain their property, you would not be allowed to seek compensation from them if your child shared any fault for the accident.
Contact Us
Farris, Riley & Pitt, LLP understands how much a swimming pool accident can affect a person's life. It doesn't only cause physical injuries but also emotional pain and economic struggles. Your child had to suffer because a property owner didn't take the necessary precautions to keep them safe. We know no amount of money can take away the trauma they experienced, but it could provide you with financial relief while your child heals from their injuries.
You won't have to face the property owner alone. We will remain in your corner from start to finish of your case and provide the support you need. Our team cares about our clients. We will treat you as a priority and maintain ongoing communication throughout the entire process. You can depend on us to be there for you during your time of need.
If your child suffered injuries in a swimming pool accident, call Farris, Riley & Pitt, LLP at (205) 324-1212 for a free consultation with one of our Birmingham swimming pool accident lawyers.