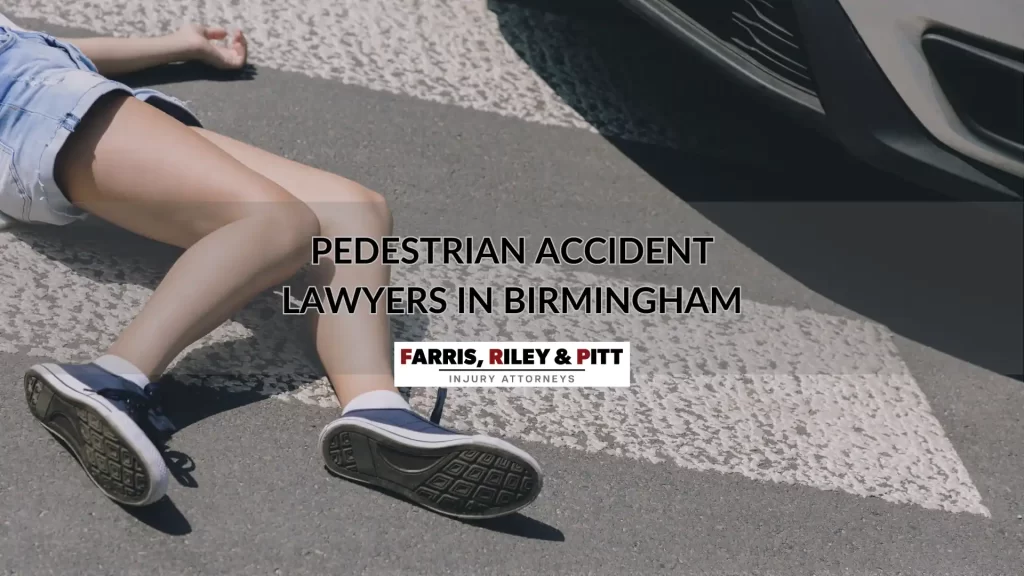 Did you suffer serious injuries or was your loved one killed in a pedestrian accident in Alabama? You are probably wondering how you will ever be able to pay your seemingly endless medical expenses and whether you will ever again return to work.
Many pedestrian crashes are caused by negligent drivers, and these motorists can be held civilly liable for the damages that result. You can determine who may be liable for your injuries when you contact Farris, Riley & Pitt, LLP.
Our firm has been handling these types of cases for over two decades. We are determined to recover as much compensation as possible for you.
Farris, Riley & Pitt, LLP fully understands the tremendous stress and confusion victims experience in the immediate aftermath of an accident. You can have our pedestrian accident lawyers in Birmingham review your case and discuss all of your legal options as soon as you call (205) 324-1212 to schedule a free consultation.
Why Do I Need a Pedestrian Accident Lawyer?
Some pedestrian accident victims feel confident in their ability to recover compensation by themselves. Representatives of insurance companies often encourage this line of thinking.
In some cases, an insurer will quickly extend a settlement offer to resolve the case. Though these offers often fall short of what victims deserve, some accept them out of fear, while others try to negotiate.
All conversations with insurance company agents carry a significant risk for victims because they are typically recorded, and many victims unknowingly make statements that ultimately damage their later claims. One reason you need a pedestrian accident lawyer as early in your case as possible is to have these types of phone calls handled on your behalf.
Farris, Riley & Pitt, LLP will immediately begin negotiating with the insurer handling your case for a fair and full settlement. We can also file a lawsuit when an insurance company is unwilling to provide a satisfactory amount of compensation.
Why Choose Farris, Riley & Pitt, LLP?
Kirby Farris and Ken Riley were both born and raised in Alabama. Our lawyers are both Birmingham residents who are proud to assist their friends and neighbors.
Our firm has obtained several multimillion-dollar verdicts and settlements. We achieved this by developing the strongest possible cases through thorough investigation and preparation.
Mr. Farris and Mr. Riley are members of prominent legal organizations, such as the American Bar Association, Alabama Bar Association, and Birmingham Bar Association. You can feel confident knowing your pedestrian accident attorneys have the qualifications and experience to achieve the most favorable outcome to your case.
Do not let money be the reason you do not contact Farris, Riley & Pitt, LLP, as we represent pedestrian crash victims on a contingency fee basis. This means that you pay our firm absolutely nothing unless you obtain a monetary award.
Cases We Handle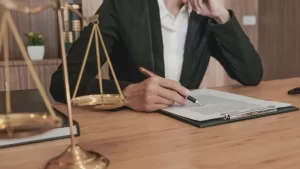 Pedestrian accidents can have a number of causes. Many cases involve distractions, such as talking or texting on cell phones.
Motorists frequently face accusations of distracted driving, but many also blame pedestrians for crashes due to their mobile phone distractions. You should avoid getting into these types of disputes until you have legal counsel.
Other common causes of pedestrian accidents include, but are not limited to:
Driving Under the Influence or DUI — A motorist who is impaired by alcohol is often quickly identified by police and will usually face criminal charges. Cases involving drivers who were under the influence of a controlled substance – sometimes even prescription drugs – can be more complicated, but drugged driving is also illegal.
Driver Fatigue — Some motorists may not be fully rested before getting behind the wheel. Drivers in these situations often fail to react appropriately or commit other errors.
Speeding or Reckless Driving — Certain drivers operate in defiance of posted speed limits, and they may receive either one (or possibly both) of these tickets that may be used as evidence of negligence.
Other Traffic Violations — Many other common citations issued by law enforcement agencies end up becoming causes of pedestrian accidents, such as a motorist's failure to obey traffic control devices or traffic signs.
Pedestrians are extremely susceptible to catastrophic injuries because they do not have anywhere near the level of protection inherent to motor vehicles. Potential injuries a person may suffer include:
Victims in these types of cases can be entitled to various forms of compensation, including medical bills, lost income, and pain and suffering. Families who have lost loved ones in pedestrian accidents can also recover compensation through wrongful death actions.
Frequently Asked Questions
Any negligence whatsoever on the part of the victim that proximately contributes to their injury is considered contributory negligence. This is a big deal because Alabama is one of only five states in the nation in which a defendant is allowed to use an affirmative defense of contributory negligence as a complete bar to recovery. Contributory negligence is almost certainly going to be the first attempted defense of any negligent motorist and their insurance company. For this very reason, you should not make any statement to an insurer until you have legal representation.
If you're in a crash as a pedestrian, you should first seek medical attention. You want a record of medical care as soon as possible after an accident. If you are able, you should return to the crash scene to take multiple pictures from varying distances and angles. Also, collect the names and phone numbers of any people who witnessed the accident. If you are unable to do this, ask a friend or family member to do it for you. Try to write down everything you remember about your accident, as these kinds of details can be important when finer points become harder to recall later. Keep all receipts for every expense relating to your recovery, including receipts for gas. Finally, contact Farris, Riley & Pitt, LLP for help determining the best course of action for your injury claim.
Alabama gives most injury victims two years after the date of an accident to file a legal claim. When the victim is a minor, the statute of limitations is delayed. They can file a claim up to two years after their 19th birthday. If a court declares the victim incapacitated due to an injury-caused disability, one might also toll the limitations period.
Pedestrian Accident Statistics
The Alabama Department of Transportation recently released crash statistics that indicate that:
There were 905 pedestrians involved in traffic accidents throughout Alabama In 2019. In 2020, this number decreased by 180 to 725.
There were 713 reported pedestrian injuries in 2019. In 2020, this number decreased by 139 to 574 pedestrian injuries.
Pedestrian accident fatalities also decreased from 114 in 2019 to 97 in 2020.
Nationwide, the National Highway Traffic Safety Administration (NHTSA) reports that:
Traffic crashes in 2021 resulted in 7,388 pedestrian fatalities throughout the U.S., marking a 12.5 percent increase from the 6,565 deaths in 2020. This was the highest number of pedestrian traffic deaths since 1981, with 7,837 fatalities.
There were 60,577 estimated pedestrian injuries in 2021, an 11 percent increase from 2020.
A pedestrian died every 71 minutes and suffered injuries every nine minutes throughout 2021.
Pedestrian deaths constituted 17 percent of all traffic-related fatalities that year and made up two percent of those injured in traffic accidents in 2021.
Men accounted for most pedestrian fatalities in 2021, making up 70 percent of the total deaths.
Urban areas reported significantly higher numbers of pedestrian deaths (84 percent) in 2021 compared to rural areas (16 percent).
Sixteen percent of pedestrian deaths happened at intersections, 75 percent took place away from intersections, and the remaining nine percent occurred elsewhere.
The majority of pedestrian deaths in 2021 happened in the dark (77 percent), with fewer during daylight (20 percent), dusk (two percent), and dawn (two percent).
Single-vehicle crashes were responsible for 89 percent of the pedestrian deaths in 2021.
Tragically, 23 percent of pedestrians killed in 2021 were victims of hit-and-run incidents.
Contact a Pedestrian Accident Lawyer In Birmingham Today
For more than 20 years, Farris, Riley & Pitt, LLP has been working to get justice for pedestrian accident victims all over Alabama. We understand the significant long-term challenges that people face following these types of crashes, and we work to help them recover all of the compensation they need and deserve.
Were you severely injured or was your loved one killed in a pedestrian accident in the greater Jefferson County area? Call (205) 324-1212 or contact us online to let Farris, Riley & Pitt, LLP provide an honest and thorough evaluation of your case during a free consultation.
Related Reading: