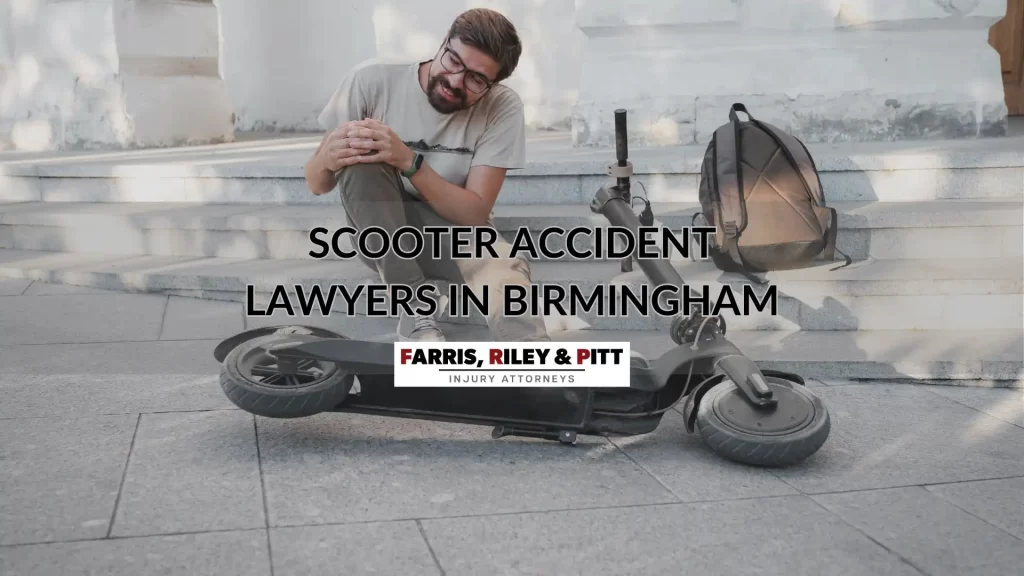 If you or your loved one recently suffered severe injuries in a scooter accident in Alabama, you may be dealing with an overwhelming amount of medical bills. You might also be out of work because of the nature of your injuries. You are probably wondering how you will pay for the many costs you are incurring. If another party was responsible for your scooter crash, you could receive compensation for your injuries. The scooter accident lawyers in Birmingham of Farris, Riley & Pitt, LLP have more than 100 years of combined legal experience handling personal injury claims. The popularity of scooters is a recent development, and lawmakers are still formulating surrounding laws. However, that does not excuse the companies that sell and rent them from the obligation of ensuring that their devices are safe to use.
You probably need help proving that somebody else is to blame for your accident, and Farris, Riley & Pitt, LLP can help. Call (205) 324-1212 right now to have our attorneys review your case and answer all of your legal questions during a free consultation.
Why Do I Need a Scooter Accident Lawyer?
Do you know who is to blame for your accident? A scooter accident lawyer can give you a definitive answer. They can then ensure the party faces accountability.
Don't think that a scooter rental company or manufacturer is going to simply hand you a settlement for your injuries. Scooter companies are aggressively moving their vehicles to market in cities all over the country without any kind of licensing and are more focused on immediate profit than long-term details.
These types of companies are not likely to admit liability for your injuries. In fact, there's a strong chance that they will claim that you either contributed to or caused your accident.
Farris, Riley & Pitt, LLP will investigate your crash diligently and independently and will hold the responsible party accountable. We will not rest until an insurer offers you a fair and full settlement, and we will file a lawsuit if they fail to do so.
Why Choose Farris, Riley & Pitt, LLP?
Our firm can determine the value of your case and work to help you recover as much compensation as possible. Multiple verdicts and settlements in excess of $1 million speak to the success of Farris, Riley & Pitt, LLP.
Kirby Farris and Ken Riley were both born and raised in Alabama. They now reside in Birmingham and take pride in helping the people in their community whom they consider friends and neighbors.
Mr. Farris and Mr. Riley are both members of the Alabama Bar Association, Birmingham Bar Association, and American Bar Association. They are also both admitted to the Alabama Supreme Court as well as the United States District Court for the Northern District of Alabama, the United States District Court for the Middle District of Alabama, and the United States District Court for the Southern District of Alabama.
Your best reason to work with Farris, Riley & Pitt, LLP is that you do not have to pay anything upfront for legal representation. We represent clients on a contingency fee basis, so you will only pay us when you receive a monetary award.
Cases We Handle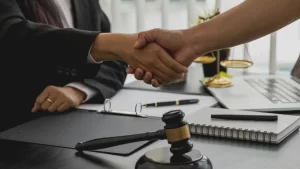 Bird is the company you are probably most familiar with having scooters in Alabama. Although most larger cities in Alabama currently prohibit Bird, the company is actively trying to re-enter the market.
The Alabama Media Group reported that Bird's launches in Auburn and Tuscaloosa were illegal. Electric scooter sharing has rapidly spread across more than 60 other cities over the past year, according to the Media Group.
Bird is far from the only player in the suddenly competitive scooter rental market. Some similar companies that could arrive in Alabama soon include:
Lime — In May 2018, Lime partnered with Segway to launch a new electric scooter line. Lime also announced it had hit 3 million rides across its fleets of bikes and scooters. The company surpassed the $1 billion valuation mark only 18 months after launching.
Skip Scooters — The founders of skateboard manufacturer Boosted Boards launched Skip in May 2018, valuing it at $100 million. Skip aims to offer top-quality dockless electric scooters.
Spin — Spin founded its company in 2016 and launched its bicycle-sharing program in Seattle in July 2017. It launched scooter sharing in San Francisco in February 2018.
Uber — Uber bought electric bike rental service Jump Bikes for $200 million in April 2018.
Lyft — Lyft bought the largest bike-sharing company in the nation, Motivate, for a reported $250 million in July 2018.
Even without rentals, many people in Alabama are also buying their own scooters or mopeds. In order to operate a motor-driven cycle, Alabama state law requires a class M driver's license for anyone who has attained the age of 16 and a restricted license for anyone who has attained the age of 14.
The Alabama Motorcycle Operator Manual defines a motor-driven cycle as "every motorcycle, including every motor scooter, with a motor which produces not to exceed five brake horsepower nor to exceed 150 cubic centimeter engine displacement and weighs less than 200 pounds fully equipped, and every bicycle with motor attached." Mopeds are generally considered to be motor-driven cycles.
Some of the most popular types of scooters include:
Honda Activa
TVS Jupiter
Suzuki Access
Honda Dio
Hero Maestro
Hero Duet
Yamaha Fascino
TVS Ntorq
Hero Pleasure
Honda Grazia
Yamaha Ray
TVS Scooty Pep+
Scooter accidents can have many different causes. One of the most common issues is with defective or malfunctioning scooter parts. Manufacturers could be liable for your injuries in these types of cases.
In other cases, scooters malfunction because of a lack of maintenance or improper repairs. In these cases, scooter rental companies could be responsible.
Some scooter accidents are caused by negligent drivers. Motorists who cause scooter crashes can face liability.
Scooter accidents can lead to a broad variety of injuries, ranging from sprains and fractures to traumatic brain injuries (TBIs) and spinal cord injuries. In the worst cases, scooter users may suffer fatal injuries.
Frequently Asked Questions
The phrase "contributory negligence" refers to an affirmative defense that a defendant may use in a civil action. It describes negligence that contributed to a victim's injuries. Defendants can use this to argue that victims caused their own injuries. When proven, this rule prevents the victim from receiving any damages. This is why many insurance companies urge victims to discuss their accident memories; they record any fault admission to use against them. Allowing Farris, Riley & Pitt, LLP to speak to insurers on your behalf can prevent this outcome.
In Alabama, the statute of limitations on virtually all legal claims is two years. Two exceptions are allowed, however. Minors have until two years after their 19th birthday to file actions. The limitations period might be postponed if an injury disables a victim and a court declares them incapacitated.
You could be able to bring claims against governmental entities in Alabama, but state law applies a different statute of limitations for these cases. Under Alabama Code § 11-47-23, tort claims against municipalities have to be presented to the clerk within six months, and Alabama Code § 11-12-8 establishes that claims against counties have to be presented within 12 months. In cases involving municipalities and counties, damages are also limited or "capped". Under Alabama Code § 11-47-190 and Alabama Code § 11-93-2, respectively, recoverable damages cannot be more than $100,000 for one person and cannot exceed $300,000 for a single occurrence involving multiple claimants.
Scooter Accidents Statistics
Let's review some recent scooter accident statistics from the U.S. Consumer Product Safety Commission (CPSC):
Between 2017 and 2020, ER visits due to micromobility products like e-scooters increased 70 percent to more than 190,000.
E-scooter-related ER visits contributed to this increase significantly, tripling from 7,700 in 2017 to 25,400 by 2020.
Most scooter accident injuries affect the limbs, head, and neck.
At least 71 deaths were associated with micromobility products between 2017 and 2020.
Between 2017 and 2021, injuries from micromobility devices surged by 127 percent to 77,200.
E-scooters accounted for a significant portion of these incidents. They were involved in 68 deaths.
Also during this time, 56 percent of ER visits involved personally owned e-scooters and 44 percent involved rented e-scooters.
Major causes of e-scooter fatalities were traffic collisions, user-control issues, and fires.
Contact a Scooter Accident Attorney In Birmingham Today
For more than 20 years, Farris, Riley & Pitt, LLP has been fighting for people injured by the negligence of other parties. Our firm knows that many people injured in scooter accidents feel lost and confused about how to recover compensation for the harm caused.
If you suffered serious injuries or your loved one was killed in a scooter crash, it is in your best interest to immediately contact Farris, Riley & Pitt, LLP. Our scooter accident lawyers will provide an honest and thorough evaluation of your case when you call (205) 324-1212 to schedule a free consultation.
Related Reading: