Posted on Wednesday, March 15th, 2023 at 9:32 am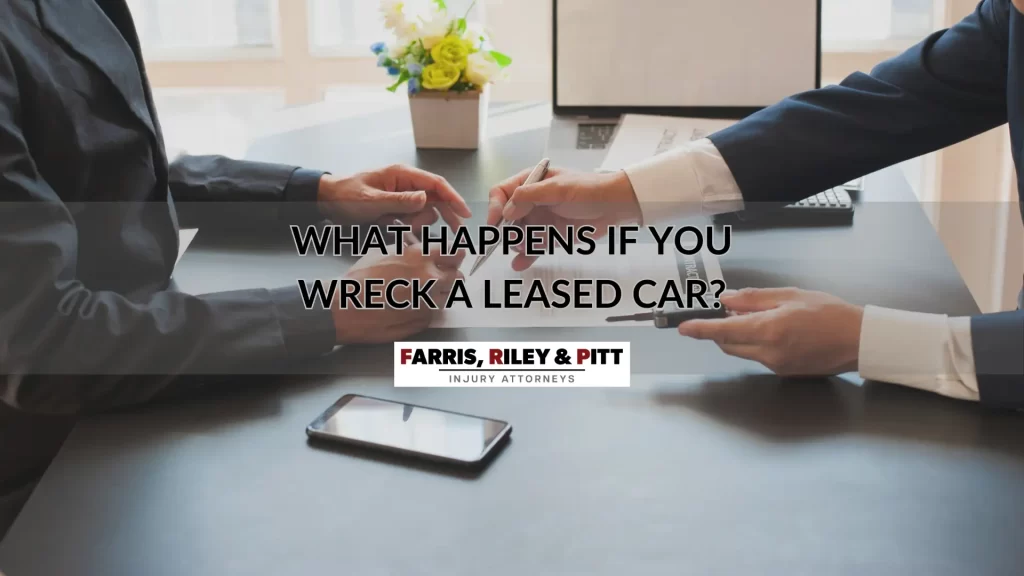 Leasing a car has its advantages. You will have less expensive car payments and get a new vehicle every few years. Plus, the car will be under warranty throughout the lease period. However, what happens if you get into an accident with your leased car?
If you are in an accident with a leased car, you should do the same things you would when you are involved in any car accident. You should take down the name and contact information of the other drivers and any eyewitnesses. You should also exchange insurance information and contact the police. Also, document the scene by taking photos and videos from as many angles as possible.
Not only should you inform the insurance company of the accident, but you should also contact your leasing company, as they are the actual owner of the vehicle.
What Does It Mean When A Car is Totaled?
Insurance companies have different definitions of what it means to total a car. Generally, an insurance company will consider a car totaled if it would cost too much to fix the car and it wouldn't be worth their while to do so. Totaling a car doesn't mean that you are off the hook for paying off your lease. The leasing company will want the car paid off in full, even if it is not drivable.
Won't Insurance Pay For The Remaining Portion of My Leased Vehicle?
Alabama is an "at-fault" state (as opposed to a "no-fault" state), which means that the at-fault driver in a car accident might be liable for the other driver's injuries. This is important, especially if you drive a leased vehicle. If the accident is deemed the other driver's fault, you can file an insurance claim or lawsuit against them to recover expenses, including property damage to your vehicle.
The leasing company wants to protect its interest in the car. To that end, when you lease a car, the leasing company may require that you get higher insurance coverage than what you would pay if you purchased your vehicle. This way, if you wreck your leased vehicle, the insurance company is more likely to pay off the amount owed to the leasing company.
If your leased car is wrecked because of another driver's negligence, the claim will go through that driver's insurance company and will hopefully pay for the remainder of your lease. That is the best-case scenario.
What About Gap Insurance?
You may have heard of gap insurance from your leasing company. This type of insurance will pay out the remaining portion of your lease if you wreck the car. If you file a claim with your insurance company (or the negligent driver's) and they won't pay the remaining amount on the lease, gap insurance will pay out the balance.
While Alabama doesn't require drivers to purchase gap insurance, your leasing company may require it, as they want to make sure that you are able to pay off the loan if you get into an accident and don't have the remaining payments on hand.
Can I Turn in a Leased Car if There is Damage to It?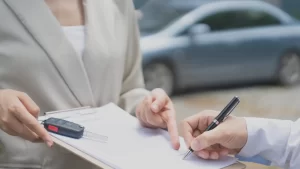 Once your lease is up and you have to return it to the dealership or the leasing company, your car will be inspected for any damages that occurred during the lease period. Even if you weren't responsible for the damage to the car, you will still be responsible for the damages.
If you plan on leasing another car from the same leasing company, it will probably roll over the amount of the damages into the costs of the new lease, which you will pay off during the lease period.
Call Farris, Riley & Pitt, LLP If You Wreck a Leased Car
Our law firm has been representing accident victims for over 25 years. We understand the trauma and stress that you are going through if you have been in a wreck with a leased car. Dealing with the leasing and insurance company can be a hassle, so leave that part to our personal injury lawyers.
Our car accident lawyers work on a contingency basis, which means that we only get paid if you get a settlement from the insurance company or an award from a jury trial. So, give us a call at (205) 324-1212 today for a free consultation. We will be there for you every step of the way. Our legal knowledge and experience will get you back on the road again.
Related Reading: