What Is a Truck Driver's Travel Log?
Posted on Monday, November 1st, 2021 at 6:37 pm
Every state in the country requires that most drivers of commercial motor vehicles, including truck drivers and large semis, complete a logbook for every day that they are on the road and for the seven days previous. This includes records of all of their time spent in a day, both on and off duty.
Truck driver logs are an invaluable tool when investigating a truck accident but are not always easy to get your hands on. If you have been injured in an accident involving a truck, you should contact one of our experienced lawyers to help investigate and obtain those logs. Preserving those records could be crucial to enhancing your chances of proving your case and receiving the compensation you are entitled to.
Information Required in a Logbook
According to the Federal Motor Carrier Safety Administration (FMCSA), truck drivers are required to keep a logbook that includes the following information:
The date, including the day, month, and year at the beginning of every new 24-hour time period.
How many miles the trucker drove during that 24-hour period.
The number of hours spent driving and the number of hours spent off the road.
A log of any unusual circumstances on the road, such as an accident or poor weather conditions.
The name of every carrier the trucker drove for in that 24-hour time frame as well as their company address.
The trucking company's vehicle number, or the license number and state for every truck driven during the 24-hour period.
The shipper's name, document number, and the type of goods being transported.
The trucker's home time zone.
City, town or village, and state where every change of duty status occurs.
The signature of the truck driver claiming all information in the log is true and accurate.
By law, there are two general exceptions where a commercial driver does not have to record a logbook: someone driving within a 100 air-mile radius from the normal location that they report to work and for short hauls.
Electronic Logging Device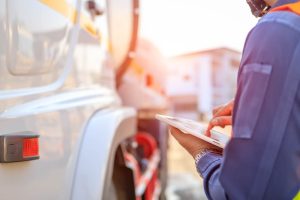 On December 18, 2017, the Electronic Logging Device (ELD) rule went into effect. This law covers the majority of commercial vehicle drivers. Paper logs alone are not sufficient for truck drivers to comply with logging regulations.
An ELD connects with the truck's engine and can record specific information, including how long the truck's engine has been running, the number of miles driven, the identification of the driver, the motor carrier and the vehicle, and the duty status of the driver.
Commercial truck drivers who are caught in the operation of a vehicle that does not have an ELD can receive a citation, fine, and risk having the vehicle removed from service. ELD data can be sent to law enforcement who then determine whether the trucker's actions may have violated any traffic laws or commercial vehicle regulations.
ELDs do not record all information required by the FMCSA, so truck drivers must enter the other data into their logbooks as has always been required.
How a Travel Log Can Help Your Case
Truck drivers must comply with the regulations set out by the FMCSA, which regulates the number of hours truckers are on the roadways. Driver fatigue is a leading cause of accidents and why trucker's logbooks can provide critical information that could help your case, such as whether they exceeded the number of hours they are allowed to be driving in a day or failed to take breaks as required.
For instance, truckers must take a half-hour break after driving for eight hours straight, must not drive for more than 11 hours after being off-duty for ten hours, and may only work 60 hours at the most during the week or 70 hours within an eight-day time frame.
As you can see, a truck driver's travel log can provide useful information showing whether the truck driver violated any of these regulations. If so, it is evidence that could help you prove liability in a lawsuit.
How Our Lawyers Can Help
If you have been injured in an accident with a truck that wasn't your fault, you should contact the experienced lawyers of Farris, Riley & Pitt, LLP to assist you. We will help you track down the logbook of the truck driver and do so as quickly as possible in order to prevent the trucking company from trying to delete or tamper with the records.
The trusted team at Farris, Riley & Pitt, LLP is here to help you get the full and fair compensation that you deserve. Call us today at (205) 324-1212 for a free consultation.