How Does Fatigue Affect Truck Accidents?
Posted on Monday, December 20th, 2021 at 6:29 pm
Driver fatigue is a serious problem. It's dangerous to operate any motor vehicle while feeling tired. According to some studies, inadequate sleep impairs driving abilities similarly to alcohol. Fatigue affects your coordination, attention, and motor function. It also slows reaction time and can lead to poor decision-making.
Fatigued driving occurs often in the United States. According to the National Sleep Foundation, approximately 6,400 people die in accidents involving drowsy driving every year. The risk of a collision increases when drivers feel sleep-deprived.
Commercial trucks require special licensing and skills, and truck drivers must remain alert at the wheel. Driving despite feeling tired can result in a catastrophic accident. Collisions between small cars and large trucks are destructive. The occupants of smaller vehicles tend to suffer more serious harm than truck drivers.
If you were injured in a truck accident caused by a fatigued truck driver, you might be entitled to compensation. You should hire a good lawyer and start working on your case immediately.
Give us a call at (205) 324-1212 or contact us online to set up your free case evaluation.
Why Truck Driver Fatigue Is Dangerous
Fatigue affects a person's physical and mental functioning. If a truck driver doesn't have control of their faculties, it's challenging for them to operate an 80,000-pound vehicle safely.
Various symptoms can occur when a driver feels fatigued, such as:
Slower reaction time
Impaired motor skills
Becoming distracted more easily
Extended periods of inattention
Loss of muscle control
Blurred vision
Poor decision-making skills
Impaired judgment
Altered depth perception
Trouble noticing dangerous conditions
Lack of coordination
Inability to understand traffic signs and signals
Truck drivers are supposed to spend a specific number of hours off duty and take breaks during their shifts. Staying focused and alert is necessary to navigate a commercial truck around other vehicles. Unfortunately, fatigue can strike at any moment and place the trucker on a collision course with another driver.
Common Reasons for Driver Fatigue
Although the Federal Motor Carrier Safety Administration (FMCSA) sets and enforces regulations for truck drivers and trucking companies, not everyone follows them. The hours of service regulations are supposed to limit the number of hours truckers spend on the road to combat fatigue. Truck drivers aren't supposed to drive beyond the maximum limit or start a shift until a specific number of hours have passed. Taking adequate breaks from driving is also a requirement, so the body has a chance to rest and recharge.
The FMCSA has worked hard to create various regulations to keep everyone safe on the road. However, there's only so much the organization can do. No one can control how much sleep truck drivers get each night and whether they follow the hours of service regulations while on the road. Many truckers end up behind the wheel of their trucks despite a lack of sleep.
Trucking companies might encourage their employees to ignore the maximum driving limit. Some employers place profit over safety and force truckers to exceed the limit to stay on schedule. Even truck drivers might choose to spend more time on the road than they're allowed so they can make more money.
What to Do After an Accident Involving a Commercial Truck
Driver fatigue is often a challenge to prove. Unlike showing that someone was under the influence or speeding at the time of the crash, fatigue doesn't usually come with tangible evidence. If you suffered injuries in a truck accident, you should take immediate steps to prove the truck driver's actions contributed so you can hold them liable for your losses.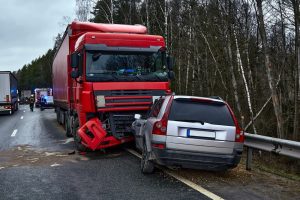 Go to the hospital after you leave the scene of the crash. If the physician recommends follow-up care, listen to their instructions. Insurance companies aren't in the business of spending money. They want to save money whenever possible by avoiding paying claims. If you waited days or weeks before your initial doctor visit or allowed too much time to pass in between appointments, the insurance company might assume your injury isn't serious and doesn't require an adequate settlement amount.
Keep a copy of every document you receive that is related to the truck accident. You should maintain copies of your medical records to show that your injury happened during the collision. If you receive billing statements or receipts from your doctor visits, keep copies of those too.
You should also hire a lawyer after the accident. They can investigate and file an insurance claim on your behalf. You shouldn't be forced to handle the responsibility for your case when you're trying to recover from your injury.
Speak to a Dedicated Truck Accident Attorney in Alabama from Farris, Riley & Pitt, LLP
If a fatigued truck driver caused your injuries in an accident, call the Alabama truck accident lawyers of Farris, Riley & Pitt, LLP at (205) 324-1212 now for your free consultation. We can review the circumstances and determine whether we can represent you in your case.
You will receive personalized attention from start to finish of the process. We understand what you've been through and want to help you recover. Our legal team will advocate for your rights and aggressively seek the justice and compensation you deserve.
There's no time to lose. Contact us right away for a free case evaluation.