I Wasn't Cited for My Accident – Is That Good?
Posted on Thursday, June 23rd, 2022 at 2:48 pm
If you have been injured in an accident, you might feel frustrated and confused about what to do next. You may be facing a growing stack of medical bills and wondering how you will pay for them. If you weren't cited by law enforcement after the accident, you might feel confident that you are not at fault. However, it's recommended that you discuss your situation with a personal injury lawyer as soon as possible. You owe it to yourself to understand your options. An experienced attorney can help you make the best decision for your future. If you have pressing questions about your case, don't hesitate to contact our legal team today.
Why a Citation Might Not Be Issued After a Crash
If a person in Alabama is injured in a car accident, both drivers must file a police report by state law. However, this doesn't necessarily mean that one of the drivers will receive a citation. There are various reasons why a citation might not be issued.
It could be that neither driver broke any laws when the accident happened. Maybe there was not any evidence of speeding by either driver. Perhaps there were no indications of driving under the influence. It may also be that the police were unable to determine fault. Or, a driver might receive a ticket by mail after the accident, if they were caught on a red-light camera or if other evidence becomes available. If you have your own pressing questions, contact us today.
Who Is At Fault?
The issuance of a citation at the scene of an accident doesn't necessarily correspond to who is at fault. Even if a driver does not receive a citation, they may still be at fault for the accident. When a citation is issued, this means that it is the opinion of the responding officer that this person is at fault for the accident. However, this is not the same thing as proving fault. Even if the other driver receives a citation, they can still file a lawsuit against you for the accident.
To determine who is at fault, specific evidence might help. This may include:
    The police report
    Witness testimony
    Any available video of the accident, such as dash cameras or security cameras
    Reconstruction of the crash scene
    Any physical evidence
An investigation will be conducted that uses these sources to determine fault. While it can certainly seem encouraging not to receive a citation, this is not the final word. Contact us today.
Do I Need an Attorney After a Car Accident in Alabama?
Even if you didn't receive a citation for your accident, it's essential that you discuss your case with an experienced attorney. They will be able to give you an assessment of the best way to proceed. In building your case, significant documentation and evidence need to be collected, preserved, and analyzed.
The state of Alabama follows a contributory negligence doctrine. This means that a car accident victim cannot receive compensation if they are even slightly at fault for their accident. Even being only one percent at fault means they will be barred from seeking compensation. Because of this, it's imperative to hire an experienced attorney to build the strongest case possible on your behalf.
It's also imperative that you do not speak with any representatives from the other driver's insurance company before you speak with an attorney. Insurance companies are known for doing whatever they can to avoid paying you money. This includes trying to get you to make recorded statements that admit fault. An experienced attorney will expect these types of misleading tactics. As your advocate, they will fight to pursue the maximum amount of compensation to which you may be entitled.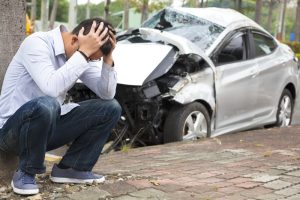 Contact an Experienced Alabama Car Accident Lawyer
If you've been hurt in an accident caused by someone else, you may be entitled to financial compensation. Because Alabama's negligence doctrine prevents those at fault for collisions to recover compensation, it's vital to have an experienced injury attorney on your side. For more than two decades, our experienced Alabama car accident lawyers have fought for the rights of those injured in our community. Call us today at (205) 324-1212 or reach out to us online for a 100% free and confidential consultation.