What Not to Say to a Truck Driver After an Accident
Posted on Thursday, January 20th, 2022 at 8:39 pm
An accident with a commercial truck can be scary. Truck accidents often cause severe injuries to the occupants of small cars, requiring medical treatment to heal. Many people don't know the steps to take afterward to hold the truck driver liable and seek compensation. Unfortunately, saying the wrong thing could negatively impact the outcome of your case.
You should avoid saying specific phrases to the truck driver following a crash. If you talk to the trucker about anything, it should only be to exchange contact and insurance information. You should refrain from discussing what just happened and whether your actions or their actions resulted in the accident. Saying something incriminating or acting like you were at fault could ruin your chance of receiving the money you're owed.
Below are things our Birmingham truck accident attorneys recommend you shouldn't say to a truck driver if you're involved in an accident with a commercial truck.
"I'm Sorry"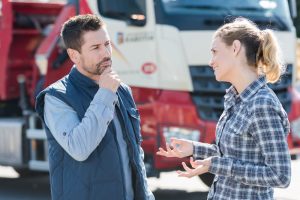 Apologizing might seem like a polite thing to do. After all, the truck driver might have an injury. You feel bad and want to apologize for what they're going through. However, an apology could indicate guilt to an insurance adjuster. If you file a claim and the adjuster discovers you said you were sorry to the truck driver, they could use that as evidence that you were at fault for the accident.
In the immediate aftermath of a truck accident, it's never a good idea to speak to others about the circumstances. You can ask the trucker for their name, phone number, insurance information, and employer's contact information. However, the conversation should end after that. Even if you feel bad about the accident, don't show any remorse or guilt. The truck driver could inform their insurance company of what you said and use your words against you later.
"I Don't Want to Report the Accident"
Whether you're in a rush to get to work or don't want to deal with law enforcement, you might feel tempted to handle the matter with the truck driver directly. Although it might seem more convenient to work out the situation without involving the police, it could hurt your case if you choose to pursue compensation in a claim or lawsuit.
A police report can provide valuable details regarding the cause of the crash and who should be held liable. If you don't report the accident and wait for law enforcement to arrive at the scene, you won't have that documentation to use as evidence in your case.
"I Don't Have Injuries"
Shock can diminish the severity of an injury. Even if you don't feel pain and think your injury is minor, it's best if you don't tell the truck driver. Once the shock wears off and a doctor evaluates your condition, you could discover your injury is worse than you initially thought. Additionally, an underlying problem could exist that only a medical provider can find with a physical exam or imaging test.
Never downplay your injuries. The truck driver could provide a statement to the investigating officer at the accident scene or their insurance company about what you said. If you claim your injury is serious later, the insurance adjuster might assume you're exaggerating the severity of your injury to recover a higher amount of compensation.
"I Think I'm Partly to Blame for the Accident"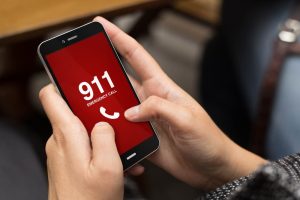 Even if you believe your actions partially contributed to the crash, you should avoid admitting to it. In Alabama, if you were at all responsible for the accident, you are barred from receiving compensation.
If you call 911 to report the accident, the investigating officer might ask you what you were doing in the moments before the collision. You're not legally obligated to provide any details. Although you may feel tempted to explain the situation, the insurance company could use your words to deny their liability and deny your claim.
Speak to a Truck Accident Lawyer Today
Farris, Riley & Pitt, LLP has over two decades of experience representing truck accident victims in Alabama. Our legal team will review your case and determine whether we can help you pursue compensation when you hire us. The truck driver should be held liable for their misconduct if they were at fault for the accident.
If you sustained injuries in a truck accident due to someone else's negligence, do not hesitate to contact Farris, Riley & Pitt, LLP.
Our Birmingham truck accident attorneys are ready to seek justice on your behalf so you can heal and move forward with your life. Call us at (205) 324-1212 today for your free consultation.